Peak hardware is upon us, and 5G foldables are our only hope
12
This article may contain personal views and opinion from the author.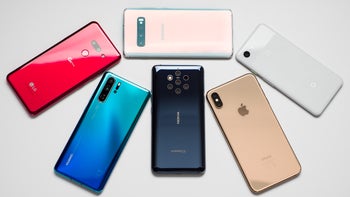 Five cameras are not 5x better than one camera. Moving to 4K displays won't sparkle the
HD->FHD
joy
,
while 5nm processors will only make phones 10% faster.
The good ol' cell phone industry has reached a tipping point. Handsets of yesteryear are almost unrecognizable next to a modern flagship, and not only because they should be called two-hand-sets now. We kid, but "all-screen" designs are nearing their screen-to-body ratio limits, just look at the
Galaxy A80
, for instance, while internal hardware is as good as it can get.
Buying a flagship phone now will keep you all set for a couple of years, and the prolonged stats for average ownership duration confirm it. We've gone from changing our phones every two years, to
nearing the 3-year ownership mark
now. Can you guess why? Well, a perfect storm of carrier subsidy removal and "all-screen" design plus multi-camera arms races that raised average phone prices top a record should do as an explanation.
There is one more angle to explore, though, the law of diminishing returns. We won't win as much from moving to 4K phone displays than we won going from 720p to 1080p screens. We won't get as much performance boost going 7nm to 5nm chipsets, as we did 16nm to 10nm to 7nm. Five cameras are not five times better than one camera, especially if it's on a
Pixel
handset, and so on.
Have we reached peak hardware? In many aspects, yes
Peak display
Not 4K
Folks with an
iPhone XR
will tell you that display resolution is not everything and will be mocked out of Twitter existence, but the phone will still sell many times more than the
Xperia 1
. The reason we mention the Sony is that it carries a true 4K resolution display with 643ppi pixel density which can kill the 3330 mAh battery in no time, but we digress. While that would be a selling point on a TV or computer monitor, it's a bit overkill on a phone, and manufacturers are unlikely to go that route. Good guy Huawei even refuses to budge and go QHD with its flagship phone displays, let alone 4K, and we are all the more grateful for it, as Huawei's high-end phones flaunt record battery lives for the category because of the 1080p screens.
Granted, resolution is not everything, but all the other bases are now covered, too. Samsung's AMOLED displays can hit 1000+ nits of peak brightness in isolated scenarios, and virtually all high-end phone screens can now show HDR10 or even Dolby Vision movies in their full glory, what else is there at the moment to achieve?
Why,
microLED
, of course. The next best hope for a display advancement does away with the backlight and instead relies on tiny LEDs, each of which consists of 3 sub-pixels that can emit its own light. This means that the tech is capable of delivering the same amazing aspect ratios and true blacks as OLED, but with a couple of added benefits. For one, microLED ditches the organic materials used in OLED in favor of an inorganic solution. This means that microLED displays aren't as susceptible to aging as OLEDs, which deteriorate and decrease in luminance over time.
The inorganic compound used in the production of microLED panels is called Gallium Nitride (GaN), and apart from an improved lifespan, it also offers as much as 30 times higher total brightness than what OLED can produce. The problem? It is very expensive to make, and years away from mass adoption, despite that
Apple is pouring
its considerable resources into it. For now, mobile screens are as good as they get.
Peak processor - 5nm vs 7nm vs 10nm vs 16nm vs whatevs
Puny node gains will be the norm
Don't get too excited that
TSMC
and
Samsung
recently announced they have started taping out their 5nm mobile chipset production methods. While the Extreme Ultra-Violet (EUV) lithography they will be made with is new and exciting, it mainly helps production costs rather than processor performance. Chipsets have been hitting the law of diminishing returns with every node down now.
TSMC foundry gains with each node
5nm FinFET EUV (SD865?)
vs
7nm FinFET (SD855)
7nm FinFET+
vs
7nm FinFET
7nm FinFET
vs
10nm FinFET
7nm FinFET
vs
16nm FinFET+
10nm FinFET
vs
16nm FinFET+
16nm FinFET+
vs
20nm
Performance increase
15%
10%
15%
30%
20%
40%
Area gain
25%
18%
40%
70%
50%
-
Power consumption decrease
20%
10%
40%
60%
40%
60%
As you can see, we'll gain very little in terms of performance boost out of the move to 5nm that will happen in the second half of next year, likely in time for the 2020 iPhones. We get a bit lower power draw, but considering that the screen is the main consumer in a phone, the difference in battery life won't be significant.
The only tangible benefit is the reduction in space needed for the chippery but, considering that we are already at a pinky nail footprint anyway, this is unlikely to benefit the internal space of a phone much anyway. In short, the move to 5nm or even 3nm won't bring the same drastic speed, power consumption and footprint advantages that we had with previous node moves of our mobile chipsets.
Peak camera
The number wars are over
The
Galaxy S10 5G
and
Nokia 9 PureView
both have six cameras in total. The
P30 Pro
has a 40MP main camera while the new
Galaxy A80
has a 48 MP sensor that can be used for selfies as well. The S10 and
P30 Pro
have 120-degree wide-angle cameras, while the
P30
Pro tacks on up to 10x lossless zoom with periscope lens. Let those numbers sink in. Where are we going from here? Octa-camera phones, even more zoom, 60MP sensors?
Hardly, given that Nokia can't even iron out the kinks of its penta-camera software. The advancements in computational, machine-learning photography will be the driving force behind camera innovations from now on, given that Google's
Pixel 3
does with a simple 12MP camera what others can't do with five. Apple will be entering the fray with a
tri-camera set
of its own, and we are unlikely to see it doing much else but perfecting the software and added features for at least the next two iPhone editions.
If you like your phone, you can keep your phone... for years
A good phone now will still be good in 2022
Now, we aren't advocating for a cease in smartphone "innovation" - this will never happen - but the record
phone and repair price
levels we've hit and the plateauing global phone sales indicate that peak hardware is upon us, and folks are keeping their handsets way longer than they used to.
Will you absolutely need a 4K phone screen, 20x periscope zoom or a 3nm processor in the next few years? Highly unlikely, so if manufacturers want to keep the same level of prices and profits, they will have to come up with a radically altered cell phone concept, either in terms of form factor, or connectivity. How about both?
The knight in bendy armor, or 5G foldables to the rescue
Brace yourselves for the upgrade tsunami
No phone maker will admit the peak hardware, least of all the
peak prices and repairs
phenomenon, and we'll be seeing plenty of marketing fluff with each new flagship release still, but they are already looking for ways out of the current plateau.
The sheer fact that Samsung is willing to provide its flexible screen mojo to
manufacturers like Oppo or Xiaomi
in order to create and expand the foldable phone market as fast as possible, is an indication that it is perfectly aware we've hit the screen/processor/camera limit.
The foldable form factor will give an immense advantage to whoever masters it first, and the rollout of 5G networks will be the most compelling reason to upgrade from your current flagship phone in the foreseeable future. Thus, a 5G foldable can command whatever price the manufacturer sees fit now (and they do!), recouping the initial R&D investment in its creation, and creating a foothold in the future of mobile.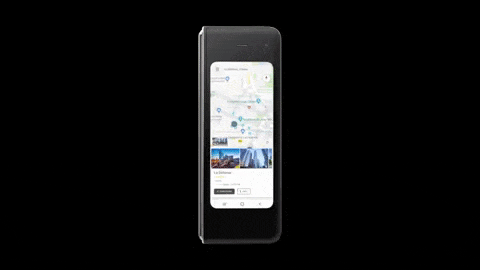 A mad rush awaits us, and in the third decade of the 21st century, we are about to witness as drastic a change in our perception about what a phone means as we did in the second decade of the century. What do you think?