5 new Android launchers and interface tools (May)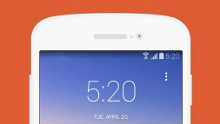 If you put enough time and effort, they say, you can tailor every Android phone to serve your unique interests and interface layout, and third-party launchers like Nova, Apex and the like, have proved it time and again.
Every once in a while, a new launcher appears that promises a paradigm shift in interacting with our mobile devices, utilizing innovative gesture-based or side-sliding launch tech, and some of them are even donning amazing graphics and extra functionality.
We took a glimpse at what's new and cool or updated fine at the Play Store in the interface draping department for the past two weeks, and noticed a few launchers and interface tools that you might find useful, or at least funky to try out. Check them out below.
"Make space for a more responsive, useful, and intuitive home screen with Eyespage Launcher." That's the motto of the Eyespage creators, as they embark on a quest to automatically organize and categorize your apps, showing those suitable for the time and place you are in. With Smart Bar and Smart Folders options, unintrusive notifications and rapid search from wherever you are, Eyespage is on to something here.
The AGK Launcher is for sideloading apps in Google TV devices. You can use it to see all the applications there, not only the official ones, and uninstall or clear data by long-pressing on the app icon.
A launcher for those with children, the cartoonish iKid interface shows only vetted apps and allows access to preapproved function, so that your child doesn't mess up anything on the phone or tablet, or doesn't have access to something unsuitable for their age.
This one is a homescreen replacement for your Android TV gear that lets you easily set your own wallpaper, or open the controller settings.
Crummy promo video aside, the Back Button Gesture Launcher has been recently updated with plenty of new features. It assigns virtual thumb drawings as gestures on a designated area to the side of your screen, so that you can go back, start apps, and assign plenty of other actions to them, without having to stretch all the way down for the back or menu keys on a big-screen phone.