5 cool new Android launchers and interface tools (October)
7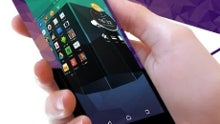 f you put enough time and effort, they say, you can tailor every Android phone to serve your unique interests and interface layout, and third-party launchers like Nova, Apex and the like, have proved it time and again.
Every once in a while, a new launcher appears that promises a paradigm shift in interacting with our mobile devices, utilizing innovative gesture-based or side-sliding launch tech, and some of them are even donning amazing graphics and extra functionality.
We took a glimpse at what's new and cool or updated fine at the Play Store in the interface draping department for the fortnight, and noticed a few launchers and interface tools that you might find useful, or at least funky to try out. Check them out below.
Unwind Launcher come into play when you connect your Android phone or tablet to a larger screen, usually the TV in your house. You can use it with Ouya, Minix, Fire TV and Android TV. You get recommendations, app pinning, remote control keys, and links to services like Netflix, YouTube, Hulu, and many more.
Yandex Launcher has all the basics like app and folder categorization, widget and homescreen grid layout management, and security functions, but it also throws in some extras, like letting you use color schemes to search for your apps.

Quick Apps derives ideas from Android 6.0 Marshmallow and "allows you to find any application and contact in 3 seconds flat," showing apps and contacts alphabetically, and giving you the ability to search quickly by using Google Now gestures like swipe from the navigation bar. You get a favorite area, and a quick search button that is perfectly positioned for an easy click. The bonus? If you have trouble remembering peeps, you can assign to contacts who do not have pictures fruits and animals icons.
Shine 3D Launcher, just as it says on the tin, is a launcher with 3D elements and funky transition animations. You can adjust almost everything, and the 3D visualization don't end here, as there are more than ten 3D widgets such as phone calls, Weather, Notes, and so on.
Touch Controls for YouTube brings exactly what it says on the tin - similar to the MX and VLC players, you can now use gestures on full-screen YouTube videos, like sliding up and down to alter the volume and screen brightness, pretty neat.

Curveball Launcher is still in a free open beta, but the gist of it is that it allows swipe gestures to manage your apps and contacts. There is a scrolling widget bar, accessible by swiping right, for instance, as well as contextual apps that appear in the smart bar, and are based on things like your calendar events, battery status, as well as calling logs, accessible by swiping left.