5 cool new Android launchers and interface tools (October #2)
6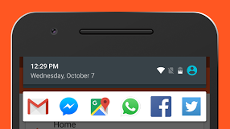 If you put enough time and effort, they say, you can tailor every Android phone to serve your unique interests and interface layout, and third-party launchers like Nova, Apex and the like, have proved it time and again.
Every once in a while, a new launcher appears that promises a paradigm shift in interacting with our mobile devices, utilizing innovative gesture-based or side-sliding launch tech, and some of them are even donning amazing graphics and extra functionality.
We took a glimpse at what's new and cool or updated fine at the Play Store in the interface draping department for the fortnight, and noticed a few launchers and interface tools that you might find useful, or at least funky to try out. Check them out below.
Dash is not your average launcher, as it doesn't wax poetic about categorization options, transitions, security features and the like. It might look a tad crude, but is centered around functionality and doing everything from the homescreen. Dash comes with built-in plugins for your phone /texting needs,music player, weather and calendar. When you use the music player, for instance, it shows album art, song info, and you will get a shortcut to the last app you listened to music with. The phone plugin displays missed calls, unread messages, and so on.
Launchify places your favorite app shortcuts right in your notification bar and lock screen for quick access without obstructing the view, as simple as that. The tool can even recommend the right app for the time of day and the place you are (home, work, in the car).


LightLaunch gets rid of the Android app drawer and places your icons on a 3D-rendered pane that moves swiftly together with your finger swipes. Things are kept clean and simple, which means there's not much in the way of visual eye candy to ingest, but special effects do tend to get in the way of doing actual work, anyway. Uncanny fluidity aside, LightLaunch has other stuff going on under the hood. In addition to letting you use third-party icon packs (unlocked for $0.99), it has the option for quick and leet icon scaling — simply make a pinch gesture and inflate the icons, or shrink them to miniatures and fit up to 7 icons in a row.
Mobo is a dynamic one with a small footprint, lively themes and gestures like flicking up to search appa, SMS, files, and bookmarks, or down for connectivity or other toggles.
Microsoft recently announced that it is beta testing a new Arrow Launcher for Android, and an update issued took it to beta 7, bringing new stuff like page hiding, widget blur removal, and battery optimizations. The launcher gives you a home page with one row on top for your recently used apps, and three rows for apps that you use the most frequently. The apps displayed on the dock are determined by the user, and normally might include those used very often. A swipe to the right takes you to the Notes & Reminders page where you can type in a list of things to do and check a box once the task is completed. A swipe in the other direction brings you to a list of people from your contacts list that you recently got in touch with via phone, email or text. It also provides you with a list of frequently used contacts, as well. You can also swipe up to see more options including additional dock shortcuts. The app drawer is posted alphabetically, and you can use your finger to slide down a list of letters to reach an app faster.
Here's an easy way to acquire the Android 6.0 Marshmallow look on your phone. This HD theme is fit for most popular Android launchers, like Nova or Apex, and sports Marshmallow-style icons and its wallpapers.