5 cool new Android launchers and interface tools
4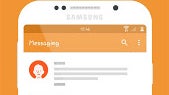 If you put enough time and effort, they say, you can tailor every Android phone to serve your unique interests and interface layout, and third-party launchers like Nova, Apex and the like, have proved it time and again.
Every once in a while, a new launcher appears that promises a paradigm shift in interacting with our mobile devices, utilizing innovative gesture-based or side-sliding launch tech, and some of them are even donning amazing graphics and extra functionality.
We took a glimpse at what's new and cool or updated fine at the Play Store in the interface draping department for the fortnight, and noticed a few launchers and interface tools that you might find useful, or at least funky to try out. Check them out below.
It's still in a preview form, but the Shift Launcher already shows promise with an interesting take on the launcher concept, aiding one-handed operation on our big-screen phones. You can use gestures to evoke apps and functions, or sensors to launch the drawer by shaking the phone, for instance. Shift currently offers three themes, with an abundance of live wallpapers to back them up.




Flick Start is a new take on the swipe launcher concept, hiding in the corner when you need the full screen, and spreading its wings when you swipe from there. Once up, it brings your most used apps, contacts and functions right underneath your thumb, making it very useful for one-handed operation of a phablet.


VR Launcher is a fun little exercise that allows Google Cardboard users to launch virtual reality applications without taking the contraption off. You can tilt your head 3 times quickly to return to the launcher from whichever VR app you are in, for instance, and then choose another, simple as that. It's a hackathon project, so not guaranteed to work on all phones, but paves the way for future VR controls and launchers.


Rainbow Circle is a cool and unique theme, meant specifically for Smart Launcher users. It sports colorful circular arrangement of app and toffle tiles on a simple white background, proving that even within your tried and true launcher of choice, the interface experience can vary greatly from one theme to another.


This CM launcher theme with the unassuming CM12.1 Galaxy N5 name is one of the most comprehensive takes on bringing Samsung's flat new interface to your Cyanogen-modded launcher, and fusing it with a beautiful Material Design for each and every stock app for the most used functions on your phone. The theme includes not only the rounded icons, but is complete package of wallpapers, sounds, fonts, and even a boot animation.