iPhone 13 Pro Max vs Galaxy S21 Ultra
68
We may earn a commission if you make a purchase from the links on this page.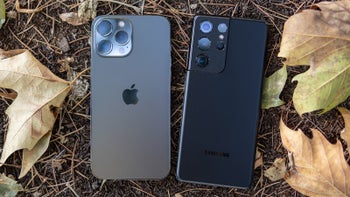 The
Galaxy S21 Ultra
remains a very relevant phone even in 2023 with its gorgeous AMOLED screen, powerful processor and a long-range zoom camera, but how does it compare against Apple's
iPhone 13 Pro Max
?
In this article, we compare these two popular flagships and explore all their differences. Which phone has longer battery life? And what about the camera qualtity? We look at that but also compare the performance and the general experience of using them.
iPhone 13 Pro Max vs Galaxy S21 Ultra in a nutshell:
iPhone is wider and heavier, while Galaxy is narrower and easier to grasp
Adaptive 120Hz OLED screens on both
Apple A15 processor vs Snapdragon 888 on Galaxy
6GB RAM on iPhone vs 12GB RAM on Galaxy
No periscope zoom camera on iPhone
iPhone has longer battery life
Galaxy has faster charging
iPhone 13 Pro Max pros and cons



Display and Design
Finally, an iPhone can match 120Hz on the Galaxy S21 Ultra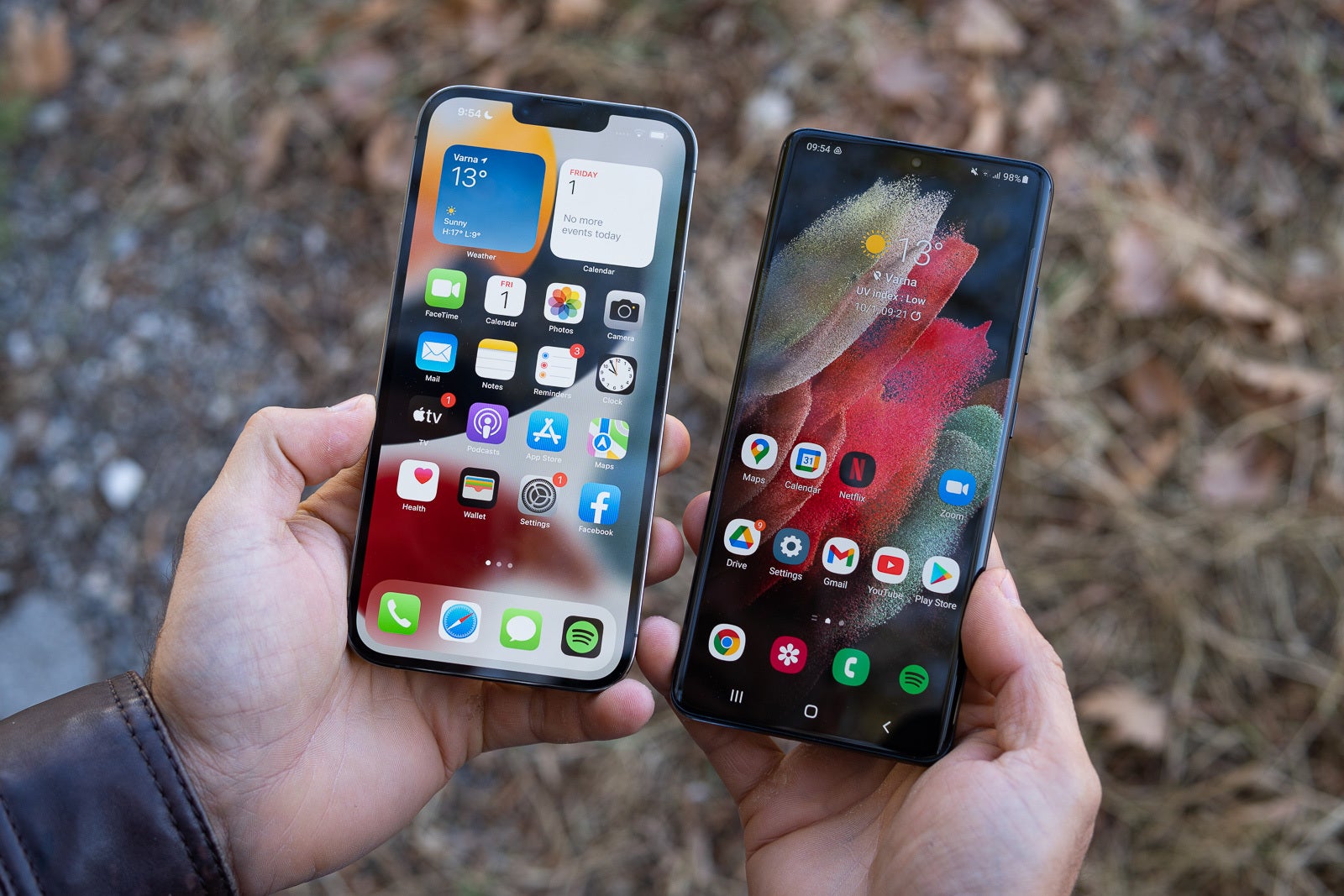 These two look and feel distinctly different. Both are big phones, but the iPhone is bulkier and weighs more. While the Galaxy has a slightly tapered screen, the iPhone uses a completely flat display and has larger borders around it.
The Galaxy also has curved sides, which make it a bit easier to hold, while the iPhone has flat shiny sides that make it feel bigger than it is. The 13 Pro Max weighs 240g, which is more than the S21 Ultra's 229g weight.


Neither phone has a headphone jack, which is hardly a surprise, and the iPhone uses a Lightning port for charging while the Galaxy goes with the industry standard USB-C.
When it comes to the screen, you get a 6.7-inch OLED panel with a resolution of 1284 x 2778 pixels on the iPhone, while the Galaxy has a slightly bigger 6.8-inch screen, which also supports a slightly higher, 1440p resolution. The screen on the iPhone is just a tad bit wider, it uses a 19.5:9 aspect ratio, while the Galaxy has a narrower screen with a 20:9 aspect ratio.
In terms of pure display quality and colors, Samsung has been the leader in the past few years and the iPhone actually uses a Samsung-made OLED display panel.
And with the iPhone 13 Pro Max, Apple is playing a bit of catch-up, and finally bringing one of the most exciting new features that debuted on a Galaxy in... 2020! That was the 120Hz fast refresh rate! So now, both phones deliver a buttery smooth scrolling experience. The screen size and resolution on the iPhone remain the same as on last year's model:
Display Measurements:
Interestingly, while official records say otherwise, we measured higher peak brightness on the iPhone than on the Galaxy. In our tests, the iPhone screen went over 1,000 nits of brightness, while the Galaxy measured at 889 nits. Keep in mind that unlike other websites, we test at 100% white levels on the screen, so that might explain some differences you see (many others are testing at 1% white levels, a big difference).
Biometrics
Face ID on the iPhone vs fingerprint scanner on the Galaxy

The notch for Face ID on iPhones has been a sore point for Apple as Android fans love to ridicule it, but it has now gotten 20% smaller in all iPhone 13 models. That's a neat little change.




As for biometrics, the iPhone 13 Pro Max still differs fundamentally from the Galaxy S21 Ultra. The iPhone does not have a fingerprint scanner and relies on Face ID, while the Galaxy has an in-screen fingerprint reader and only 2D, image-based face recognition.




The Galaxy S21 Ultra uses a faster ultrasonic fingerprint scanner than earlier Galaxy generations and it's mostly been good, but we do get the occasional misfire and compared to traditional fingerprint scanners of the past, this one still feels slower and less reliable.




Face ID on the 13 Pro Max, on the other hand, works mostly as good as on earlier models, no better and no worse. One welcome recent change has been the ability to set up Face ID to work with a mask.
Cameras
S21 Ultra has the zoom advantage, but the iPhone steps up what the main camera can do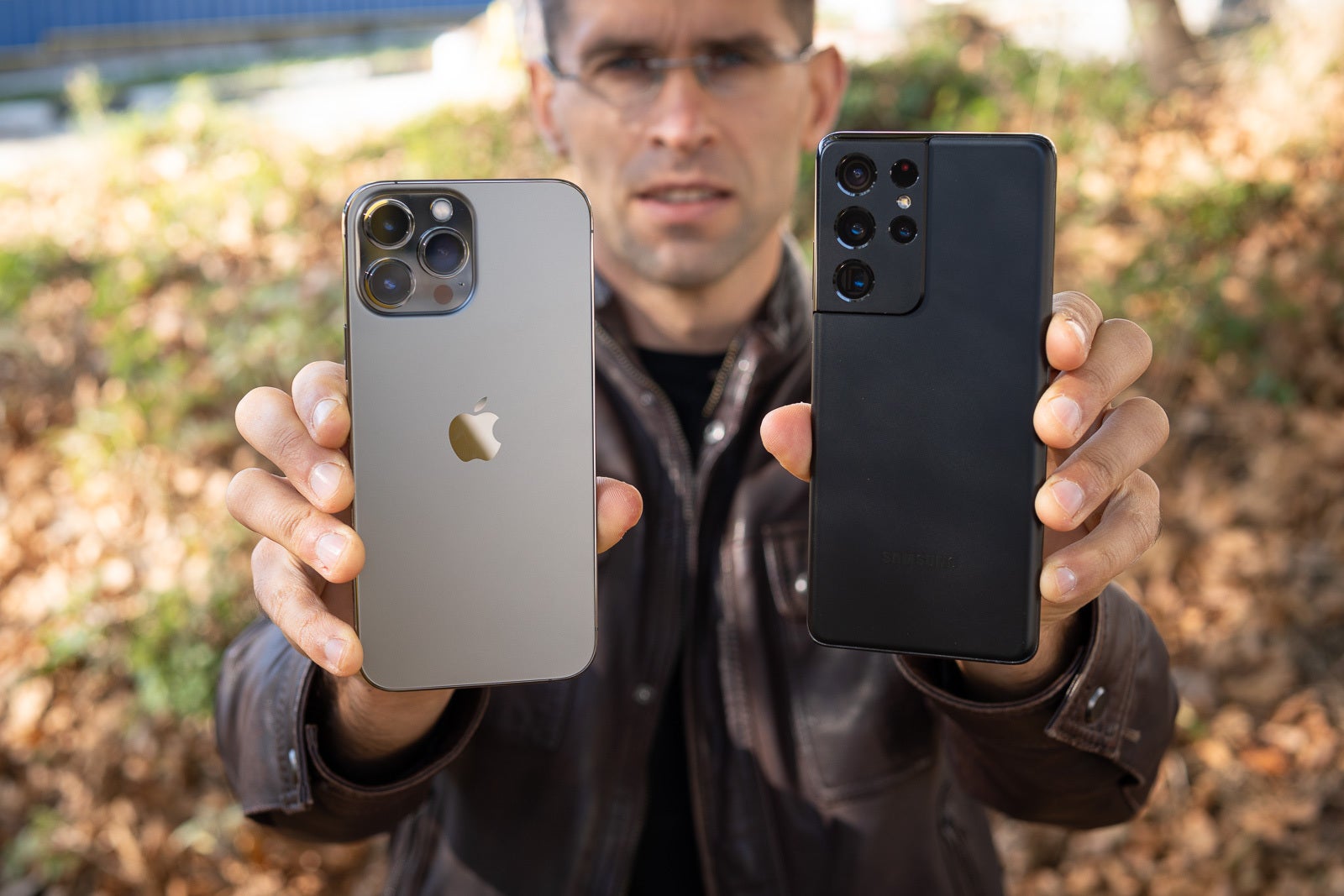 The iPhone 13 Pro Max might be a big upgrade when it comes to battery capacity and other features, but it cannot quite match the camera versatility of the Galaxy S21 Ultra.
Both phones have main and ultra-wide cameras, but while the iPhone only has a single zoom lens at 3X zoom, the Galaxy comes with two zoom lenses, one at 3X zoom and another one at 10X zoom, giving it far more range when zooming.
Here is how these cameras differ in specs:
Wide camera — 12MP on iPhone vs 108MP on Galaxy, 26mm vs 24mm focal length, f/1.5 aperture on iPhone vs f/1.8 on Galaxy
Ultra-wide camera — 12MP on both, 13mm on both, f/1.8 aperture on iPhone vs f/2.4 on Galaxy
Telephoto camera — 3X zoom on both
Long-range zoom — 10X periscope camera,

*only

on Galaxy S21 Ultra
Apple has these brand new sensors and lenses in the iPhone 13 Pro Max, and as you can see you get much wider aperture for the main and ultra-wide cameras that help them gather a lot more light and be much more capable at night.
In terms of camera features, Apple is adding
Photographic Styles
, which are filters on steroids that allow you to create a custom look and use it across all your photos, or just once, compared to the standard features that you can use on the Galaxy.
< iPhone 13 Pro Max
Galaxy S21 Ultra >
You can notice that the Galaxy captures the slightly wider photo with the main camera, and it also usually tends to have these slightly more cheerful colors and a brighter exposure, but that kind of depends on the scene. The iPhone also goes for this more contrasty look with deeper shadows.
While both are quite similar at 3X zoom, the Galaxy crushes it with long range zoom, especially with that 10X periscope lens.
< iPhone 13 Pro Max
Galaxy S21 Ultra >
In low light both phones do a very good job, but the Galaxy now has these more muted colors, while the iPhone seems to add extra bit of saturation to make the image pop more.
< iPhone 13 Pro Max ultrawide
Galaxy S21 Ultra ultra-wide >
What Samsung lacks, though, is night mode for the ultrawide camera, while the iPhone captures a lot more light and a much cleaner photo with the ultra-wide snapper.
Both phones now support Macro mode for both photos and videos, that was a feature missing on the iPhone previously.
The killer iPhone video feature this year is called
Cinematic Mode
, and it's something like the Portrait Mode video you have on the Galaxy... but not quite. It automatically knows when to change the focus, and unlike any other phone, you will be able to change the focus on an already existing recording (captured with an iPhone 13 that is).
The iPhone 13 Pro Max also comes with a LiDAR scanner, helpful for augmented reality and easier focus for night-time portraits. You don't get such a scanner on the Galaxy.
Audio and Loudspeaker Quality
The Galaxy disappoints with low-quality loudspeakers
With no headphone jack on either phone, Apple and Samsung are gently nudging customers towards wireless headphones (or you can use clunky adapters, if you really insist on using your old pair of headphones).
Both phones feature dual speaker systems with one bottom firing "main" speaker and a secondary speaker located in the earpiece at the top. But despite this technical similarity, the actual quality of the sound coming from those loudspeakers is vastly different. The Galaxy S21 Ultra in particular is a disappointment as while it does get loud, its sound feels poorly balanced as it lacks depth.
The iPhone has a boomier sound profile with far more definition in the lows (as much as that is possible on a phone), while still maintaining good mids and highs. If you happen to value sound quality, the iPhone is the better option.
Performance comparison
Apple A15 Bionic vs Snapdragon 888 (or Exynos 2100)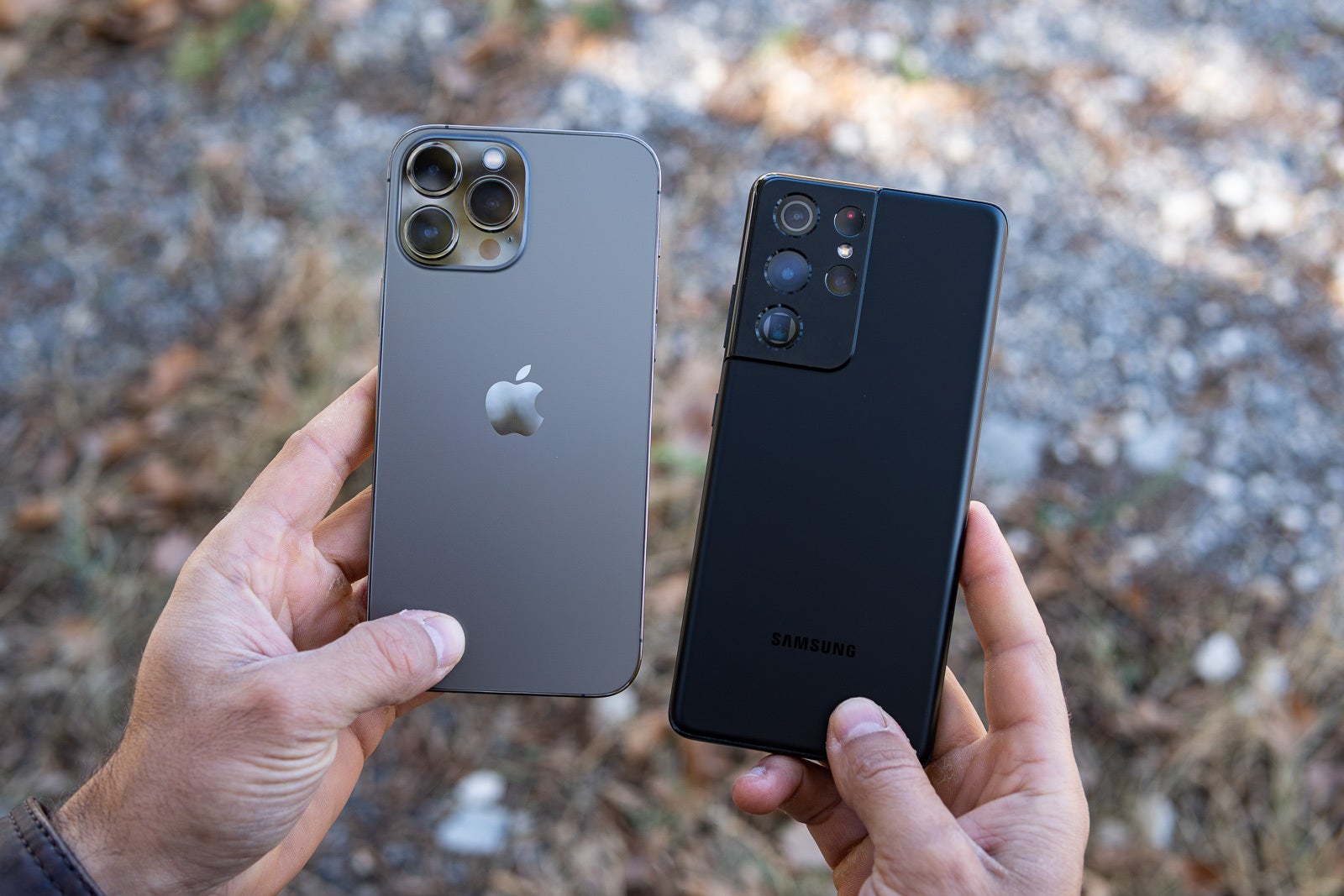 Apple has the lead in performance in the smartphone space, and the new Apple A15 Bionic chip in the iPhone 13 Pro Max is once again the fastest in the industry. The Galaxy comes equipped with the top-of-the-line Qualcomm Snapdragon 888 chip for the US model, while international S21 Ultra models come with a very slightly slower Samsung-made Exynos 2100 processor.
While the iPhone has the advantage in processing speeds, the Galaxy comes with 12GB of RAM compared to just 6GB RAM on the iPhone, which helps keep more apps open in the background and is good for multitasking.


Below, you can find A15 benchmarks and how they compare against the Exynos 2100 version of the S21 Ultra.
Performance Benchmarks
So, Apple has now extended its lead in performance power over the Android competition. The A15 is built on the same 5nm technology as the A14, but Apple is said to have boosted the CPU speed and increased the cache to achieve that. Interestingly, Apple itself said that the A15 has a 50% faster CPU and 30% faster GPU than the competition.
GPU and Gaming Performance
Looking at the GPU performance we see that the iPhone 13 Pro Max is far ahead of the S21 Ultra. The iPhone actually starts at a 3,000 score on the 3D Mark Wildlife Extreme benchmark, three times higher than the Galaxy! It quickly throttles to around 2,400, but even after that drop it's more than twice as fast. Apple seems able to utilize the larger form factor of the Pro Max to allow the GPU to run free and you can tell, it's the absolute best GPU performer of any 2021 phone and no other comes close.
The two phones are quite similar when it comes to the amount of on board storage you get: the base models of both have 128GB of storage, plus you can pay extra and get a 256G or 512G models. The iPhone 13 Pro Max is also the first iPhone rumored to come with a 1TB storage option. Keep in mind that the Galaxy S21 Ultra does not offer expandable storage like you had in previous Samsung models.
Battery and Charging
The biggest upgrade to iPhone battery life
While all
iPhone 13 models have some form of a battery boost
, the iPhone 13 Pro Max gets the biggest one.
Apple is not disclosing the exact battery capacity for the iPhone 13 Pro Max, but teardowns of the device have revealed that it has a 4,352mAh battery, which goes against the 5,000mAh battery on the Galaxy. Keep in mind, though, that battery numbers alone don't tell the whole story as Android and iOS are quite different, so let's take a look at our detailed
PhoneArena battery tests
below.
PhoneArena Battery Test Results:
It's impressive to see the battery gains that Apple has made with this latest Pro Max model, it has a notable advantage over the Galaxy S21 Ultra that has undergone the very same tests.
On the charger front... well, don't expect a charger in the box... on either one! Both Apple and Samsung will charge you an additional $20 bucks for a fast charger.
Unfortunately, neither of these two phones supports quite the impressive charging speeds: at 20W, the iPhone takes around 2 hour and a bit for a full charge, while the Galaxy is much faster at a bit more than 1 hour, but neither are close to the 30-minute charging times we see on phones from brands like OnePlus.

iPhone 13 Pro Max vs Galaxy S21 Ultra: Specs Comparison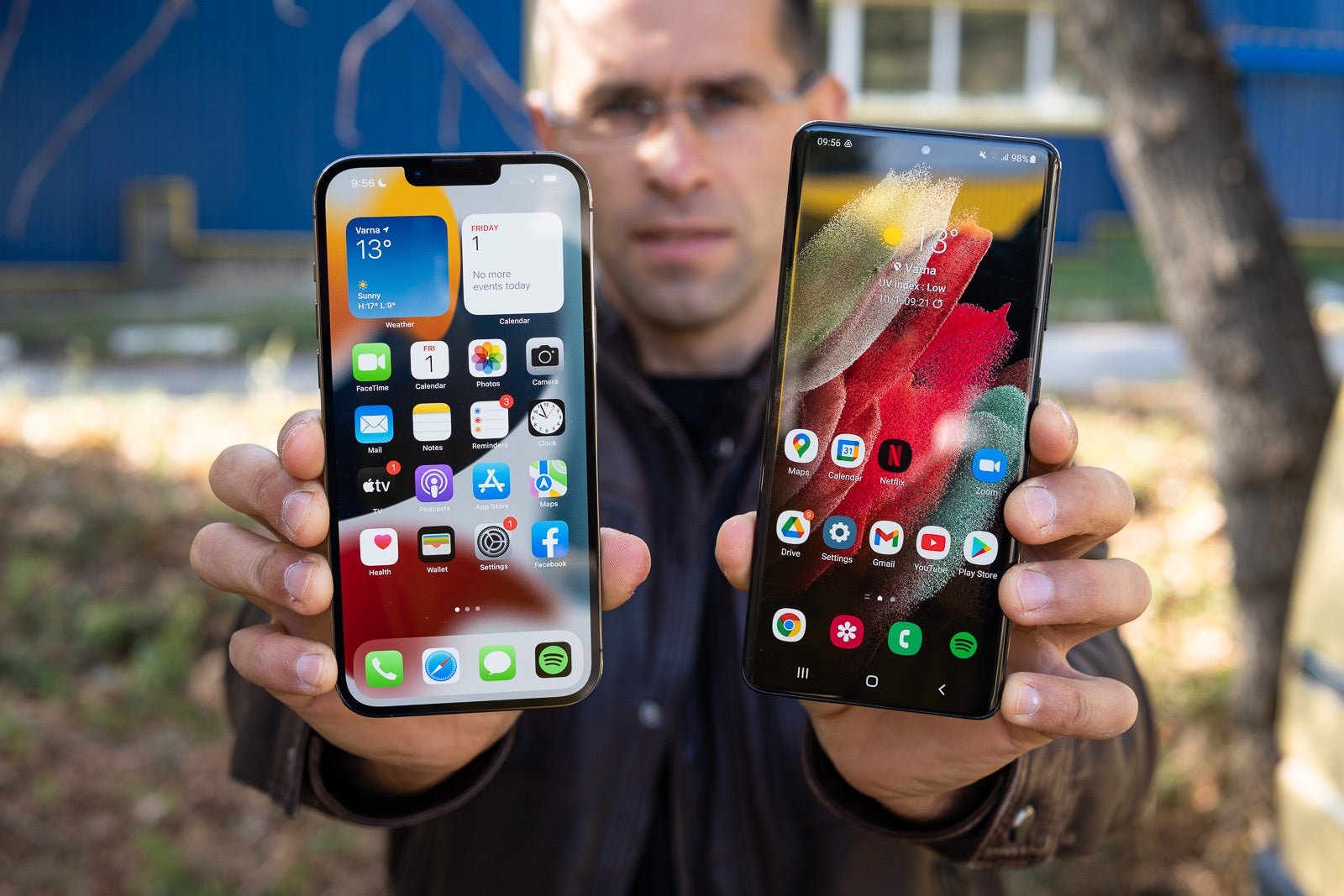 And here is a detailed specs comparison between the iPhone 13 Pro Max and Galaxy S21 Ultra.
iPhone 13 Pro Max
Galaxy S21 Ultra
Size and Weight
160.8 x 78.1 x 7.65mm, 240g
165.1 x 75.6 x 8.9 mm, 229g
Display
6.7" OLED, 120Hz Pro Motion
1284 x 2778 pixels
6.7" OLED, 120Hz Adaptive
1440 x 3200 pixels
Processor
Apple A15 Bionic
Snapdragon 888 in the US
Exynos 2100 for rest of world
RAM
6GB
12GB
Storage
128G / 256G / 512GB / 1TB, non expandable
128G / 256G / 512GB, non expandable
Cameras
12MP wide camera, f/1.5
12MP ultra-wide camera with faster, f/1.8 aperture
12MP 3X zoom camera
108MP main camera, f/1.8
12MP ultra-wide camera, f/2.2
10MP 3X zoom camera
10MP 10X zoom periscope camera
Battery size
4,352mAh
5,000mAh
Charging speeds
20W wired, 15W MagSafe wireless
25W wired, 15W wireless
Prices
after iPhone 14 launch, iPhone 13 Pro Max is no longer available at Apple.com
discounted to $950 for base version
So, should you get the iPhone 13 Pro Max or the Galaxy S21 Ultra
At the end of the day, the iPhone 13 Pro Max brings some welcome upgrades like the best battery life so far on an iPhone, and improvements to all the cameras, but it cannot quite match the long-range zoom on the Galaxy, nor does it have the openness of the Android platform. These remain two very different devices, both excellent in their own right.
It's hard to conclude that one is better than the other, but if you'd like a recommendation, we would suggest an iPhone for people who like iOS and the Apple ecosystem, and plan on also using AirPods, an Apple Watch, or work with a Mac machine and can easily AirDrop files. The iPhone also still feels like the faster of the two - its gaming performance is unmatched, and it has an edge when it comes to battery life.
On the other hand, the Galaxy S21 Ultra would be the obvious choice for people who value the openness of the Android ecosystem, and how it's not restricting you to specific products. The Galaxy feels more customizable, it obviously has a huge advantage if you often need to zoom in with the camera, and we can't overlook the fact that it's more compact and easier to operate with one hand.
So with this in mind, let us know your thoughts about the iPhone 13 Pro Max and the Galaxy S21 Ultra, and your reasons to go with one over the other.
Recommended Stories