Apple iPad Pro 12.9 (2021) vs iPad Pro 11 (2021)
1
We may earn a commission if you make a purchase from the links on this page.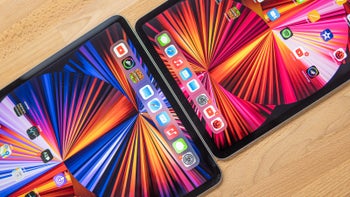 Instead of going OLED and
feeding the Samsung Display department more
, Apple decided to go miniLED for the newest
iPad Pro 12.9 2021 edition
, but it spared the one-of-a-kind display for the more expensive member of this year's Pro family. What other iPad Pro 12.9 vs
iPad Pro 11 (2021)
differences are there then? Here's the scoop.
Apple iPad Pro 12.9 (2021) vs iPad Pro 11 (2021) size, colors and display
Peak brightness, local dimming, baby!
Unfortunately, in order to introduce the
unique new miniLED technology
to the
iPad Pro 12.9
's 2732x2048 pixels XDR display of 2021, Apple almost made sure that the 11-incher doesn't seem as "Pro" anymore, as it can't match the 600-1600 nits of peak brightness and 2,500 full array local dimming zones of the miniLED panel. Heck, even the Apple's Pro Display XDR screen has just 576 dimming zones to play with at a much larger size.
Display measurements and quality
The iPad Pro 11 (2021) still has a great ProMotion 2388x1668 pixels display with high refresh rate that allows the use of
Apple's Pencil 2
on it, but the panel is not a match for what the real iPad Pro of 2021 brings to the table, and this should put many buyers off, were it not for the $300 base price difference. The iPad Pro 11 (2021) starts from $799, while the iPad Pro 12.9 takes off at the price of an
iPhone 12 Pro Max
, $1099.
The new iPad Pro 11 is much smaller, of course, and more compact to use or carry around, yet the display diagonal, as always, isn't very conducive to much else but media consumption, moreso that the keyboard accessories for the 11-incher are tiny as well.
Apple iPad Pro 12.9 (2021) vs iPad Pro 11 (2021) performance and battery life
Killing them tablets without M1 softly
Thankfully, Apple didn't separate the two iPad Pro models by horsepower as well, and equipped them both with the fastest mobile chipset out there, the laptop-grade M1, and by laptop we mean the new MacBook Air M1, and by grade we mean that the chip with 4x Icestorm 3.2 GHz + 4x Firestorm 2.0 GHz cores is killing it in performance benchmarks.
While the iPad Pro 2021 models have slightly underclocked M1 chips compared to the MacBook Air with the same processor, they are still able to score over 7000 Geekbench multicore points, turning Apple's 50% performance boost claim compared to the previous models into a reality.
Needless to say, the smaller iPad Pro 11 often returns higher performance scores when the GPU is strictly involved, as its graphics subsystem has to push much less pixels on a smaller canvas, yet both Apple tablets are miles ahead what other slates and even computers offer in terms of raw processing power nonetheless.
Adding insult to other mobile chipsets' injury,
Apple can equip the iPad Pro 2021 with up to 16GB RAM
, suggesting big plans lie for iPadOS looking forward. The crazy fast processor and the new miniLED display technology are apparently frugal in terms of power draw as well, since Apple cites the same 10 hours of battery life for both iPads as on their predecessors. According to Apple's Senior Vice President of Hardware Engineering John Ternus speaking for a
TechCrunch
interview:
Your battery life is defined by the capacity of your battery and the efficiency of your system right? So we're always pushing really really hard on the system efficiency and obviously with M1, the team's done a tremendous job with that. But the display as well. We designed a new mini LED for this display, focusing on efficiency and on package size, obviously, to really to be able to make sure that it could fit into the iPad experience with the iPad experience's good battery life. We weren't going to compromise on that.
As you can see from our battery benchmarks, the smaller iPad will also offer you better battery life while browsing, as the tried and true LCD tech and the smaller screen size return excellent endurance even at high 120Hz refresh rates.
When it comes to YouTube video streaming, however, it's time for the miniLED panel's frugality to shine, while for 3D gaming both tablets last on par. All in all, you get excellent battery life from the Pro models this year, with the caveat that the iPad Pro 12.9's larger battery takes longer to charge.
Apple iPad Pro 12.9 (2021) vs iPad Pro 11 (2021) camera
Pan&zoom on Zoom
The two new Pro iPads have identical camera sets - 12-megapixels main and 10-megapixel ultrawide cameras on the back - as their predecessor, yet with the image processing power of the new M1 chip, the Pro tablets are uniquely positioned to take advantage of the Smart HDR 3 recording abilities that made a cameo on the
iPhone 12 series
.
At the front, however, a better 12-megapixels selfie camera has been equipped to handle the much touted Center Stage feature. The new option leverages machine learning and the fresh Ultra Wide camera at the front to follow the person into the frame automatically when they move, including expanding the view or zooming when people go in and out of the video call.
Besides Apple's obvious FaceTime service, Center Stage works with other video streaming apps so that you can finally have an alternative to that crappy laptop camera Zoom call. Needless to say, the excellent LiDAR camera scanner that can map the edges of your future sofa so that you can see exactly where you will hit your little toe when you least expect it, is still present as well.
Apple iPad Pro 12.9 (2021) vs iPad Pro 11 (2021) price, 5G, and storage options
| Apple iPad Pro model | 128GB | 256GB | 512GB | 1TB | 2TB |
| --- | --- | --- | --- | --- | --- |
| iPad Pro 12.9-inch 2021 Wi-Fi | $1,099 | $1,199 | $1,399 | $1,799 | $2,199 |
| iPad Pro 12.9-inch 2021 5G | $1,299 | $1,399 | $1,599 | $1,999 | $2,399 |
| iPad Pro 11-inch 2021 Wi-Fi | $799 | $899 | $1,099 | $1,499 | $1,899 |
| iPad Pro 11-inch 2021 5G | $999 | $1,099 | $1,299 | $1,699 | $2,099 |
Which iPad Pro 2021 should you buy, 12.9 or 11 inches?
You are getting a lot more from the iPad 12.9 2021 for just three Benjamins more. The most important thing in an iPad, the display, is miles ahead of what the 11-incher offers. When you add the larger size that will actually allow you to do some creative work rather than lounge with a Pro on the beach to watch videos, the choice is a no-brainer this year.
Not that you can't use the 13-incher at the beach as well, plus it will beat its smaller sibling even there, and for media consumption at that, as the display is much, much brighter, hence conducive for outdoor usage in the sunlight. We rest our case.