Apple iPad Pro (2021) release date, price, features and news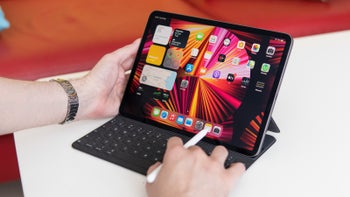 We're still couple of months away from the release of
Apple
's 2021 iPad Pro line-up, but there is plenty of information already available on the upcoming tablets, giving us a good idea of what to expect.
You may also find interesting:
Apple iPad Pro (2021) release date
Apple hasn't been as consistent with its iPad Pro release dates as it is with iPhones, so we can only speculate based on when the 2020 iPad Pro was released – March 19. Currently, the 2021 iPad Pro is expected to launch in the first quarter of the year, possibly again in mid-to-late March. If so, the next iPad Pro will most likely be announced on March 18, if not earlier.
Apple iPad Pro (2021) price
As of right now, there's no information to suggest that the 2021 iPad Pro line-up will sell for prices different from the 2020 iPad Pro series. The 2021 iPad Pro models are expected to cost as follows:
11-inch iPad Pro (2021) starting at $799
12.9-inch iPad Pro (2021) starting at $999
11-inch iPad Pro (2021) starting at $949
12.9-inch iPad Pro (2021) starting at $1,149
The storage options are again expected to start at 128GB, followed by 256GB, 512GB and a maximum storage option of 1TB.
Apple iPad Pro (2021) design and display
The 2021 iPad Pro is expected to be virtually unchanged from the 2020 iPad Pro in terms of design. We will be getting the same modern, thin build, with a minimal symmetrical black bezel surrounding the display. It will once again feature quad speakers, two on each side, a USB Type-C port for charging, keyboard and Apple Pencil connectors, the same camera module with slightly improved dual cameras, and the same LiDAR sensor.
And although 2021 likely won't see a major redesign for the iPad Pro, we have information to suggest changes in its display technology. A November 2020 rumor coming from trusted analyst Ming-Chi Kuo, based on information by an electronics supplier, has suggested that the entire
iPad line-up of 2021 is going to feature mini-LED
display technology. Mini-LED would deliver improved contrast ratios and image quality that may even rival the quality of OLED displays. Simultaneously, this leak confirms that iPads will not be switching to OLED technology, the kind of which we often see on flagship Samsung tablets.
On January 15, alleged
leaked iPad Pro (2021) renders
suggested that the iPad Pro will not be getting a noticeable redesign over it's 2020 iteration. The few notable changes that the leak hinted at were smaller bezels, slightly smaller overall size and 5G support.
If the iPad Pro's size indeed changes even slightly 2021, then it's unlikely for it to be compatible with the same accessories that the 2019 iPad Pro and iPad Air support. Those most notably include the 2nd generation Apple Pencil and Apple's impressive Magic Keyboard with trackpad.
Apple iPad Pro (2021) specifications
5G may be coming to the cellular iPad Pro models in 2021, although there's no official information to confirm this speculation. Another expectation for the upcoming iPads is the return of Touch ID. The latter seems plausible due to the coronavirus pandemic forcing users to wear face masks, which in turn renders Face ID face recognition far from the most optimal unlock method at this time. Here is what else we expect to see on the 2021 iPad Pro models:
11-inch / 12.9-inch 120Hz Mini-LED display
A14 Bionic chip (name may differ slightly, e.g. "A14Z Bionic")
6GB of RAM
Two main cameras (wide and ultrawide) + LiDAR sensor
Face ID or Touch ID
USB Type-C port
Stereo speakers (two on each side, four in total)
Apple iPad Pro (2021) software
The 2021 iPad Pro models will be coming with iPadOS 14 out the box, with support for iPadOS 15 when it comes out, likely in November of 2021. iPadOS 14 introduced better homescreen widgets (Today View) to all iPads that support it, and a notable new feature called Scribble. If the user owns an Apple Pencil (2nd-gen, in the case of the iPad Pro), Scribble lets them handwrite into any text field with the Pencil itself, instead of having to rely on the on-screen keyboard. Thus, iPad users can now use their Apple Pencil for almost anything they may wish to do on the iPad.
With iPadOS 14 also came new security features, with the most notable ones surrounding the Safari internet browser for iPad. Safari can now inform the user of weak passwords, while the App Store now shows privacy information to the user, such as what permissions an app requires, before downloading it. Small interface changes were also made to built-in apps such as Files, better adopting the use of sidebar menus for better navigation on the large screen, thus making the iPad feel more like a computer, instead of just a larger iPhone.