ROG Phone 6D Ultimate review: an unlikely hero underneath
7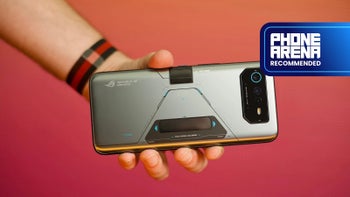 Asus ROG Phone 6D Ultimate Intro
When Asus released the
ROG Phone 6
back in July, we were very notably missing an "Ultimate" variant — something we were expecting, since last year's
ROG Phone 5 Ultimate
. Well lo and behold, it was just another ace up Asus' sleeve — the Ultimate version is here, and it comes with a twist.
Asus just revealed two new phones — the
Asus ROG Phone 6D
and
ROG Phone 6D Ultimate
. What does the D stand for? They are not powered by Qualcomm's Snapdragon 8+ Gen 1. Instead, these two beasts have the MediaTek Dimensity 9000+. Ha, what an unexpected turn of events!
So, what's the deal — who are these phones meant for? Well, it seems Asus will be targeting different markets with the Qualcomm-equipped ROG Phone 6 and the MediaTek-powered ROG Phone 6D. In some markets, there will be overlap and customers will be free to choose the platform they like better.
With all that said, let's see how the ROG Phone 6D Ultimate holds up under scrutiny!
What's new about ROG Phone 6D?
ROG Phone 6D series comes in exclusive Space Gray color
ROG Phone 6D series supports the same AeroActive Cooler 6, released with ROG 6
ROG Phone 6D Ultimate comes bundled with the AeroActive Cooler 6
ROG Phone 6D Ultimate has AeroActive Portal — a flap opens to offer better cooling
Outside design is the same for ROG 6D and ROG 6, all accessories interchangeable
Cameras on ROG 6D are the same as on ROG 6
Table of Contents:
Asus ROG Phone 6D Ultimate Unboxing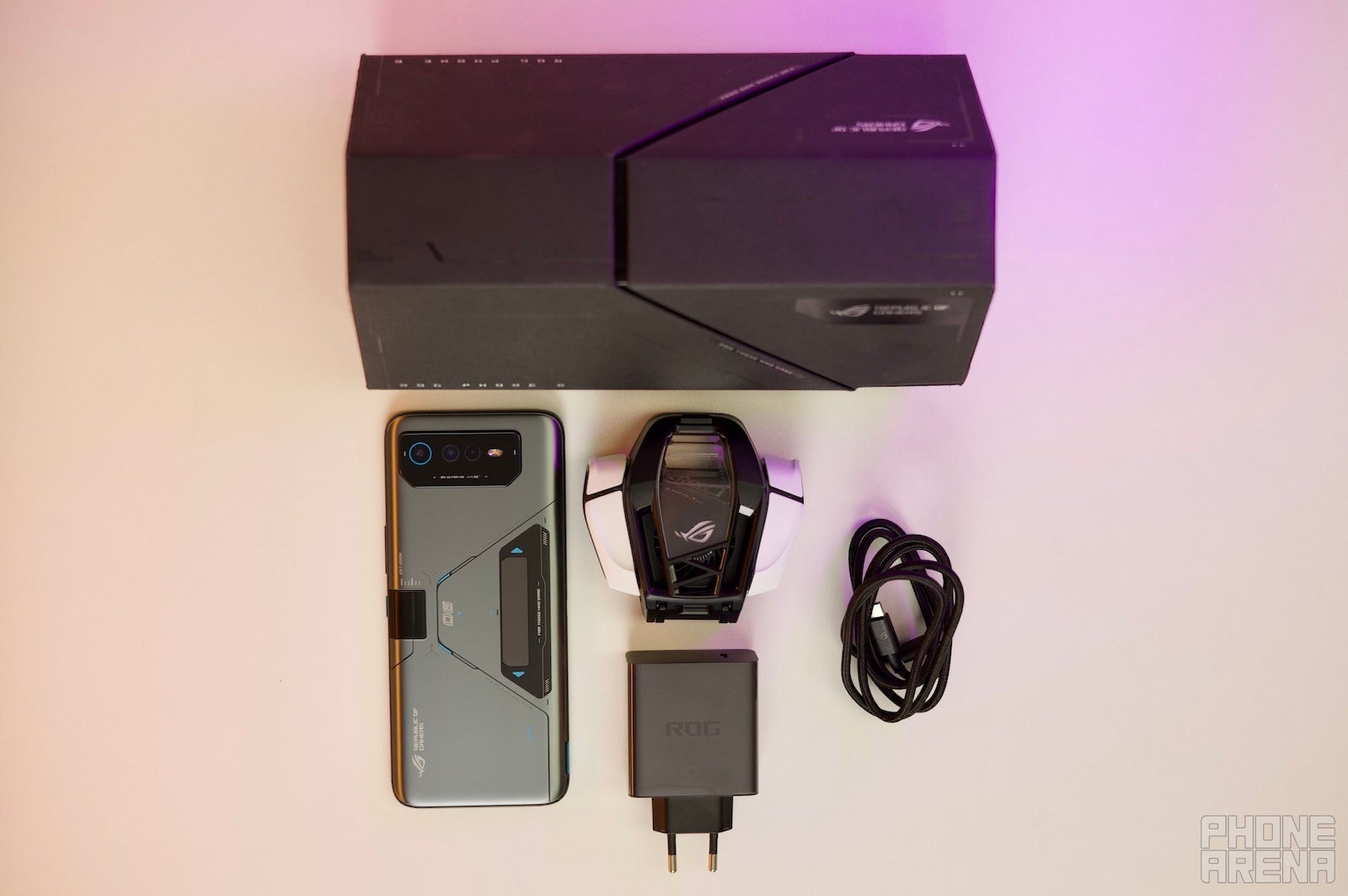 The ROG Phone 6D Ultimate comes in a rather generous package — not only does include its 65 W fast charger and a nice, braided cable, it also comes with the AeroActive Cooler 6 in the box. The package itself is too cool to throw away, so you will probably end up keeping the box. Hey, that'll make resale in the future easy!
Asus ROG Phone 6D Ultimate Specs
An absolute beast
By this point, we are very used to the fact that ROG Phones are overkill with their specs. So, does this surprise us?
Specs
ROG Phone 6D Ultimate
Size and Weight
6.81 x 3.03 x 0.40 in (173 x 77 x 10.3 mm); 8.43 oz (239 g)
Display
6.78" AMOLED, 165 Hz, 1,200 nits max brightness, HDR10+
Processor
MediaTek Dimensity 9000+, 3.2 GHz, 4 nm
RAM
16 GB LPDDR5X
Storage
512 GB, not expandable
Software
Android 12
Cameras
50 MP wide camera, f/1.9 aperture
12 MP ultra-wide camera, f/2.2 aperture
5 MP macro camera, f/2.0
12 MP selfie camera, f/2.5
Battery Size
6,000 mAh
Charging Speeds
65 W
Price
x
Check out the full
specs of the ROG Phone 6D Ultimate here
.
The ROG Phone 6D Ultimate comes with the uncompromising 512 GB of UFS 3.1 storage. And if the MediaTek Dimensity 9000+ doesn't impress you, then maybe this will — the phone has 16 GB of LPDDR5X RAM.
"But the
ROG Phone 6 Pro
had 18 GB of RAM" is a common argument here. But note that the ROG 6D's chips are LPDDR5X (instead of LPDDR5) — this new, super-fast RAM module simply doesn't come with a higher option than 16 GB. So, again, Asus stuck the best hardware it possibly could inside the ROG Phone 6D Ultimate.
Asus ROG Phone 6D Models
The Asus ROG Phone 6D series comes in two flavors — a ROG Phone 6D and a ROG Phone 6D Ultimate (this review).
The respective differences between ROG Phone 6D and ROG Phone 6D Ultimate are:
256 GB vs 512 GB storage
RGB logo on back vs ROG Vision mini display on back (for animated logos)
Ultimate has AeroActive Portal (explained below)
Ultimate comes bundled with AeroActive Cooler 6
Asus ROG Phone 6D Ultimate Design & Colors
All too familiar
Just as we said in our
ROG Phone 6 Pro review
— Asus has found the shape if wants its phones to be in and it's sticking with it. The screen size, the slightly accentuated top and bottom bezels, the arched back — if you've had a ROG Phone II, you will feel instantly familiar with the ROG Phone 6D Ultimate.
Is this a bad thing? Up for you to decide. We don't really mind it — ergonomics is not something that you want to experiment with and a gaming phone is all about ergonomics.
The ROG Phone 6D Ultimate is heavy, but since we are so used to its curved back and its soft edges, it's definitely not hard to wield. Despite the fact that we used it without a case for a couple of weeks, day in and day out.
We did find that the 6D Ultimate's finish is slightly different from the ROG Phone 6 Pro that we have. The Ultimate's gray color is covered by a matte glass that is a bit softer than the one over the 6 Pro's white shell. So, the ROG Phone 6D Ultimate felt a bit more slippery, whereas the ROG Phone 6 Pro feels just a tad easier to hold with a bit more stickiness to it.
That aside, we — again — have a 3.5 mm audio jacks, and a combo of bottom and side-mounted ports for charging, so you can plug in and game without the cable jabbing into your hand. The ultrasonic shoulder buttons are back and feel just the same as before — super responsive and a gamechanger when… gaming.
You will notice that the ROG Phone 6D Ultimate does not have the RGB-lit "Dare to Play" logo on the back. What gives? Well, this is where the Ultimate has an exclusive new feature — it's actually a mechanical flap, which opens when you connect it to the AeroActive Cooler 6.
The new system is called AeroActive Portal and it delivers 1 liter of cool air per second straight to the phone's CPU, dissipating heat about 9 times faster than without the Portal. Thanks to that, the AeroActive Cooler 6 can keep the phone at a pleasant 50°F (10°C) while in its default Fan mode. Other ROG Phones need to engage Frozen Mode to achieve the same result, which naturally draws more power.
Despite the new flap, the ROG Phone 6D Ultimate still has the same IPX4 rating as the ROG Phone 6 series. It's splash-resistant, but don't take it for a swim.
Asus ROG Phone 6D Ultimate Display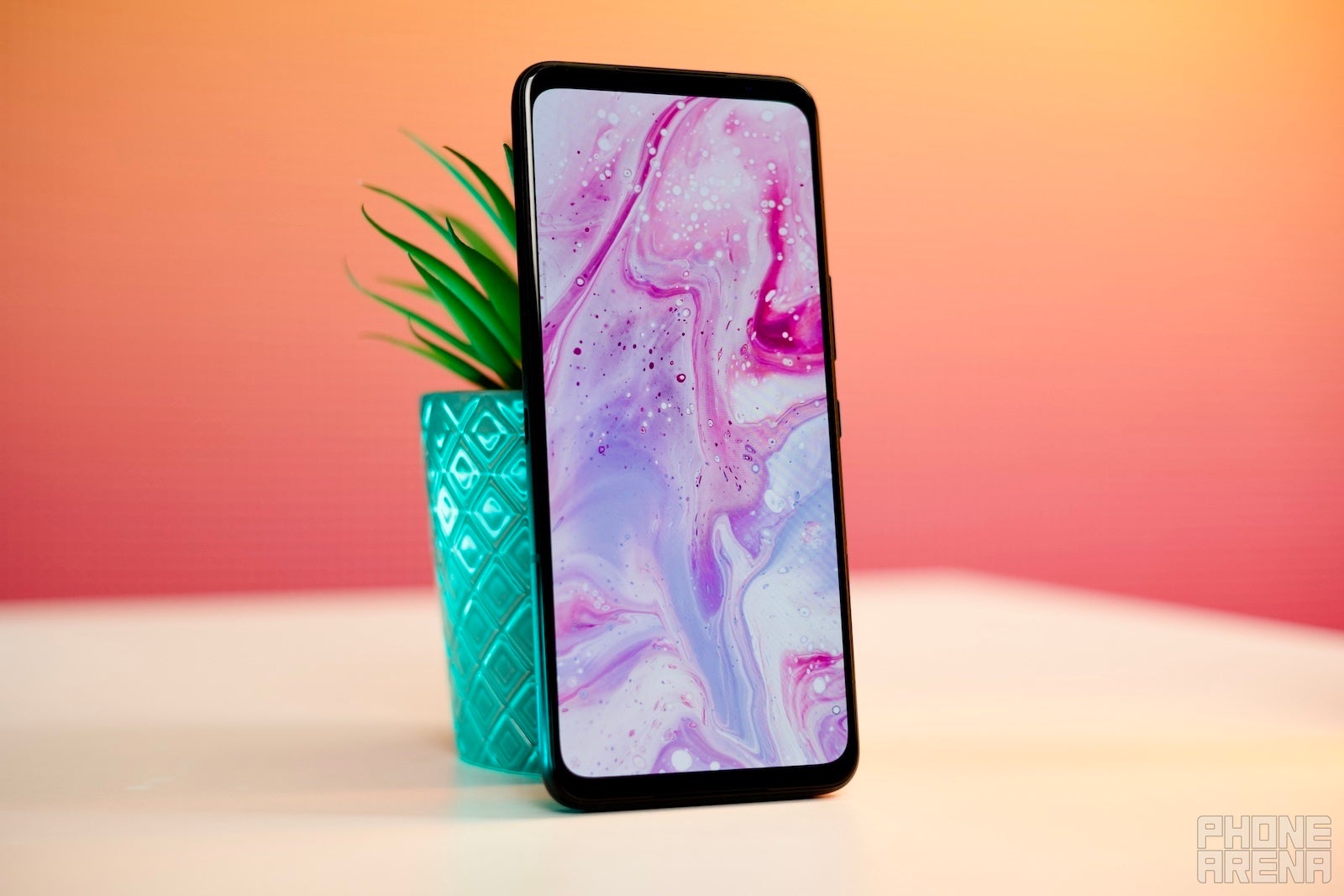 ROG Phone screens have been nuts from the get-go and there's no surprise here — the ROG Phone 6D Ultimate has a 6.78" AMOLED panel with great colors, deep contrast, a 165 Hz max refresh rate, and 1,200 nits of max brightness. It is HDR10+ compliant, so you can enjoy all your favorite media on it.
We had no trouble using the screen in daylight or night time, and its size was perfect for the multiple gaming sessions we had with it. Of course, we went through the settings to choose a color calibration to our taste — these range from vibrant to muted, from cold to warm.
As for refresh rate, we do prefer to stick to 120 Hz, since 165 Hz kind of skews white balance. The dedicated X Mode (gaming mode) sticks to 144 Hz. For our review period, we left it on Auto and let the phone decide what's best.
Display Measurements:
The screen is also home to our friend — the fingerprint scanner. It's an optical type as before and we mostly had no trouble with it. In rare occasions when the scanner area is a bit smudged, or our fingers were a bit sweaty, it would fail a scan, but those were few and far between.
Asus ROG Phone 6D Ultimate Camera
A gaming phone that actually has a good camera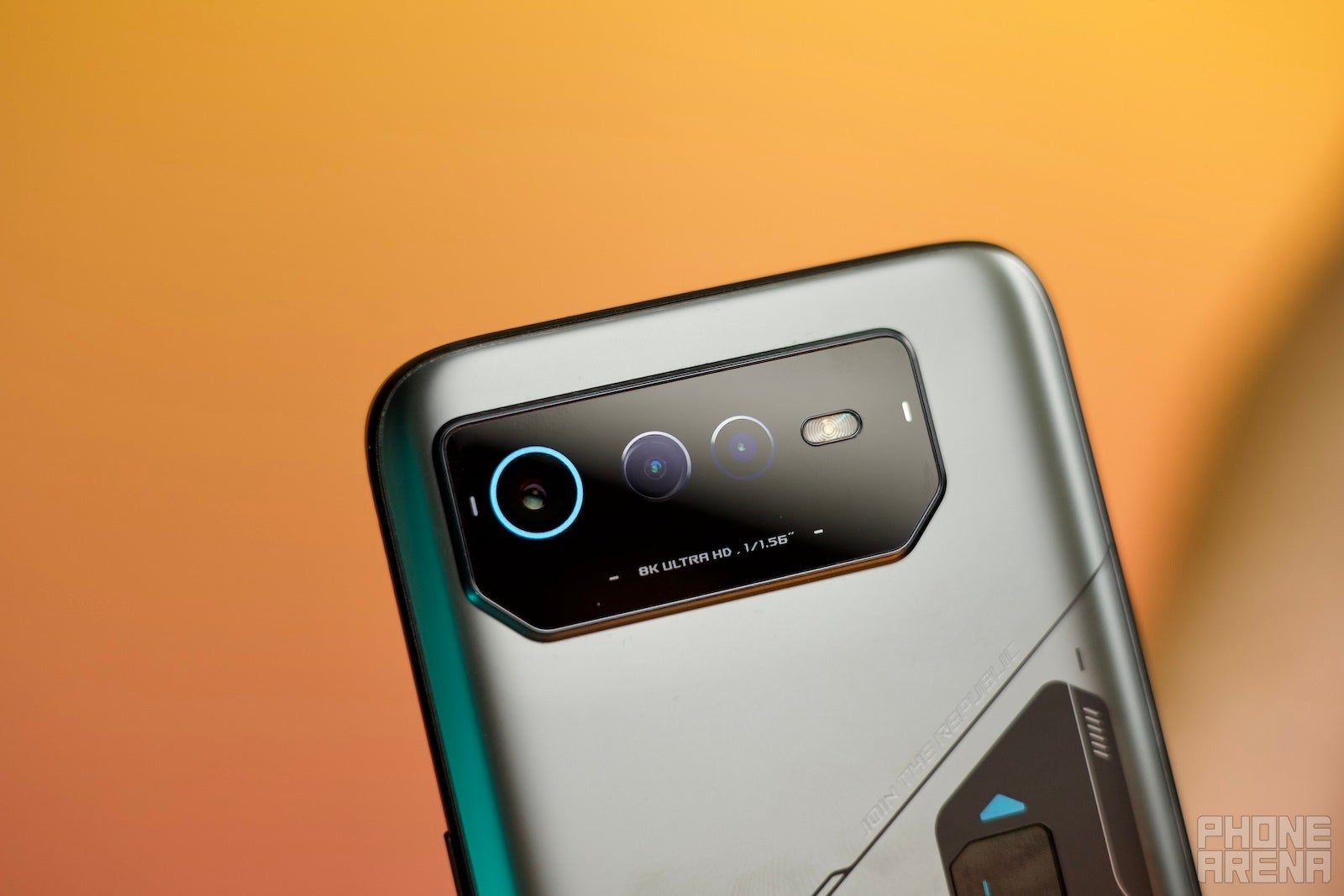 The ROG Phone 6D series has the same camera module as the ROG Phone 6 did. A 50 MP Sony IMX766 main sensor, a 13 MP ultra-wide, a macro camera, and a 12 MP Sony IMX663-equipped selfie camera. But hey, it has a different chip underneath, so we felt compelled to test it all the same:
Well, all we can say is that the camera is just as good as on the ROG Phone 6 Pro. Now, there are no crazy features like super zoom and the Portrait Mode is just… not good. But for main camera needs, for an OK selfie — this camera does just fine.
Colors are a bit saturated, but nothing too offending. Details seem good with not a lot of oversharpening and dynamics actually look fantastic. We were pleasantly surprised with the ROG Phone 6 Pro's camera, since you rarely expect a gaming phone to be decent in this department and the ROG Phone 6D Ultimate repeats the same story — it's a fantastic gaming phone with a decently good camera. We wouldn't think twice about using this as a daily driver, feeling confident that it can capture a moment before it flows by.
Asus ROG Phone 6D Ultimate Performance & Benchmarks
MediaTek makes powerful processors?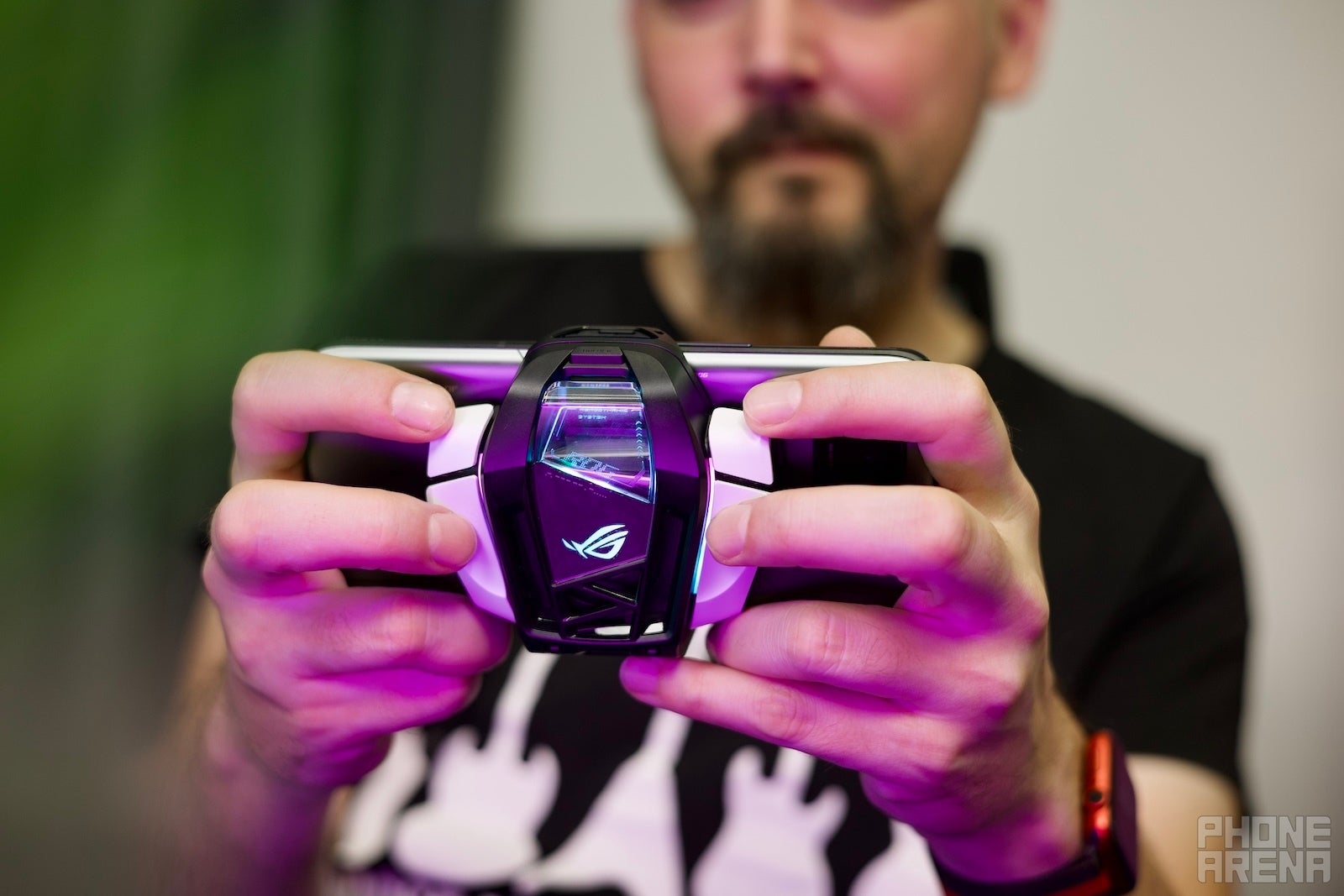 OK, let's address the elephant in the room — MediaTek chips are usually associated with budget-class devices and have the "lower quality" stamp on a lot of people's minds. However, the MediaTek Dimensity 9000+ is no joke. It's built on a 4 nm process and the one in the ROG Phone 6D has been specifically overclocked to hit 3.2 GHz with its ultra core. So… same stats as the Snapdragon 8+ Gen 1.
Does it deliver? We spent 2 weeks playing all sorts of games on the ROG Phone 6D Ultimate (the recent Best Games for Android and iPhone pick we made was specifically play-tasted with the ROG 6D Ultimate) and it just soared through all of the titles.
We pushed the settings on every game that would offer them — highest detail possible, highest frame rate possible. And it was all fun and games with no hiccups or frame drops.
So yes, the MediaTek Dimensity 9000+ inside the ROG Phone 6D Ultimate runs more than fine. It's a beast!
However, it's worth noting that when pushing the phones to the limit — using 3DMark's WildLife Extreme Stress Test, the Snapdragon 8+ Gen 1 in the ROG Phone 6 Pro scored slightly better. But the MediaTek Dimensity 9000+ was slightly more stable.
The AeroActive Cooler 6 was not used to perform these benchmarks, however we did let the phones enter X Mode. We don't find this to be cheating because X Mode is user-accessible and can be activated at will.
Performance Benchmarks:
In real life — we found no difference in performance.
About the RAM — again, we can't say we found any difference between the 16 GB LPDDR5X and the 18 GB LPDDR5 of the 6D versus the ROG 6. After all… that's a killer amount of RAM one way or the other, and it may take Android some more years before it can actually make full use of such modules.
And then, of course, there's the 512 GB of storage. That's half a terabyte — we may not have a microSD card slot to use, but we can't imagine needing one any time soon.
Asus ROG Phone 6D Ultimate Connectivity
The Asus ROG Phone 6D series supports Wi-Fi 6E, same as the ROG Phone 6. This is a new standard, which allows connection to 6 GHz routers (currently, most popular connections are 2.4 GHz and 5 GHz).
Additionally, the phone has dual-band Wi-Fi for extra stability, meaning it can hook up for two networks. For example, in the home testing we did, it would connect to the router's 2.4 GHz and 5 GHz bands, so the signal didn't drop a beat when we moved to rooms further away.
It's a dual-SIM, dual-standby phone and, naturally, supports 5G. However specs on supported bands are yet to be released, so stand by.
Asus ROG Phone 6D Ultimate OS / Android version
The ROG Phone 6D Ultimate comes with Android 12 out of the box, with Asus' own Zen UI on top of it. It's mostly just classic Android with some extra bells and whistles added specifically for the gamers — a gaming hub with controls for your hardware, notifications, and game recording.
You can choose whether you want the subdued, Android phone theme, or go all out with gaming icons and aggressive stylings all around.
For the most part — we really like Zen UI. It corrects some wrongs (like the Internet Quick Tile actually lets you toggle Wi-Fi on and off, instead of opening a menu. It's called a "Quick Tile" for a reason, Google) and it adds just the right amount of proprietary features and apps without feeling bloated.
The bad news, however, is that Asus promises 2 years of software updates and 2 years of security patches. Now, with all of its hardware prowess, the ROG Phone 6D Ultimate is definitely future-proof. In fact, its battery menu offers all sorts of battery charging controls to prolong the life of your battery. So we find it an absolute shame that software support will just cut out after two years.
Don't get us wrong — sure, you can stop distributing major Android builds after that. It will still be a great phone for some years to come. But security updates are just a must-have in today's world, where bad actors are constantly looking for backdoors in older Android software, knowing full well that most of the world still has phones that don't get the newest patches.
Asus ROG Phone 6D Ultimate Battery
Not easy to take down
The ROG Phone 6D Ultimate has two 3,000 mAh cells, giving you a 6,000 power pack combined. They were split for multiple reasons — it allows for the phone's CPU to be placed in the middle, so the AeroActive Portal can get to it, all while keeping heat away from the places where you hold the device. It also lets Asus utilize fast charging.
Not surprisingly, the ROG Phone 6D Ultimate passed our battery tests with flying colors. In real life, we found the battery to be very dependable — we rarely even thought about it. Even after gaming or prolonged YouTube binges, we had plenty of juice left for the rest of the day. And if we didn't that fast charger topped us up in no time.
PhoneArena Battery Test Results:
The Asus ROG Phone 6D Ultimate does not support wireless charging — Asus often prefers to utilize the space within its gaming phones for other components. Now, is a mini display that shows custom animations more important than wireless charging? Maybe not, but the decision may also be in concert with the aforementioned battery longevity care.
Asus ROG Phone 6D Ultimate Charging Speeds
The ROG Phone 6D Ultimate comes with its 65 W fast charger in the box, thank you very much, and it can get the phone from 0% to 100% in 45-ish minutes. But if you only have a few minutes to plug in, you can still get from 0% to 23% in 10 minutes.
Asus ROG Phone 6D Ultimate Audio Quality and Haptics
Amazing speakers — we love carrying a ROG Phone 6D around because it feels like having a Bluetooth speaker at all times. It gets sufficiently loud, it's meaty and deep, and you can share your new favorite song with your friends without worrying that it will sound like a tinny mess. Especially if you take the time to tune the 7-band EQ to taste (note: the ROG Phone 6 Pro has a 10-band EQ, so there's a win).
Of course, for gaming, this translates to great audio experience, provided the game's audio design is good, of course. This is all achieved thanks to Asus' long-running partnership with Swedish digital audio experts Dirac — the company has been offering fantastic hardware for audiophiles and phenomenal software for studio professionals for quite some time. Choosing to work with Dirac for its ROG brand only shows how much Asus insists on getting the best for these phones.
As for haptic feedback, the ROG Phone 6D Ultimate is just as good as its predecessors — it clicks and clacks with precision for a satisfying feedback. And Asus knows it and shows it off — the UI is littered with little spots that trigger the vibration.
Asus ROG Phone 6D Ultimate Competitors
The gaming phone niche isn't very populated at the moment. There's
RedMagic
, which produces phones with capacitive shoulder buttons and an integrated fan for cooling. There's also
Black Shark
— a Xiaomi sub-brand, which launches phones with physical, clicking shoulder buttons and Xioami's MIUI on board.
These phones are usually powerful and have their own gaming software hubs on board, but nobody goes as far and hard as Asus does with the ROG Phone series. Razer kind of tried to in the past, but we haven't heard anything since the Razer Phone 2, which 4 years old now.
Of course, this is all reflected by price — we still don't know where the ROG Phone 6 Ultimate will sit, but we are pretty sure it will be up there in the premium range. While the competitors, while cutting corners, offer more affordable devices.
Asus ROG Phone 6D Ultimate Summary and final verdict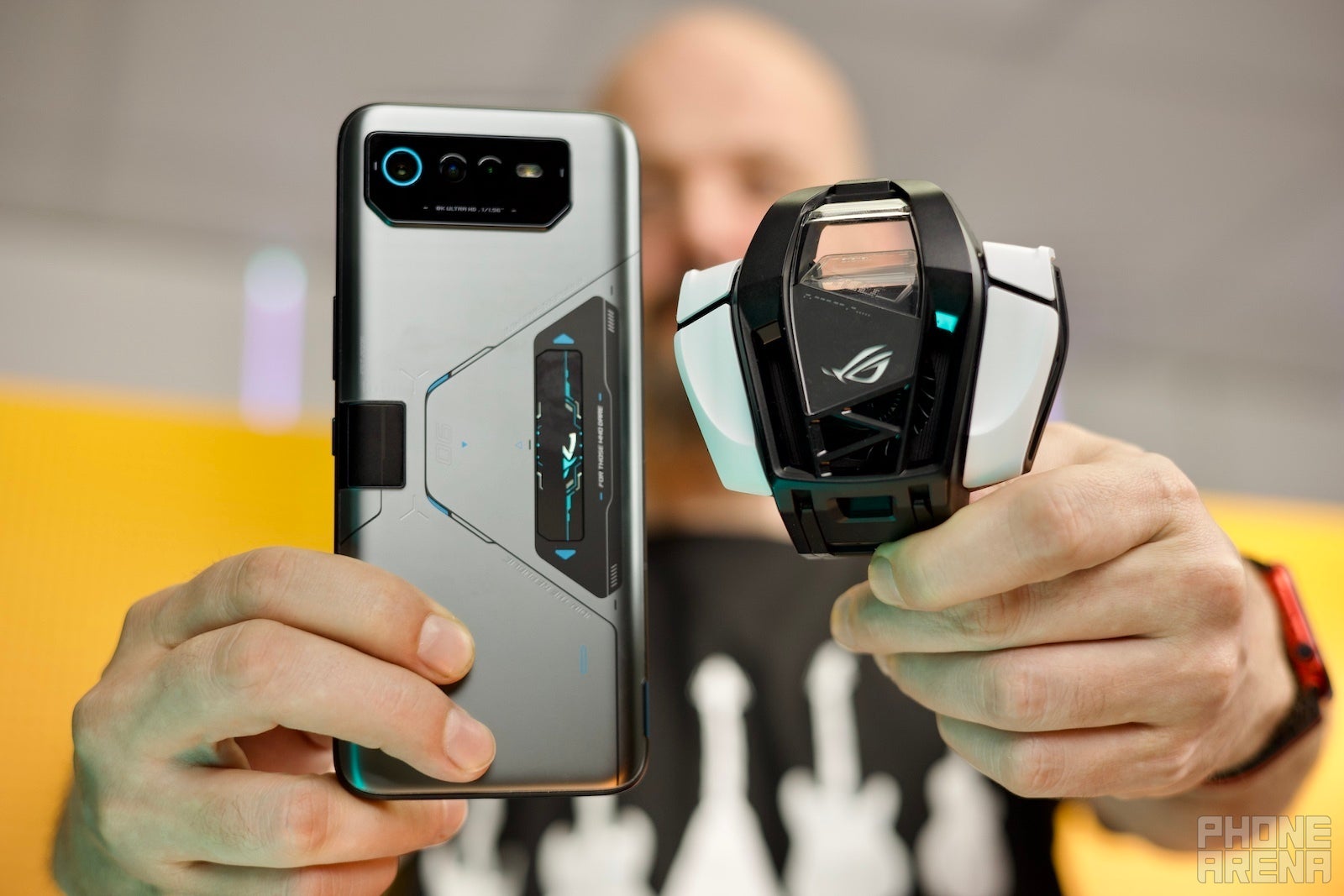 So, this is the ROG Phone 6D Ultimate… as powerful, as ridiculously overkill as you might expect. Is it better than the ROG Phone 6 Pro? We kind of… don't feel like it is. It's just as good, don't get us wrong, but we couldn't really feel a measurable improvement… an "Ultra-ness" if you will.
However, gamers want what they want and we are pretty sure that some will love the new AeroActive Portal and the LPDDR5X module, even if it's just for bragging rights.
We did not find the MediaTek chip to be inferior in any way in real-life use and if we had to choose whether we want to use the ROG Phone 6D Ultimate or ROG Phone 6 Pro — we'd honestly just throw a dart. Or just choose between Space Gray and Storm White.
Now, the 6D Ultimate does come with an AeroActive 6 cooler bundled in, so if the package price is lower than buying the ROG Phone 6 Pro and the fan separately, we'd recommend the Ultra. Simply because we find the ROG Phone experience to be at its best when you have the cooler as well.
And, of course, some markets in the world will only get one or the other. For those that do — don't worry, you are not getting the shorter end of the stick.
Recommended Stories