Asus ROG Phone 5 Ultimate review
4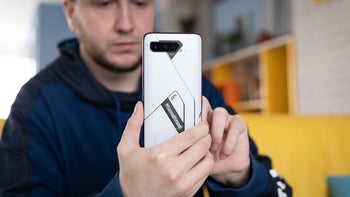 With just a few noteworthy changes over the base
ROG Phone 5
, the limited edition Asus ROG Phone 5 Ultimate is definitely not the phone for most people. But with its striking design, high customizability, an overkill of RAM and limited status, the ROG Phone 5 Ultimate is definitely the Holy Grail for mobile gamers.
And considering its €1,299 price (about $1,545) and aforementioned limited availability, getting to own it may feel about as lucky as finding the actual Holy Grail.
Design & Display
Asus did things differently this year by releasing not just the single
Asus ROG Phone 5
, but also two additional versions – the ROG Phone 5 Pro and the one we have here – the ROG Phone 5 Ultimate.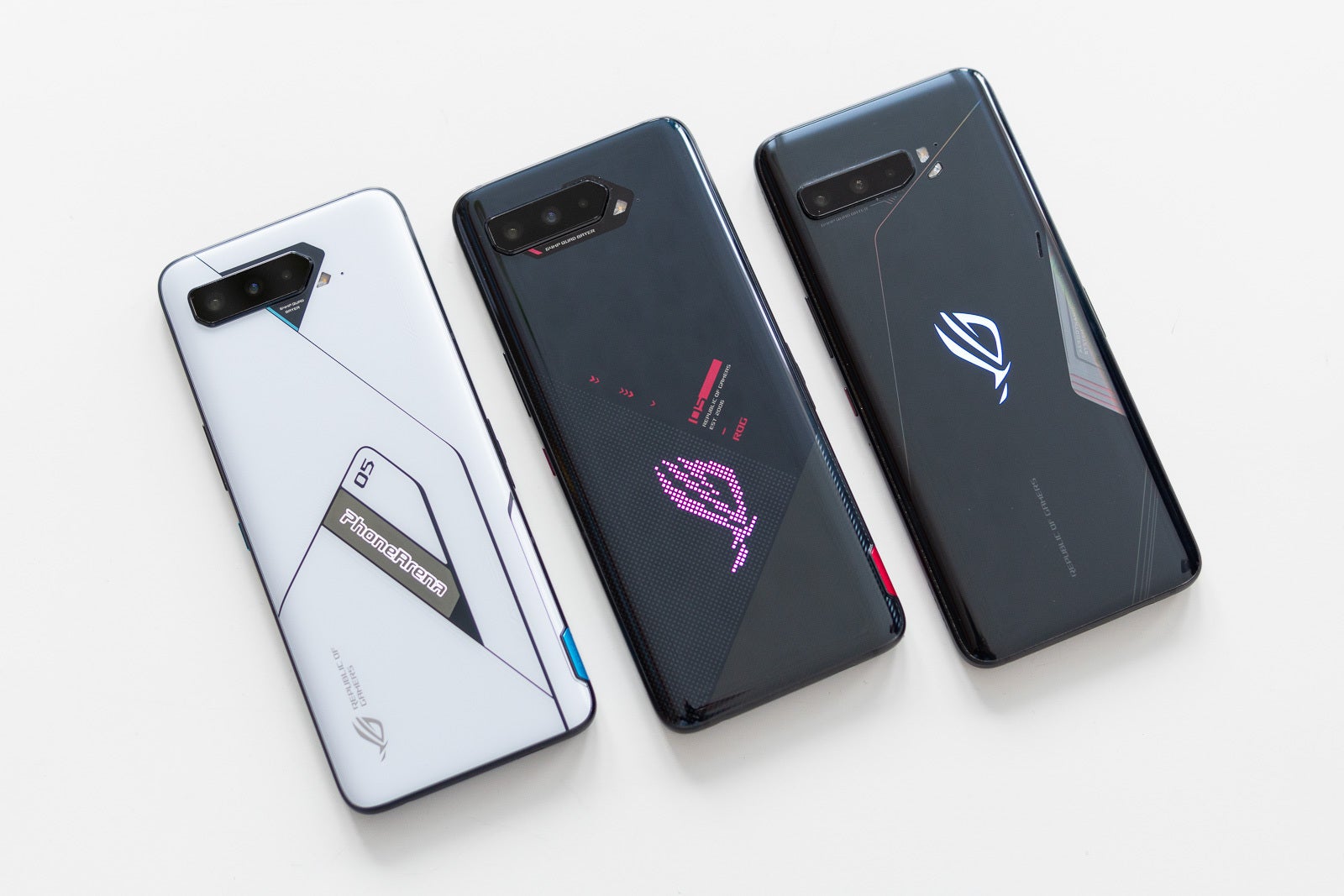 The Asus ROG Phone 5 Ultimate (left), the ROG Phone 5 (center) and their predecessor, the ROG Phone 3 (right)
Aside from the more RAM and storage those phones have over the base ROG Phone 5, they also sport a secondary screen on the back instead of an LED dot matrix-style ROG logo.
Thanks to that secondary screen and the ROG 5 Ultimate's matte white back, it looks less like your average phone and more like futuristic technology that came right out of the Portal games.
This truly is a beautiful phone to proudly carry around and often be asked about, as its unique appearance does catch the eye from afar.
It's packing a large battery so it's heavier than the average phone, at 239 grams, but that's a tradeoff most gamers would likely be willing to make. Like its cheaper base ROG Phone 5 variant, the ROG Phone 5 Ultimate feels great in the hand, thanks to its smooth, rounded corners and solid build.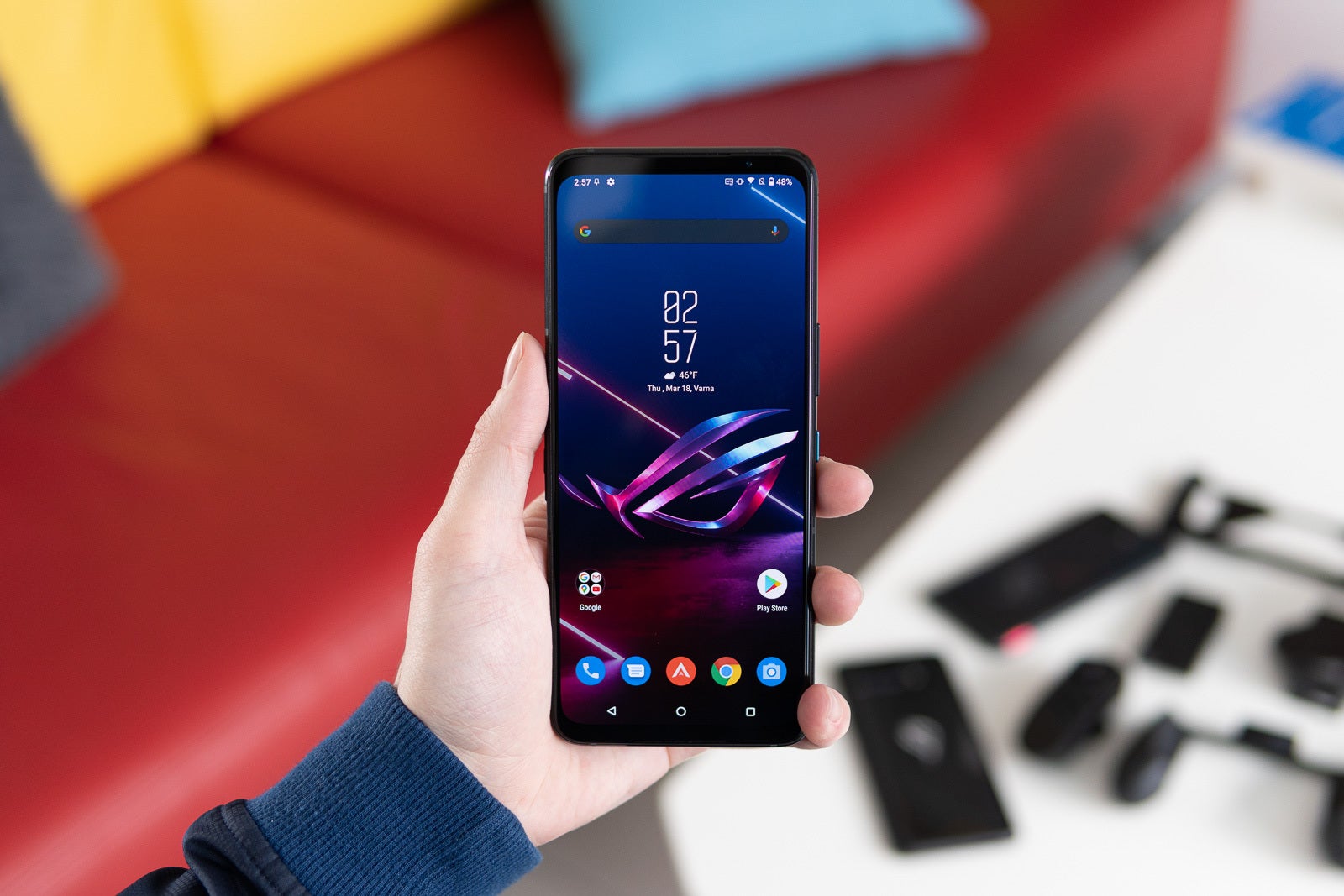 From the front, it's basically the same phone as the other ROG 5 variants – same fantastic front-firing stereo speakers and same beautiful, super-smooth Samsung AMOLED display. That display's 144 Hz refresh rate adds to the phone feeling snappier than any other, although gamers should note that most Android games don't actually support 144 Hz refresh rate at the moment, usually topping out at 120 Hz. Regardless, 120 Hz is still twice as smooth as the average phone, usually only at 60 Hz.
ROG Phone 5 Ultimate display specs

6.78-inch display, 20.4:9 aspect ratio, 2448 x 1080 resolution, 144 Hz refresh rate, AMOLED
1,200 nits peak brightness
HDR10 and HDR10+ certified
150.89% sRGB color gamut coverage
Corning Gorilla Glass Victus
Supports Always-On display
As we shared in our
Asus ROG Phone 5 review
, the display can get very bright, but also dim enough for comfortable use in the dark. An issue I had with the ROG Phone 5's predecessor was that it didn't get dim enough in the dark, but thankfully that has been resolved on the ROG 5 series.
Display measurements and quality
Camera
Nobody would be buying this phone for the camera, but it has a respectable one anyway. The main camera is 64 megapixels, next to which are a 13 MP 125° ultra wide-angle camera and a 5 MP macro sensor.
They're exactly the same cameras as on the ROG Phone 5, so feel free to check out our Asus
ROG Phone 5 review
for more camera samples and even a video comparison against the iPhone 12 Pro Max and Galaxy S21 Ultra.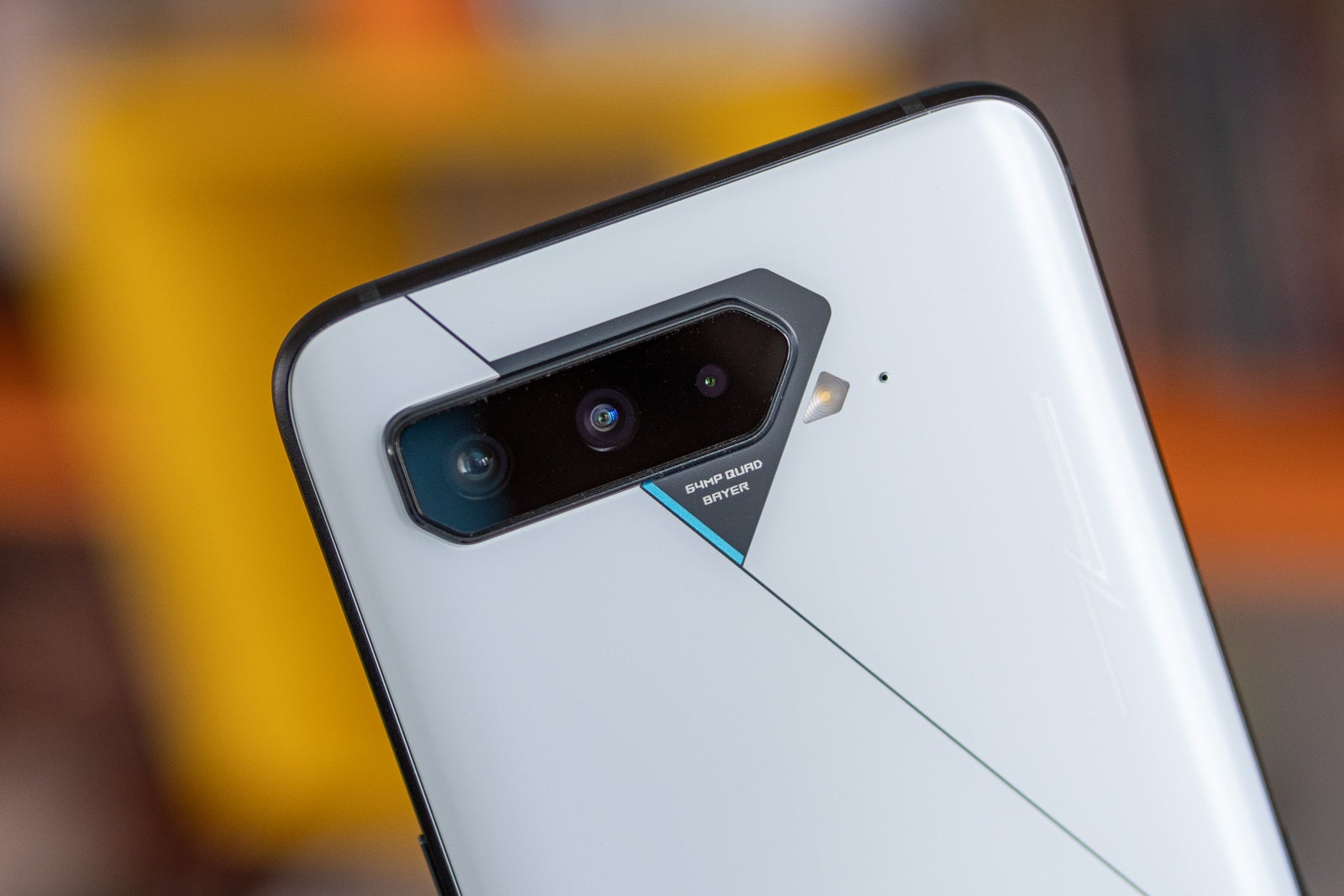 Regardless, we also have ROG Phone 5 Ultimate camera samples below, but indeed the camera quality is pretty much the same. Portrait Mode seems to have improved slightly, likely thanks to a software update, as the ROG 5 Ultimate is running newer software than the ROG 5 did back when we reviewed it.
Photos with the main camera come out nice and sharp, with realistic colors. The 125° wide angle camera isn't as sharp, but gets the job done and can produce some stylized shots.
And lastly we have the macro camera, which feels like it was included just because 2021 phones apparently must have at least three cameras. It's alright for the occasional macro photo but far from perfect in terms of focusing and general results. Most users will easily forget that the phone even has a macro camera, as it's not a visible option in the camera app. You need to seek it out by going to the extra camera modes menu.
In any case, the main camera is great, considering that it is far from the main focus of this phone, with the ultrawide one plenty sufficient enough too.
It's worth noting that along with Portrait Mode, the rear camera supports panorama shots, has a night mode and Pro modes for both photos and video recording.
Speaking of video recording, the Asus ROG Phone 5 Ultimate can shoot videos at up to 8K resolution (7680 x 4320), although even the most enthusiastic users will likely prefer 4K, 60 FPS. The latter is less impactful on the phone's hardware, takes less storage space and in my experience has perfect video stabilization.
Audio
The audio experience on any of the Asus ROG Phone 5 variants is arguably the greatest ever, of any Android phone. The ROG Phone 5 Ultimate has dual stereo speakers, one in each bezel. Sound is loud and punchy, with a good hint of bass that puts to shame even some laptops with larger speakers.
This is exactly the audio experience you want for maximum gaming enjoyment. We also can't overlook the fact that those speakers make the ROG 5 Ultimate a fantastic phone for watching movies and listening to music too, no Bluetooth speakers or headphones needed.
But if you do want headphones, you'll be happy to know that Asus has brought back the headphone jack on the ROG Phone 5 series, which was previously absent from the ROG Phone 3.
In regards to the often overlooked phone call quality – the earpiece is loud and clear too.
Software & Performance
After a rather unique setup process, where the phone teaches you about the AirTriggers via an impressive-looking interactive 3D minigame, you can select how you want your Android home screen to look. By default, you get a gamer aesthetic with red accents throughout the interface, but if you're not a fan of that, you can alternatively choose to have a stock-looking Android experience.
The Asus ROG Phone 5 Ultimate is powered by the Qualcomm Snapdragon 888 processor and an overkill of 16GB of RAM. With that in mind, even its "lesser" base ROG Phone 5 variant had no issues playing any Android games at high graphics and either 120Hz refresh rate, or as Minecraft allows – the super-smooth maximum of 144Hz. And with the ROG Phone 5 Ultimate's 512GB of storage, there's plenty of room for all of your favorite games, movies and music.
One of the signature features of the ROG Phone 5 are its AirTrigger 5 sensors, which in the case of the ROG Phone 5 Ultimate are not two, but four. Two are embedded in the top frame of the phone (when held in landscape), similarly to shoulder buttons on a gamepad. The additional two AirTriggers are found at the back of the phone, and while I personally didn't find those particularly easy to feel for and use, the shoulder AirTriggers are as perfect as ever.
When enabled, touching those can trigger any previously-assigned in-game action, such as shooting or jumping, and although the AirTriggers aren't actual keys but flat touch sensors, you get a vibration to assure you of each successful press. AirTriggers work surprisingly well and can really be a game changer feature for many mobile gamers.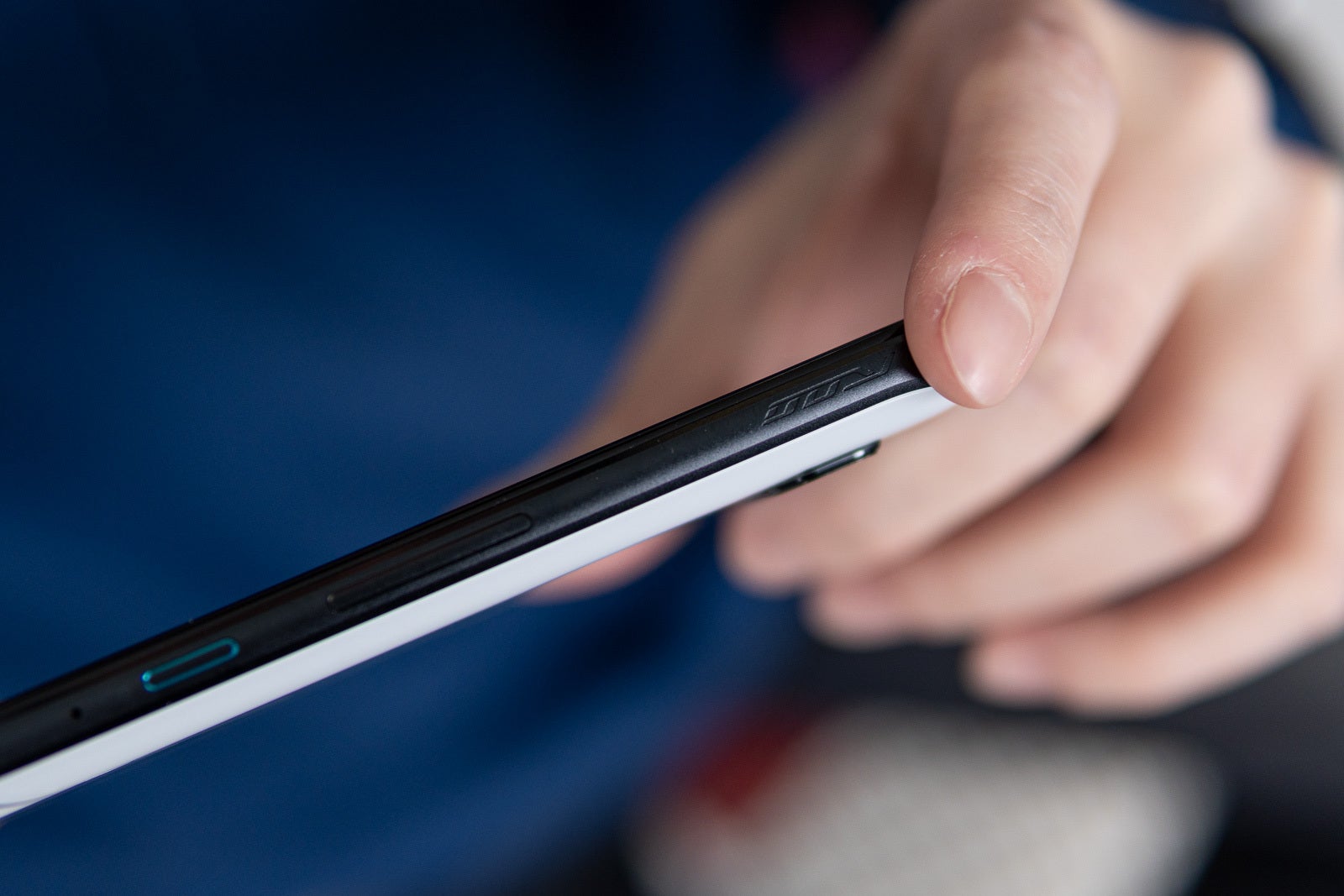 One of the AirTriggers that are embedded in the frame of the phone
At any time while gaming you can swipe from the left of the screen to open the Asus Game Genie, where if the game doesn't natively support the phone's AirTriggers, you can assign them to in-game actions yourself. It's a quick and easy process that involves dragging icons for each AirTrigger onto the game's on-screen controls.
Speaking of software features, the Asus X Mode returns, allowing you to customize almost everything about your ROG Phone 5 – the phone's thermal limit, CPU, GPU and RAM performance, the screen's touch and slide sensitivity, and more. Asus puts you in full control of your phone here and gamers who already tinker with their PC gaming rigs will feel right at home.
The secondary display – "ROG Vision"
Like the ROG Phone 5 Pro, the Asus ROG Phone 5 Ultimate has a secondary display on its back, except here it's a monochrome one. It's rather pixelated too, although if you're a retro gamer like me, you might actually like that.
The secondary display is pretty much just for flare and is customizable. Asus lets you create your own little graphics to display on it, like your name in a cool glitchy font of your choosing.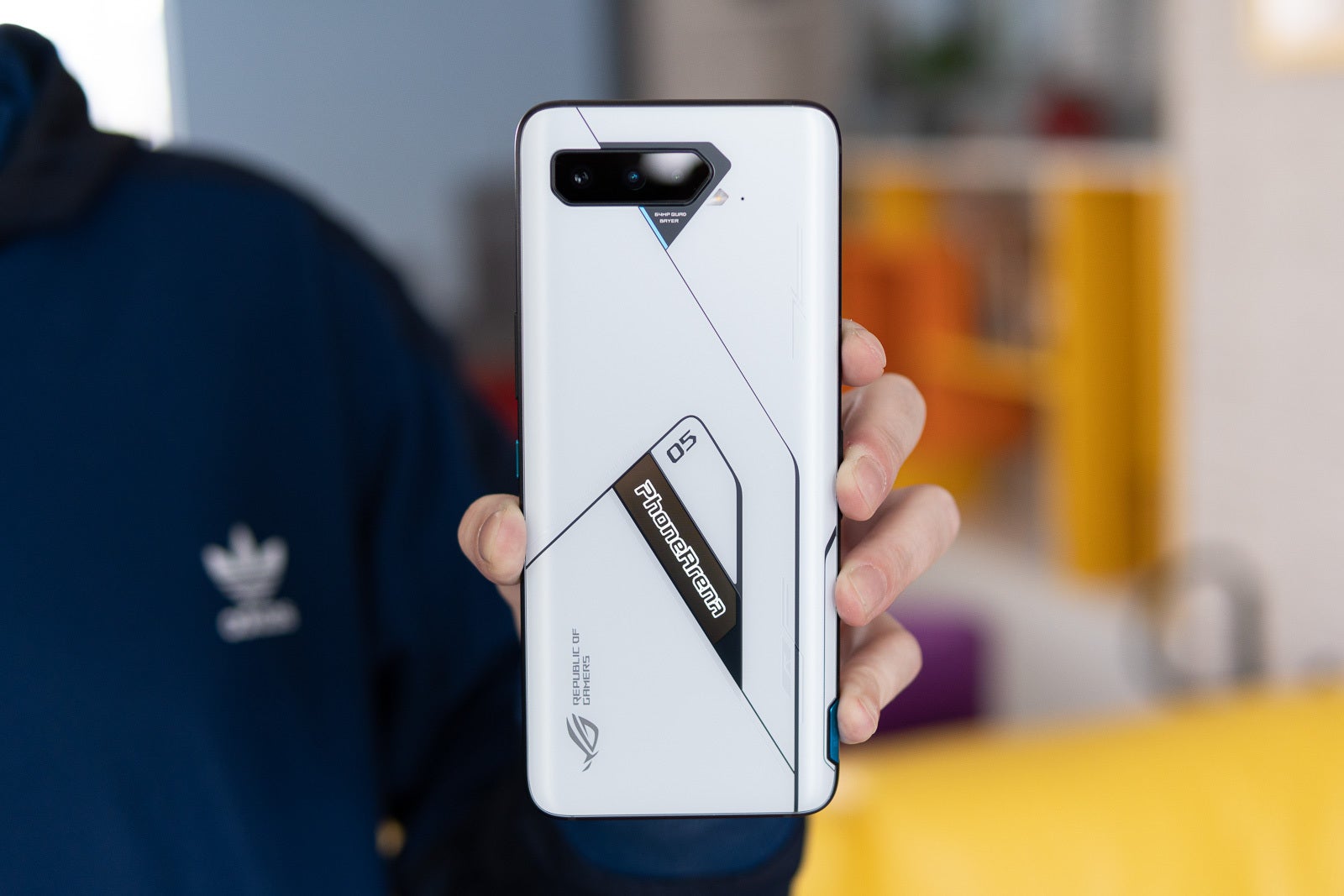 Of course, the secondary display can also activate and show an animation when you're getting a phone call, when the phone is charging, when attaching accessories or when a game is launched.
It's also cool that whatever animation is playing on the secondary "ROG Vision" display, it will always orientate itself correctly, even if the phone is being held upside-down.
I can imagine dedicated gamers using this screen to display their team logo or player name, or alternatively, an individual can use it to make the ROG Phone 5 Ultimate their own. It's not some obnoxious LED monstrosity, but a stylish monochrome screen that even when unused blends well into the phone's back design, adding to its strikingly unique appearance.
18GB of RAM on a phone?
Amazon's best-selling Windows laptop only has 4GB of RAM and apparently that's sufficient for most people. So who exactly needs 18GB of RAM on a mobile phone and what could the benefits possibly be?
Well, you could argue that futureproofing is one. The ROG Phone 5 Ultimate will likely remain on the bleeding edge of smartphone performance for a good number of years. If you're a mobile gamer, this is the way to go – by buying an overpowered phone that allows you to customize almost every aspect of it, then you make it yours and use it for a long time.
But today, right now, is there a benefit of 18GB of RAM on a phone? Even if you're a heavy multitasker and gamer, probably no.
In any case, the Asus ROG Phone 5 Ultimate isn't just about the RAM, it's an entire package of flare, power and customizability. Offering the user more than they need is what makes this phone so desirable. Performance shouldn't be the only reason to buy it, as there's just so much more to love about it. Plus, good performance alone can be found on pretty much any 2021 flagship.
Gaming accessories
This phone supports the same accessories that we covered in our
ROG Phone 5 review
, most notably the Asus AeroActive Cooler 5 clip-on fan and the ROG Kunai 3 Gamepad.
When you buy the ROG Phone 5 Ultimate, you actually get the AeroActive Cooler 5 out the box for free. Aside from the obvious cooling, it adds two physical shoulder buttons to the phone, as well as a kickstand.
But the ROG Kunai 3 Gamepad is really where it's at. Although sold separately, it can turn the Asus ROG Phone 5 Ultimate into a Nintendo Switch-like Android gaming console, with physical buttons and analog sticks. The ROG Kunai 3 looks and feels great, although it's worth noting that not all Android games have gamepad support, even if some high-profile ones like Minecraft do.
Battery life
The ROG Phone 5 Ultimate packs a large 6,000 mAh battery and has Quick Charge 5.0 support. Like the base ROG Phone 5, especially with the screen set to 60Hz, it can deliver many hours of entertainment on a single charge – nearly 11 of 3D gaming and over 13 hours of web browsing or watching YouTube videos.
And like all ROG Phone 5 models, the Ultimate comes with a generous 65W charger in the box, which is rather large but sports a nice braided cable and can top up the phone from zero to 100% in just under an hour.