Galaxy Tab S8 Ultra review: Notch your average tablet
13
We may earn a commission if you make a purchase from the links on this page.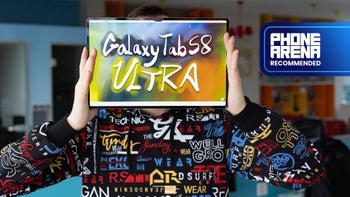 In a highly competitive tablet market dominated by Apple's iPad, Samsung continues to hold its own with what is reasonably considered the best iPad alternative – the Galaxy Tab series. In early 2022, we got a much-needed refresh when the trio of
Galaxy Tab S8 models
dropped, with the Tab S8 Ultra being the biggest and baddest, in the goodest way. But is it… too big? Is the price too high? Can it actually... do stuff? We're about to find out.
One thing is for certain, though… For its premium price, starting at $1100 and going up to $1400, the Galaxy Tab S8 Ultra brings the largest, most versatile and feature-rich Android experience you can get on a tablet. Android fans and iPad defectors – you can't overlook this one! Read on…
Save on the Galaxy Tab S8 Ultra at Samsung now

Design and build quality
What we have here is one beautiful, striking tablet. Its huge widescreen display, super-small bezels and that notch make it stand out from the usual slabs. Its back is distinctly
Samsung
– meaning you get a familiar, horizontal, pill-shaped camera module, next to which is a glossy area where your S Pen stylus snaps on magnetically. And yes, that S Pen comes included in the box – whether you need it or not – you get it.
The tablet might be huge, but it's very thin, and perhaps most importantly – reasonably light, at 1.60 lb (0.72 kg).
Now is this huge tablet going to get uncomfortable as you're holding it in bed, while watching a movie or gaming? In my experience the answer is no – despite its deceptively huge dimensions, the Tab S8 Ultra feels fine to hold for a long period. Definitely not a kids tablet, though!
In a
Galaxy Tab S8 Ultra bend test
we saw that this metal and glass sandwich is built like a tank too, despite how huge and thin it is. You can bend it if you try hard enough, but breaking it – you'll have to put a whole lot of effort to accomplish that.
It's safe to say that this tablet is as durable as it is beautiful, and if you're worried about more reasonable things like daily scuffs and scratches, there are always cases you can get for some ease of mind.
By the way, if you love colorful tablets, you're out of luck here, because the Galaxy Tab S8 Ultra only comes in one color – Graphite, while the smaller Tab S8 models both have three colors to choose from.
Display
I know the notch is perhaps this tablet's most defining feature, or most controversial, but really – it's actually a pretty small notch that barely cuts into the display, so it's pretty easy to forget about. We'll talk more about it later, in the camera section of this review.
Now, the Galaxy Tab S8 Ultra comes with a huge 14.6-inch "Super AMOLED" display at a resolution of 2960-by-1848 pixels. The pixels-per-inch (PPI) is 239 PPI, which might not sound much on paper, but you really won't notice any pixels from a normal viewing distance. The 12.9-inch iPad Pro is smaller, yet a bit sharper than this, but again – normal day-to-day usage, it doesn't really matter.
What does matter is that this is a widescreen 16:10 display, so it's near-perfect for watching movies and videos. And the fact that it is AMOLED makes this sweet deal even sweeter; we're talking pitch blacks, vivid colors and – bonus feature – buttery-smooth 120 Hz refresh rate!
You can bring that down to a more traditional 60 Hz if you want, but why would you? Perhaps a small boost in battery life? Nah, you should really enjoy this gorgeous, huge and smooth display as it is out the box!
Now if you thought there was nothing to complain about, well, here it goes… With bezels this thin, you'll be getting accidental touches all the time; at least I do. No matter how carefully I try to hold it by the edges, it's an issue. Better accidental touch rejection would've been nice, and here's hoping Samsung adds it in an upcoming update, although there's been zero promises made.
And this begs the question – did this tablet really need to have such tiny bezels? Or is it just a visual thing, a show-off, like many consider curved-edge phones to be – it looks nice, but it creates more problems than it solves. Sure, this Galaxy Tab S8 Ultra definitely beats the iPad Pro when it comes to bezel size, but I've never gotten accidental touches on an iPad Pro… So there's something you should really keep in mind that you'll be dealing with, if you get the Tab S8 Ultra.
And one last thing about the display – a fingerprint scanner is embedded into it. It's reliable and quick, and if you're a veteran Samsung user, you're likely already accustomed to that secure unlock, since it's the same as on previous Galaxy Tab models.
Display measurements and quality
Performance
The Galaxy Tab S8 Ultra is powered by the Qualcomm Snapdragon 8 Gen 1 processor, while its GPU is an Adreno 730. When it comes to RAM and storage, you have several options, which, of course, increase in price as you go up:
| Galaxy Tab S8 Ultra RAM and storage combo | Price |
| --- | --- |
| 8 GB of RAM + 128 GB of storage | $1099.99 |
| 12 GB of RAM + 256 GB of storage | $1199.99 |
| 16 GB of RAM + 512 GB of storage | $1399.99 |
What does this gobbledygook mean in human speech? Well, it won't crush the iPads in performance, but the Galaxy Tab S8 Ultra is definitely one powerful Android tablet, and whether it's professional work or gaming you'll be using it for – it'll handle it.
Playing Minecraft on this huge screen might look ridiculous from afar, but boy is it a great experience, and the fact that we're dealing with an AMOLED display means the more graphically-intense games (e.g. Asphalt 9, PubG Mobile) look even more gorgeous and immersive than usual.
*Note that the model we have is the base 8 GB RAM + 128 GB of storage one.

Software experience

: Samsung DeX, home screen customization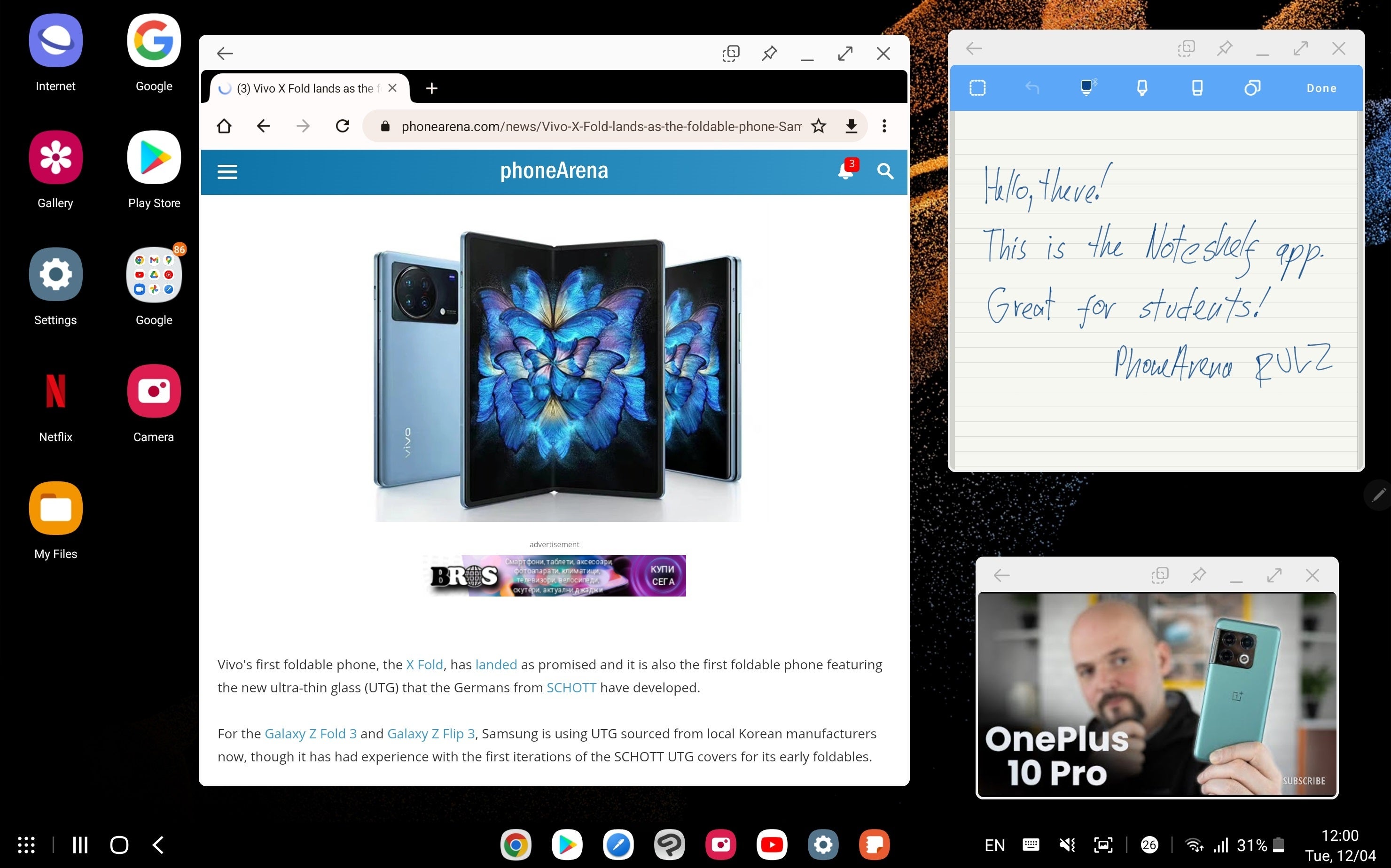 Samsung DeX in action
Samsung brings a familiar, feature-rich Android software experience here, as we would've hoped for. At the time of this review, the Galaxy Tab S8 Ultra is running Android 12 with One UI 4.1 on top.
Samsung's One UI Android overlay brings neat little features like a screen recorder, but there are also bigger things that are super welcome to see. Second Screen is a feature that allows you to use this tablet as an additional display for your Windows computer, or even as a drawing tablet for it (similarly to how you'd use a Wacom tablet). Connecting is very quick and completely wireless, over Wi-Fi, with minimal latency!
But if you know me, there's one Samsung feature I can't possibly praise enough; the thing that pushes Samsung's premium tablets over iPads for me – Samsung DeX. Tapping just one button transforms the Galaxy Tab S8 Ultra from a traditional-looking Android tablet with a familiar interface, to something that looks really close to Windows or MacOS.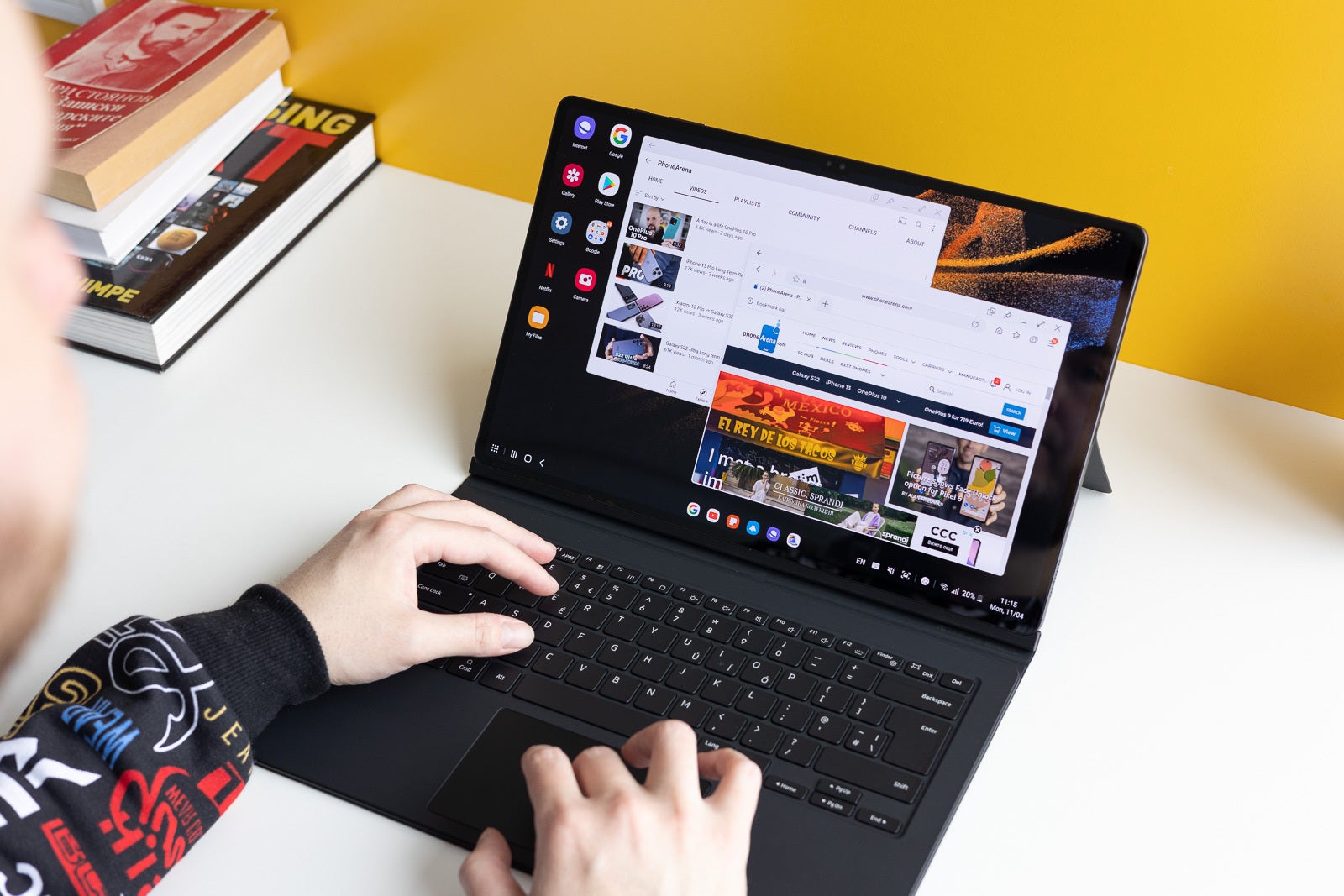 All of the sudden you get a taskbar (or a dock) with a Start menu. Apps open in popup windows for an ultimate Android multitasking experience. You can snap those windows to the screen corners too!
DeX is just beautiful, and seeing it here on the huge Galaxy Tab S8 Ultra is quite exciting. Of course, you can use the included S Pen stylus, or an external mouse to navigate, or even better – get yourself Samsung's keyboard case that comes with a trackpad, and use this tablet exactly as you'd use a laptop! We'll talk more about that case later on, by the way…
So yes, you do get an amazing Samsung software experience on this tablet, just like you have on older premium tablets from the Korean company. And of course, the default Android home screen is here too, if that's what you prefer.

And it's nicely customizable – changing the wallpaper or adding widgets is trivial, but did you know you can also change the color palette of the entire Android interface if you wish to? Samsung has you covered, and it's all in one menu called "Wallpaper and style". Your color palette will apply to Android menus, supported Samsung apps, and even your app icons, if you desire. Good stuff! Make this tablet your own, down to the last detail – Samsung gave you the tools!
S Pen stylus

: Latency, apps, features, gestures

So as we mentioned, the Galaxy Tab S8 Ultra, like many Samsung tablets, comes with an included S Pen stylus. That's a way better deal than having to buy a $99 Apple Pencil after you buy an iPad Pro, of course, but the S Pen does feel a bit cheaper, lighter and thinner.

Still, if you're an artist, or just someone who likes to take a lot of handwritten notes – you'll most likely find it well suitable. You can snap the S Pen on both the top right side of the tablet and the back – which is the preferred place, since that's where the S Pen charges, plus the magnets there are much stronger, at least when you remember to snap it with its tip facing the cameras.

A wrong orientation there, or at the top of the tablet, will get you a weak magnet connection and probably a lost S Pen, so I wish Samsung would improve those S Pen magnet connections. But in theory, it's nice to have two spots on the tablet to dock your stylus on. Just, again, remember to always dock it with the tip facing the cameras.

The hardware really isn't an issue, in fact, the S Pen quickly starts feeling good in the hand, and the fact that it has a soft tip is something I've praised before – as thanks to it, it really does feel like you're writing on paper when it touches the display. See, Apple's Pencil is hard-tipped, so when that hard plastic touches a hard glass display – it doesn't feel nearly as good or natural.

In any case, what truly matters is the software, right? If you're an artist and you've seen Samsung's marketing for this tablet, you'll know that the company seems to really want you to try out the Clip Studio app, and indeed – it looks promising, like a PC app, with PC-like menus and all.

Problem is, there's a noticeable stylus latency in that app, so I'd hardly believe anyone would seriously use it. Perhaps it's a fixable performance issue, perhaps not. But it's not working well.

The good news is, you have plenty of other drawing apps you can try out, and those work great – from the obvious Samsung Notes app, which you can even trigger with an S Pen gesture, to Noteshelf and PINUP. The latter is one I enjoyed the most, but it does have frustrating limitations, like not allowing you to add a third layer unless you register an account… Oh, my "favorite"…
Speaking of apps that require an account and/or money – you can also download Adobe Lightroom, Photoshop Express, among other options.
Samsung Notes is indeed integrated with your tablet out the box, so for taking notes – you're set – that app is pretty great. And it has lovely little touches, like it makes a little pen-on-paper sound as you're writing, which I know might sound like a simple gimmick but I love it!
The S Pen stylus does have a button on it, which you can click to access a list of stylus-friendly apps and features from anywhere. You can also access those via a floating icon, again from anywhere.
As always when it's Samsung and Android we're talking about – you have tons and tons of options to make this tablet your own. And to find your perfect notes app and drawing app to use with the included stylus, should the default pre-installed options not suit your needs.
And for those who might be wondering – this is indeed a Bluetooth S Pen, so it does charge and you do get S Pen Air Gestures to play around with.
Those can be, for example – you press and hold the S Pen's key while drawing a circular arrow in the air, like you're holding a magic wand and casting a spell – to get to your recent apps.
Or you press and hold the S Pen key and swipe up in the air, or right, left… Those are all customizable gestures.
If you ever wanted to feel like a wizard out of a Harry Potter movie – set up all the Air Gestures you want and go wild. But perhaps the most simple and useful trick is using the S Pen as a remote camera shutter. Again – you have a ton of fun options here; whether you'll find them useful is up to you.
About that optional Book Cover Keyboard
If you buy this tablet and wish to get real serious about it, the best accessory Samsung can sell you is the Galaxy Tab S8 Ultra Book Cover Keyboard, for the not-very-low price of $350. But, you get both a nice magnetic kickstand (-slash-protective case) for your tablet, and a very neat, large, backlit keyboard, plus a trackpad. The kickstand bit can be used separately even without the keyboard, so that's really cool.
And truly, put together, the Galaxy Tab S8 Ultra with this keyboard case is quite something to behold – it not only looks beautiful and laptop-like, but that keyboard and trackpad will add plenty of functionality to your experience, especially if you're rocking the tablet in DeX mode. I can see people (who can afford this package) using it for school work or even light office work.
The keyboard has three backlight levels, and although it doesn't get super bright – it doesn't need to. It's perfect for nighttime writing, and there's no light bleeding from around the keys!
That trackpad is lovely too, nice and smooth. A Windows-like mouse cursor pops up when you start using it, and you do get touch gestures like two fingers up and down to quickly access all of your apps, or three fingers up to see your currently running apps…
The keyboard even has a dedicated DeX shortcut for quickly entering it, so Samsung knows you'll be using this baby for work, not just play.
My only gripe is with the trackpad and it's semi-fixable – by default the mouse cursor seems to accelerate and decelerate unnecessarily slowly, and it's moving slowly in general, but thankfully at least the latter can be adjusted.
That weird mouse acceleration, however, is bugging me, and I'm sure it'll bug you as well, because it's not something you encounter while using Windows or MacOS, or even iPadOS with a trackpad. Hopefully Samsung makes some adjustments in an update.
But hey, overall – if you're heavy into DeX, you want to use this tablet like a PC – this keyboard case from Samsung will likely be worth buying for you. After a while of using it with DeX I even forgot this was an Android tablet…
To be fair – again, this is not a cheap case, plus it adds a bit of weight, and for the average user it'll probably be unnecessary, so don't rush-buy it. Really think about whether you'll need it first. Because chances are you already own a laptop, and even this entire package most likely won't be able to replace it, or even just feel as nice to use.
Camera and microphone quality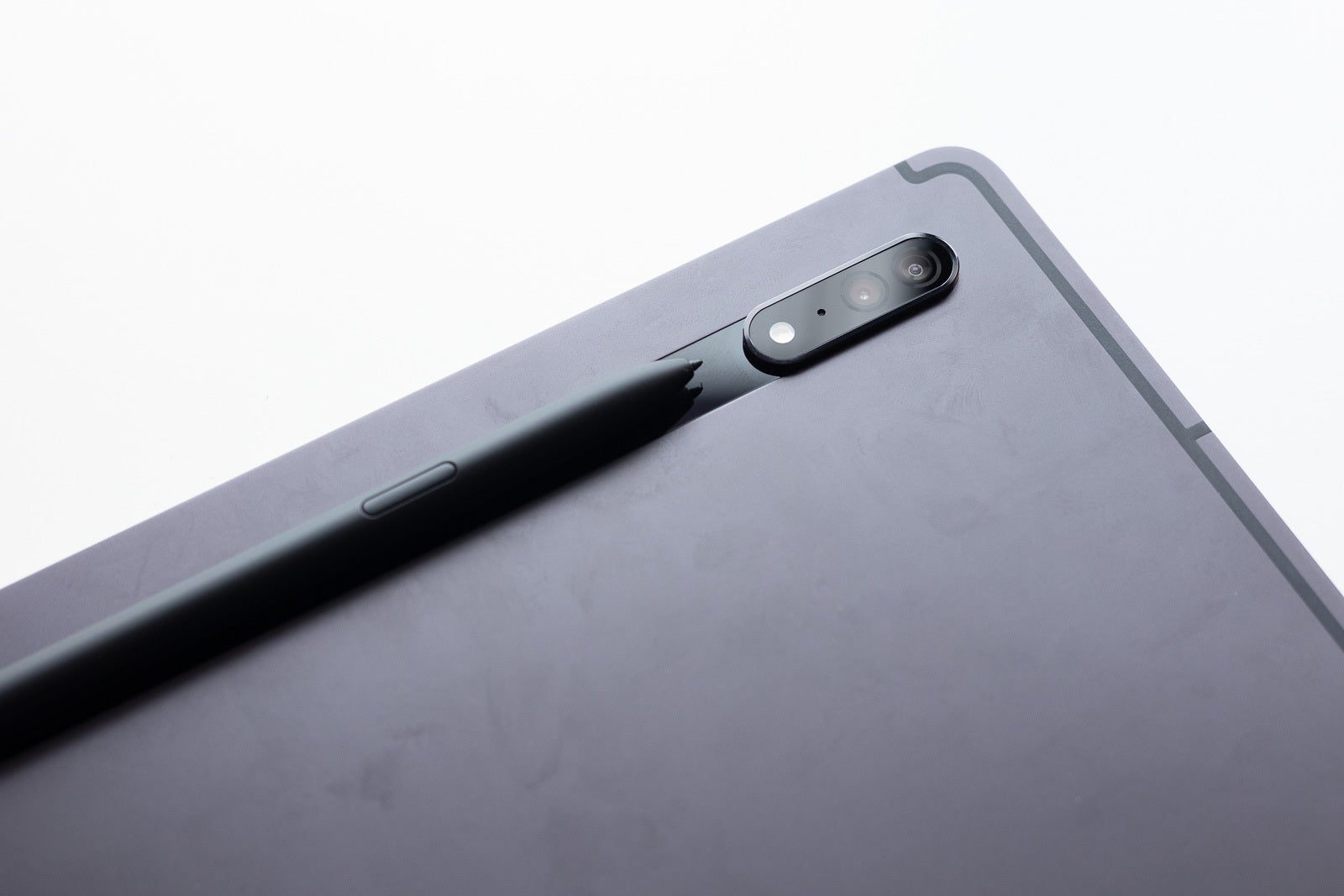 So on the back the Galaxy Tab S8 Ultra has two cameras – a 13 MP main one and a 6 MP ultra-wide, plus a flash next to them. Those are… not particularly impressive, as you can see for yourself from our video samples. The ultra-wide angle camera in particular is legit potato-grade, and it makes me think – what's the point of even having it? Just so we can say our premium tablet has more than one camera on the back?
Well, as it turns out, when it comes to taking photos, it actually performs respectably, and so does the main camera. Basically, you likely won't enjoy using this tablet for videos, but for photos – it's fine.
The Galaxy Tab S8 Ultra's microphone quality is really good, and whether you're in a meeting right in front of the tablet, or a few steps away from it talking in the wind like I did – you'll sound nice and clear. And speaking of things that are of surprisingly good quality…
Let's turn our attention to what you really want to know about – those two front cameras that required a notch, because the rest of that bezel is just too thin for them.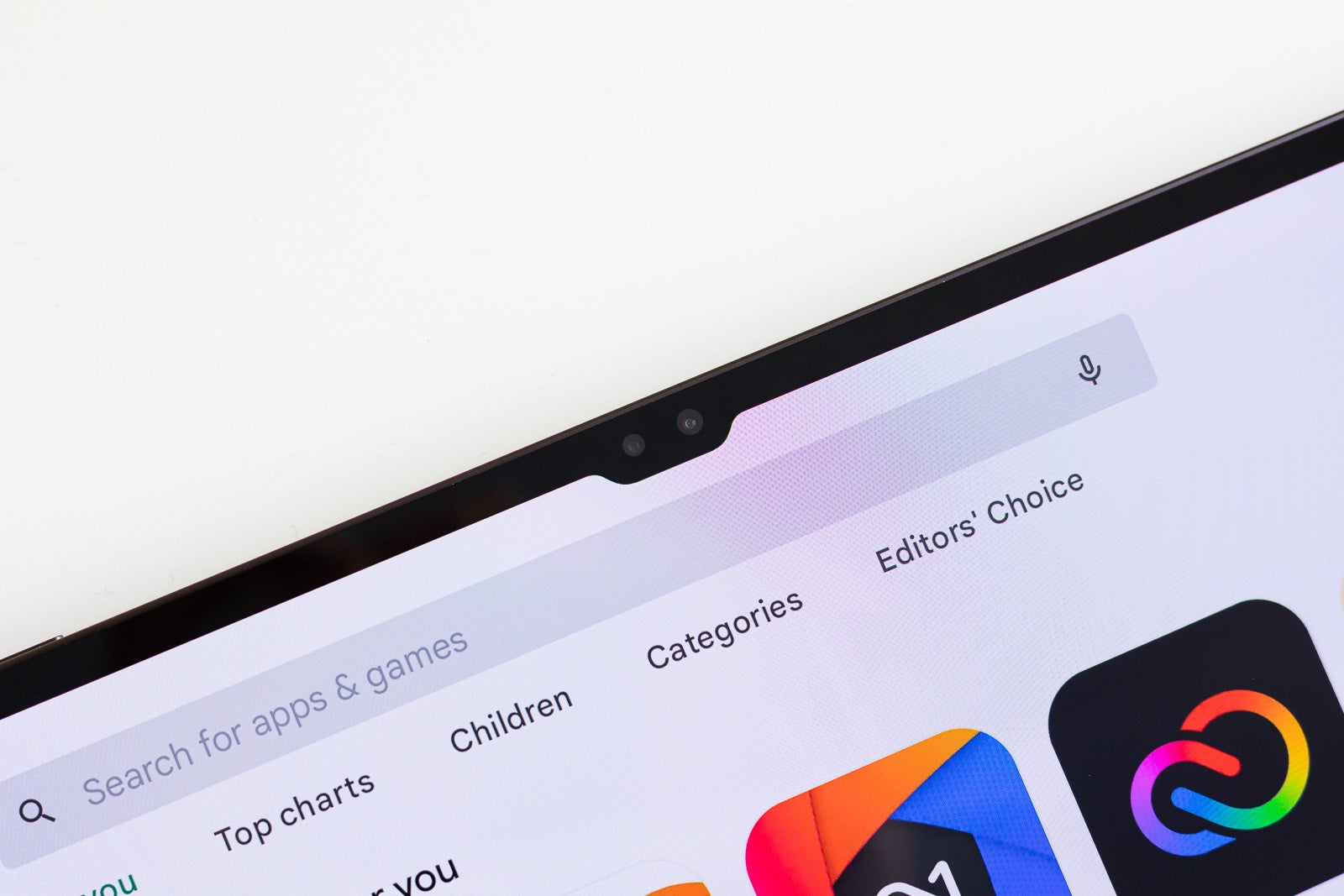 Well, I'm happy to say that the front cameras of the Galaxy Tab S8 Ultra are amazing for a tablet, and whatever tiny sacrifice that notch might be in the eyes of some of you – it was worth it.
Both the main and the ultra-wide front cameras of this tablet produce solid photos and videos, and it's safe to call it one of the
best tablets
you can get for your video conferencing needs. Everyone else in that Zoom meeting might look mediocre or borderline terrible, but you'll look pretty sharp yourself!
There are a few not-so-great technical things I noticed about the tablet's cameras, though. You can't switch between the rear main and ultra-wide cameras while recording a video, yet you can do so with the front cameras.
Also, although it can record at 4K, the maximum frames-per-second (FPS) from the rear camera is only 30 FPS, even though 60 FPS is commonly available these days. Even worse, the ultra-wide rear camera is disabled if you record at 4K, as it's capable of 1080P, 30 FPS at best.
At least the front cameras can both record at 4K, 30 FPS, but yeah, no 60 FPS to be found here…
Here's something funny – on Samsung's Galaxy Tab S8 Ultra page, the Korean company says in regards to the camera experience:
"Impress your friends and followers with likeworthy, ultra-clear images that will elevate your social status."
No comment on that, just sharing it… Man, I feel my social status being elevated as we speak. Speaking of speak…
Speakers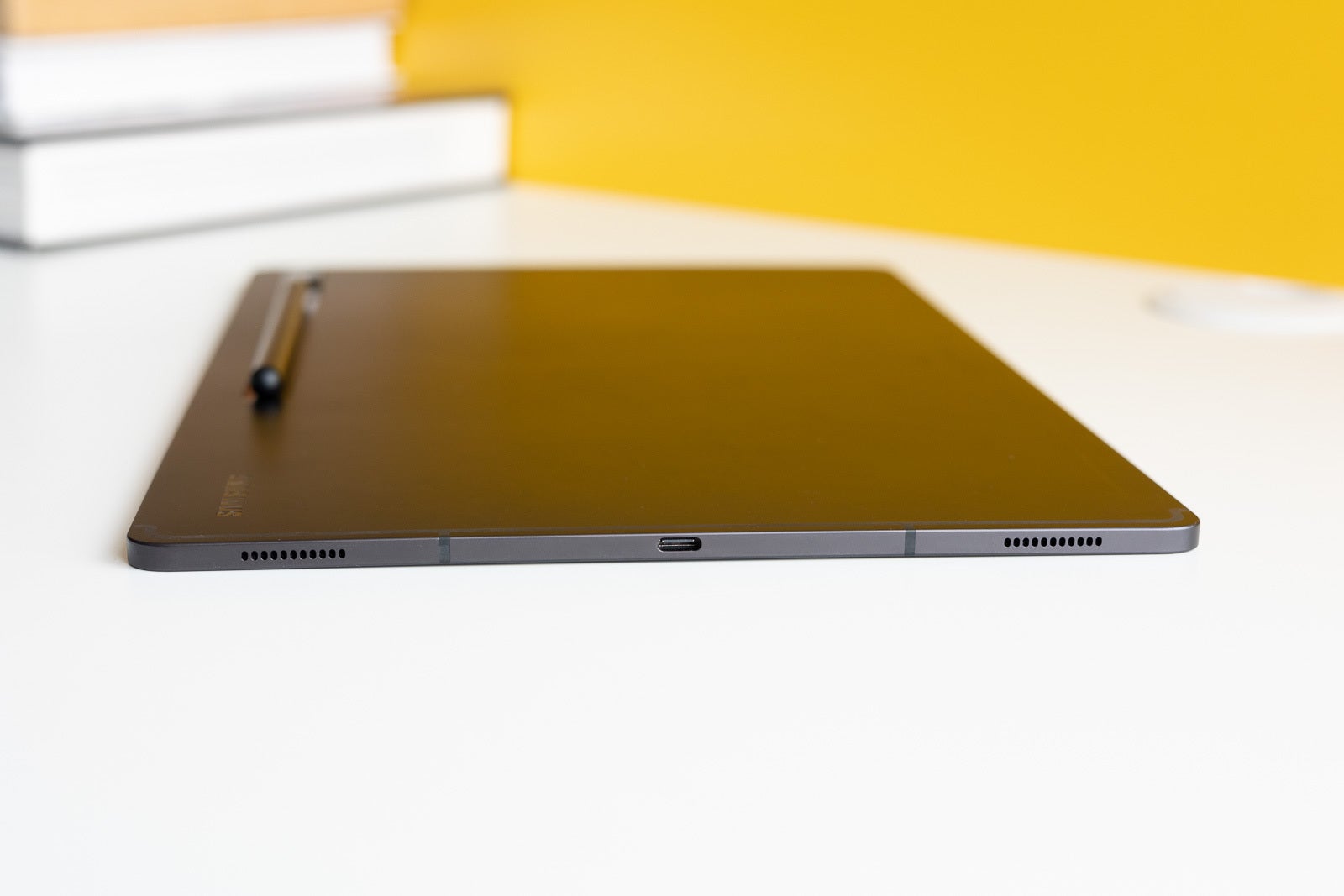 The Galaxy Tab S8 Ultra packs four speakers, two on each side. They sound spacious and can get really loud, for sure capable of filling a room. Unfortunately they're nowhere near as bassy as even the smaller 11-inch iPad Pro, so if you love bass you'll need to whip out some
wireless headphones
or a good
Bluetooth speaker
.
Because yes, there's no headphone jack here, but considering how thin this tablet is, it's not even physically possible to fit one. So it's pretty much understandable.
In any case – spacious, loud and clear speakers over here, just the lack of bass is a bit disappointing, especially if you've been spoiled by the iPad Pro.
Battery
The Galaxy Tab S8 Ultra packs a 11200 mAh battery, and Samsung's claim of all-day battery life holds true. Whether you plan on using this tablet for work or school, it should get you through the day without a problem.
Of course, you can always turn down the refresh rate, stop apps from refreshing in the background, and do the other Android battery-saving tricks to squeeze even more out of this tablet, but you probably won't need to.
Hey, remember when Samsung was making fun of Apple for the whole "no headphone jack" thing, followed by the whole "no included charger in the box" thing?
Well now that you mention it, here's a fun fact – Apple gives you a charger with your new iPad Pro, but Samsung does not give you a charger with this tablet. You do get a USB Type-C charging cable out the box, but yeah, no charging brick.
But if you're planning on getting a good one – you'll be happy to know that the Tab S8 Ultra does support fast charging speeds at up to 45W.
Should you buy the Galaxy Tab S8 Ultra?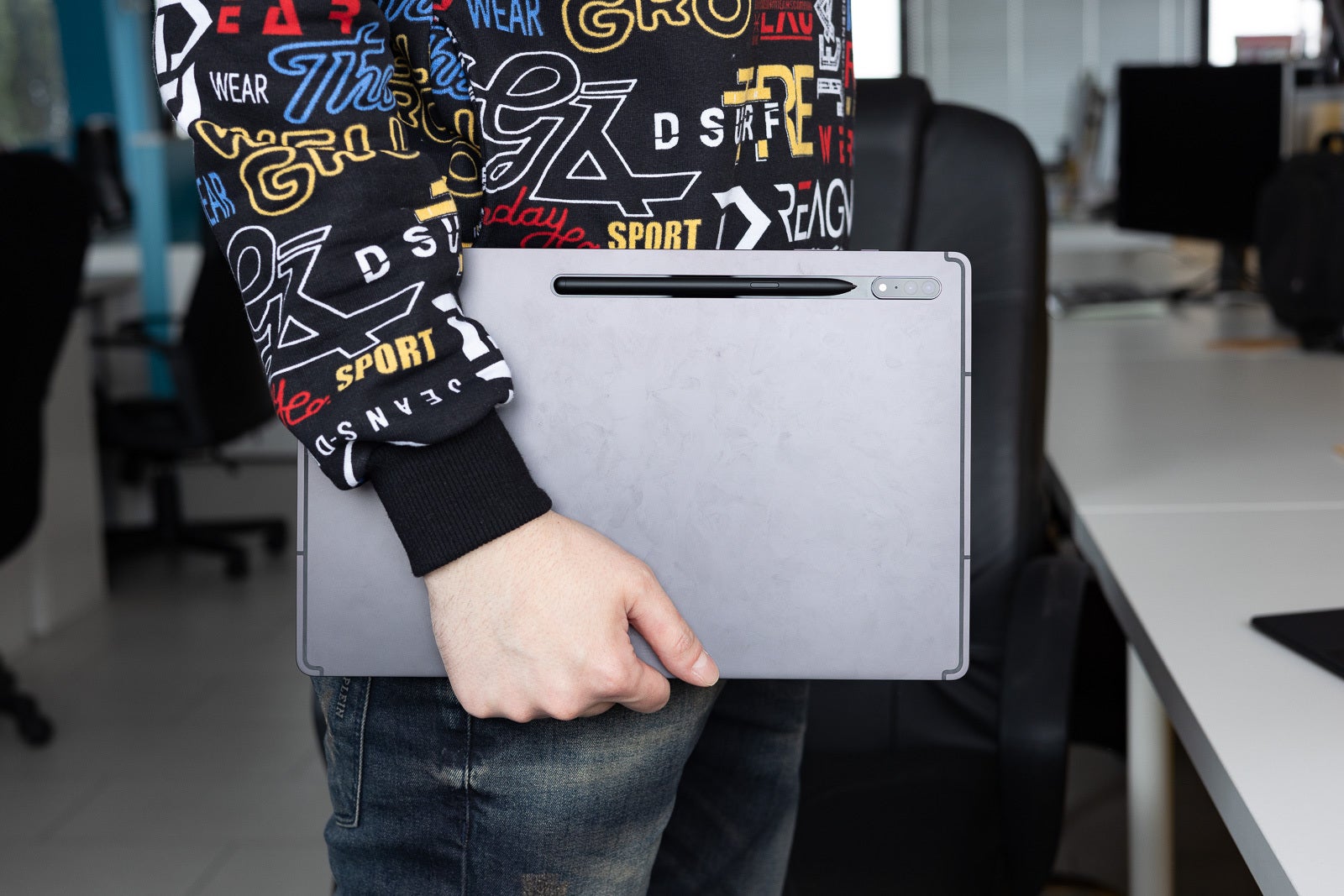 First and foremost – you need to ask yourself if you really want such a huge tablet. The whole "portability" aspect is kind of lost on that one. No matter how thin and light it is – you'll probably need a backpack for it.
Second, unless you buy it through a deal, the Tab S8 Ultra with its maximum 16 GB of RAM is $1400, and if you want the whole laptop-like experience for, say, school work – the optional Galaxy Tab S8 Ultra Book Cover Keyboard is another hefty $350 off your wallet.
Sure, for that $1750 you'll get the ultimate power user Android experience, top-of-the-line, but still… It's quite the price to pay for that luxury.
So here's what other tablets you may want to consider before you pull the trigger on this one:
Galaxy Tab S6 Lite
– Even in 2022 I consider this to be the best-value Samsung tablet. You still get the nice build quality, you still get an S Pen stylus, but you'll be saving a whole lot of money. Be sure to check out our
Samsung Galaxy Tab S6 Lite review
, in case that much cheaper tablet already offers everything you need.
iPad Pro 12.9-inch
– Okay, say you're ready to drop the big bucks for a productivity tablet, and you're certain you want it big. In terms of performance and pro app options – nothing really beats the iPad Pro, so it might be the more sensible investment. Be sure to check out our
iPad Pro (12.9-inch) review
, see if maybe dropping the dough on that one makes more sense to you.
But still, should you buy the Galaxy Tab S8 Ultra if you want the
best Android tablet
available right now? The most versatile Android experience? And the answer is certainly yes – if you're a diehard Android user, you'll probably love this tablet, and there's no other like it.
Just be sure that you really want a huge tablet, and set your expectations accordingly. Because for most users, much cheaper tablets like the Tab S6 Lite can offer the same essentials.