iPad Pro 2021 (12.9-inch) Review: Is the mini-LED display a big deal?
17
We may earn a commission if you make a purchase from the links on this page.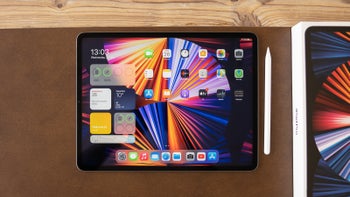 The new 12.9-inch iPad Pro is a solid upgrade for those who want the best possible productivity, movie watching and gaming experience on their iPad. This iPad Pro is also packing
Apple
's M1 chip and up to 18GB of RAM, making it the most powerful tablet to date.
Anyone who can afford this $1,099 top-of-the-line tablet will likely fall in love with it. And to those looking to upgrade from an older iPad Pro – it's well worth it, if not for anything else – for the much better mini-LED display.
Design
As we mentioned in our 11-inch iPad Pro review, Apple has arguably reached the peak of what a tablet should look and feel like, so there aren't any notable design changes over last year's iPad Pro here.
It is still a large slab of 100% recycled aluminum on the sides and back, and glass on the front. The volume keys, power key, Apple Pencil dock and keyboard connector all return in familiar places. We also have four speaker grills and a USB Type-C Thunderbolt port.
A 12.9 inch display might not sound that much bigger than the one on the 11-inch iPad Pro, but it's actually a significant size difference when looking at the two in person. This 12.9-inch 2021 iPad Pro is a bit wider and notably taller than its smaller brother.
In terms of weight, the 12.9-inch iPad Pro is also heavier at 1.5 pounds (682 grams) for the Wi-Fi model and 1.51 pounds (685 grams) for the Wi-Fi + cellular variant, as is to be expected. It is not an unwieldy tablet by any means, though, and it's still super thin at just 0.25 inches, or 6.4 mm.
The camera module protrudes a tiny bit, and speaking of it, it too looks exactly like it did last year.
iPad Pro 2021 (12.9-inch): Display
After going through what's remained the same, it's time to talk about what's changed quite a bit from last year. It wasn't exactly niche information that Apple has upgraded the Liquid Retina display of this 12.9-inch iPad Pro model to Liquid Retina XDR with mini-LED backlit pixels. For an in-depth look at what mini-LED entails, check out our article "
What is Mini-LED and how it compares against OLED?
"
So, does the 12.9-inch iPad Pro have a better display than the 11-inch iPad Pro, or any prior iPad? And the answer is yes, it is quite a bit better. When comparing it with the 11-inch 2021 iPad Pro, the following display differences are immediately apparent – the display of the 12.9-inch iPad Pro appears a bit brighter, is sharper and has solid blacks, akin to an OLED display.
While both the smaller iPad Pro and this one share a 120Hz ProMotion display with a P3 wide color gamut, the picture here is indeed sharper due to a higher resolution of 2732 by 2048 pixels. In addition, the 12.9-inch iPad Pro's screen has 1,000,000:1 contrast ratio and 1600 nits peak HDR brightness.
Overall, this iPad Pro model can be considered a major upgrade for any iPad user, as it delivers a significantly better visual experience. Looking at the 12.9-inch iPad Pro's display next to the
Samsung Galaxy Tab S7+
's AMOLED display, I'd even argue that the colors are about on par in terms of vibrancy too.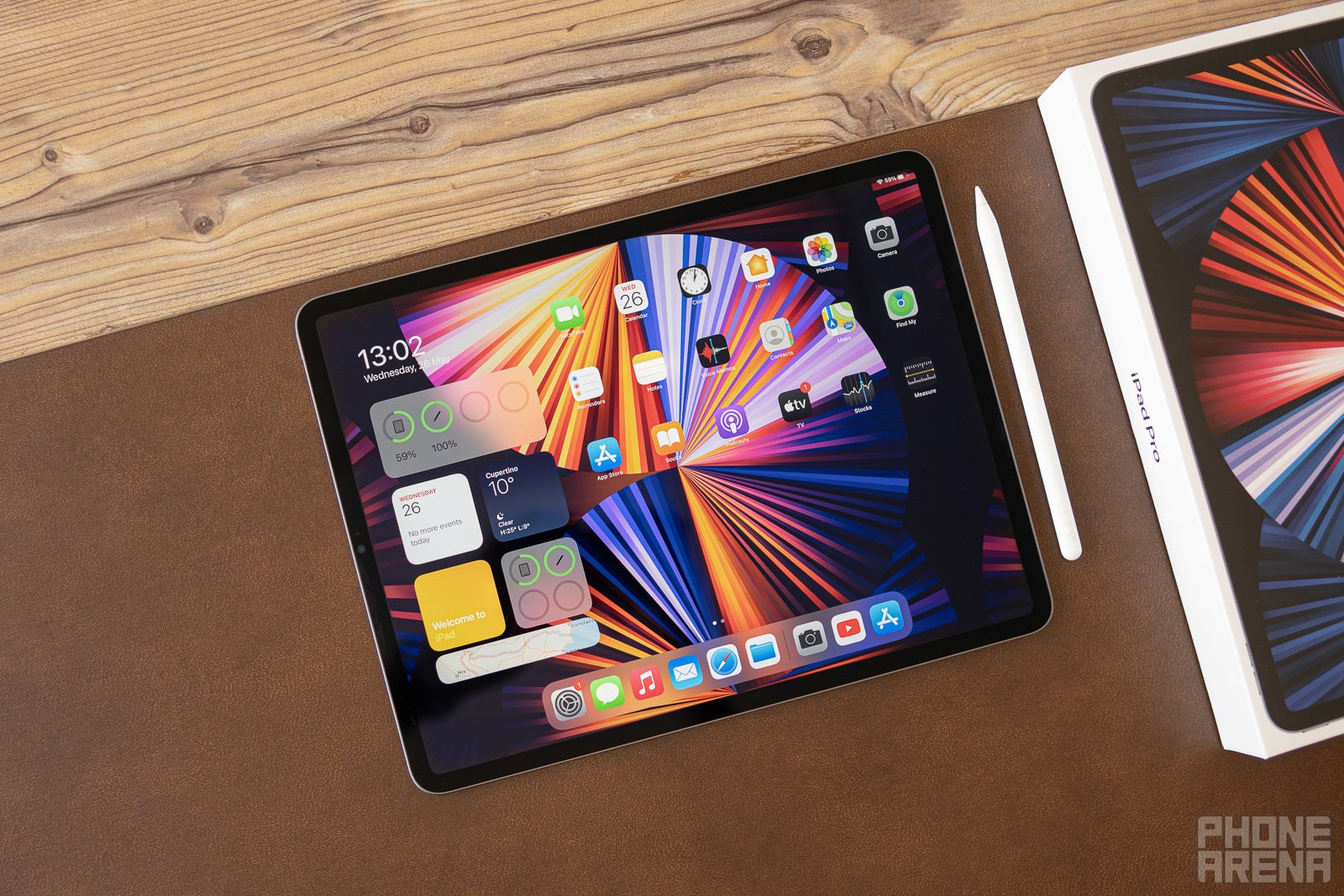 Now that I've seen it in person, I do believe Apple's new display technology will be a solid rival to OLED. But is the better contrast and sharpness over the 11-inch iPad Pro really worth the $300 extra? It's up to the individual buyer to decide.
Personally, as much as I'm impressed by the 12.9-inch iPad Pro's OLED-like display, I'll be just fine going back to my lesser 2020 iPad Air. But if you can afford the upgrade – it is worth it.
By the way, there are reports that the
mini-LED iPad Pro has "blooming" display issues
. So I've been trying to find the issue in question, testing for glowing or blooming on black and white wallpapers. But if there is any blooming, it's so very faint that it was basically unnoticeable for me or anyone else that searched for it. It's unlikely that this is something that will bother anyone.
Display measurements and quality
iPad Pro 2021 (12.9-inch): Camera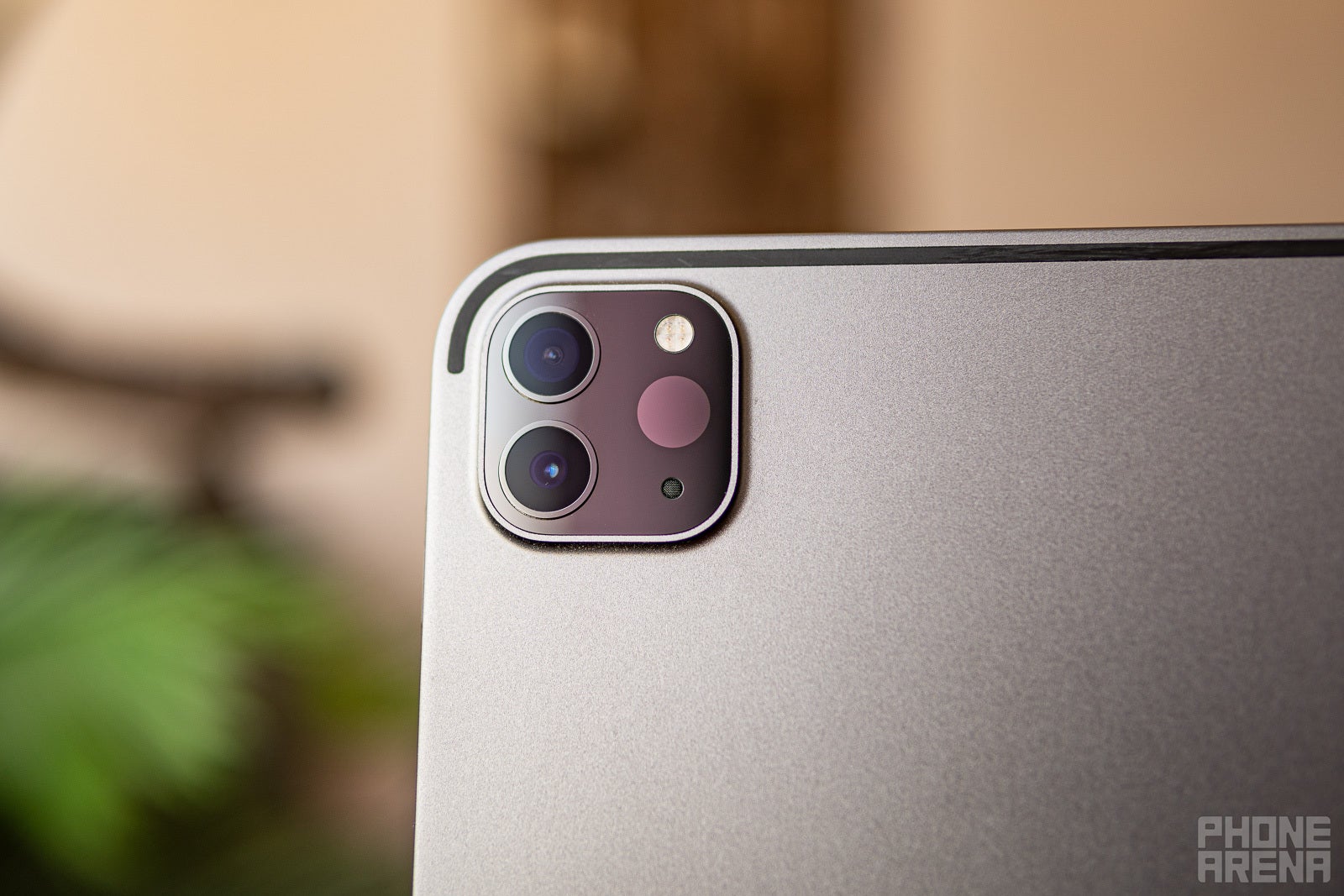 In its familiar camera module, the 12.9-inch 2021 iPad Pro has a wide 12MP main camera, a 10MP ultra wide one with a 125° FOV (field of view), a microphone, a LiDAR sensor and a flash.
On the front we have a 12MP ultra wide 122° FOV selfie / FaceTime camera. Next to it we have the Face ID sensor for securely unlocking the iPad Pro with your face.
All of those cameras being "wide" means you can capture more in the frame of your photos, such as groups of people or large objects, without struggling to fit everything. The ultra wide camera modes distort quite a bit, which is to be expected, but photos with the default settings look just right.
Portrait Mode is available and offers the usual background blurring while keeping the subject in focus, but the results aren't exactly great. It often struggles to separate the subject from the background right, ending up jarringly blurring the subject's ears, hair or clothing as if those are part of the background too. It takes a few attempts to get a decent Portrait Mode picture.
< Selfie
Portrait selfie >
In any case, in Portrait Mode you can also change lighting effects on the fly, between presets such as "studio light" or "contour light" which make your face appear softer or with more pronounced contours respectively.
Like the smaller iPad Pro, the 12.9-inch one here can record videos at up to 4K, 60 FPS (frames per second) and slow motion videos at 1080p, 240 FPS.
Although this camera setup won't replace your flagship phone, it is definitely among the best you can expect from a tablet. Photos come out colorful and reasonably sharp in good lighting conditions, and so do videos. The five microphones which Apple calls "studio-quality" are not too shabby either.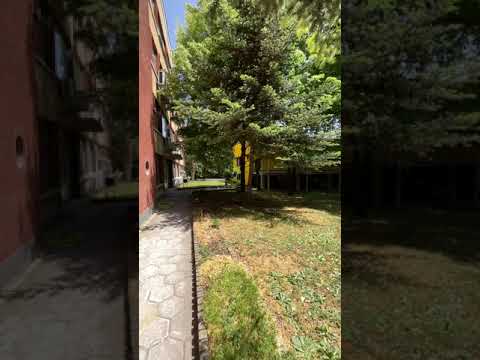 Psst! If you prefer a landscape video sample
–
we have one in our 11-inch iPad Pro review (same cameras).
Audio
The smaller 11-inch iPad Pro was already impressive in the audio department, but this 12.9-inch model sounds mind-blowing for such a thin tablet. Its quad speakers produce rich, clear stereo sound with very punchy bass. And with speakers this top-of-the-curve, the lack of a headphone jack can probably be forgiven.
Watching movies on the 12.9-inch iPad Pro feels like a small, private cinema experience thanks to those speakers and that large mini-LED screen. There's clear definition of where sounds are coming from, and an actual impact you can feel when explosions or bassy music are played. Avid gamers too will love and appreciate this rich audio experience.
And if you don't have a pair of
quality Bluetooth headphones
to enjoy your music with, you'll be happy to know that most genres of music will sound quite great on the iPad Pro's four speakers, and those can definitely fill a room.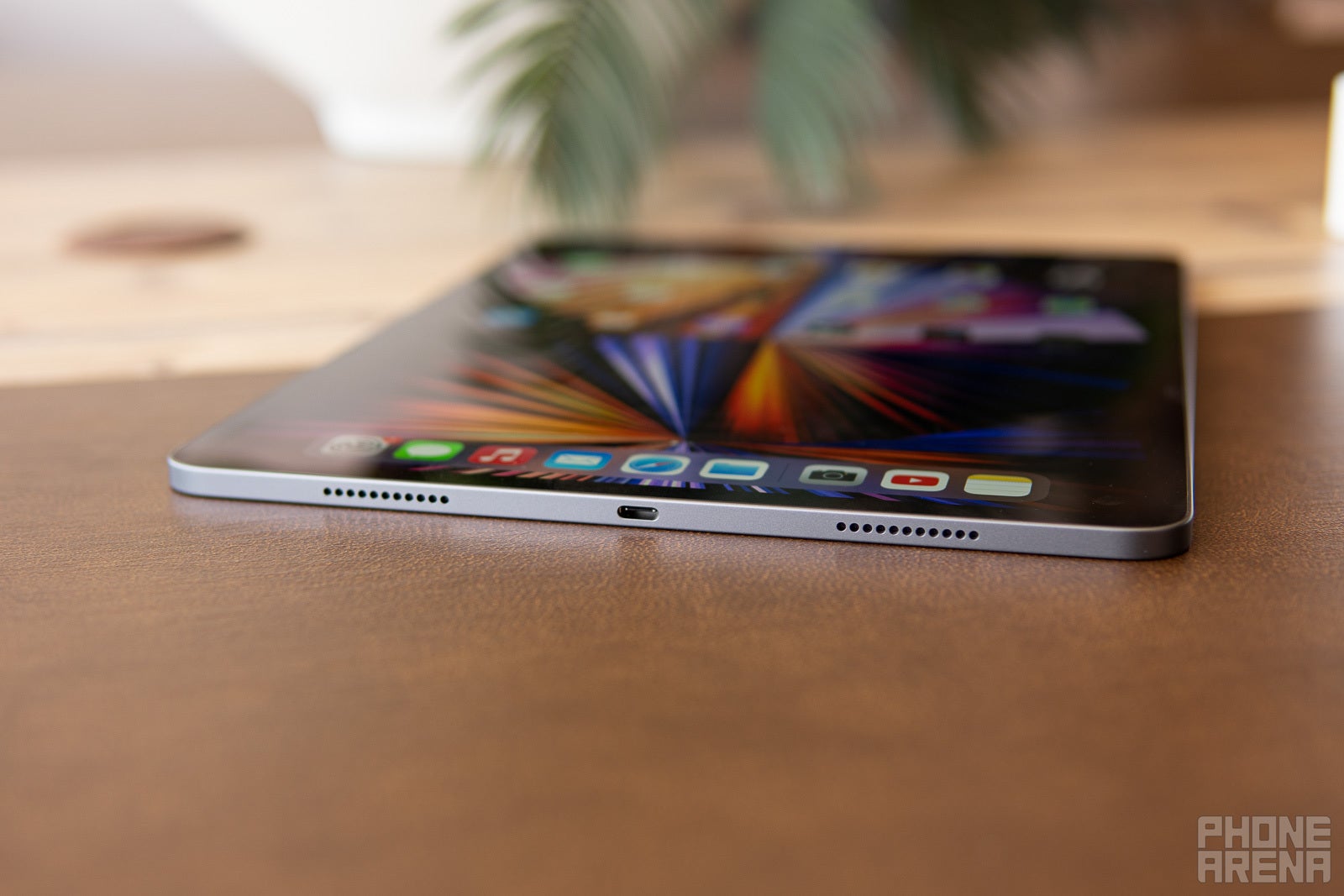 Software & Performance
This large, M1-powered iPad Pro with a beautiful mini-LED display can be considered a professional's dream. But one area where this tablet is arguably being held back is iPadOS 14, which definitely doesn't take advantage of all this power.
If you'll be using this tablet for casual use, such as watching Netflix, YouTube and browsing the internet, it is already the best you can get. If you're an artist, you'll likely be happy with this iPad Pro, an Apple Pencil and the Procreate app. Similarly, students who can afford this 12.9-inch iPad Pro along with a
keyboard case
or an Apple Pencil will likely love the reliability and snappiness of iPadOS.
But if you're a developer, music producer or any other professional who needs serious desktop software, we're yet to have it on iPad. You'll have to rely on substitute toned down, essentially iPhone apps for your field of work, if such even exist in the App Store.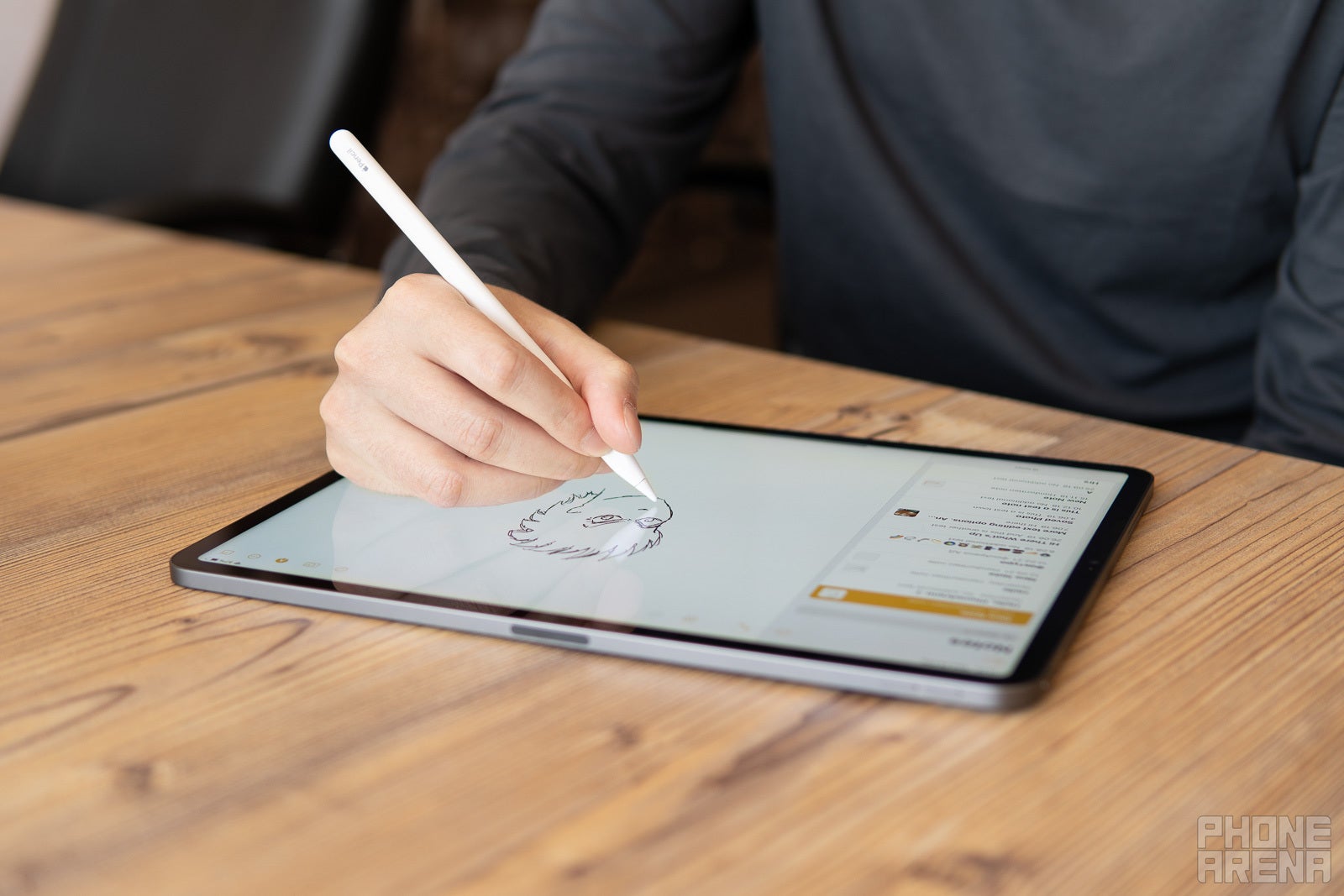 We've been speculating that
iPadOS 15
could be a game changer, and with its introduction Apple will begin porting MacOS apps to the iPad, such as Logic Pro and Final Cut Pro. Will this be the case, or will we be disappointed? Time will tell.
But for now, you get iPadOS 14 on this beast of an iPad, and for a tablet operating system it is still the best one out there. Apple gives you a bunch of good apps for free when you buy an iPad, such as the video editor iMovie, the music-making app GarageBand and others, like Pages and Numbers. For schoolwork and basic tasks, even vlogging, you get all you need from the start.
And iPadOS has grown quite a bit from its humble iOS beginnings. We now have solid file management via the Files app, can download files off the internet, connect USB dongles and more. iPadOS has been inching in the right direction for a while, but here's hoping that the upcoming iPadOS 15 is a major leap forward that will take full advantage of this iPad's cutting-edge M1 processor and 16GB of RAM.
UPDATE:
The iPadOS 17 is now official
, and it will be coming to the iPad Pro sometime in autumn 2023. Some of the changes and new features include better home screen customization, interactive widgets, offline maps, better predictive text, new Health app for iPads, and AirDrop transfers over the internet when not in range.
iPad Pro 2021 (12.9-inch): Battery life
With its huge 40.88-watt-hour battery, the 12.9-inch iPad Pro is going to last up to 10 hours of continuous use before needing to charge, according to Apple. This is impressive considering the big, bright and smooth 120Hz display we have on deck. And if used sparingly, the iPad Pro can hold up for several days thanks to its good power management. Alternatively, if used for school or work, you can have a peace of mind knowing that it will easily last you through the entire day.
Out of the box Apple gives us a meter-long USB Type-C charging cable and a 20W USB-C power adapter.
Best iPad Pro alternatives
The
Galaxy Tab S7+
is a good choice if your priority is having a nice display or a free stylus, and you don't mind switching to Android. It is still among the best Android tablets out there, with its beautiful 12.4-inch AMOLED display, similarly smooth 120Hz refresh rate and excellent performance. It is also a more appropriate tablet for watching movies, as it's a wider-screen one, while the 12.9-inch iPad Pro is taller and better for productivity.
If you want a more affordable, but still modern iPad instead, there's nothing better than the
2020 iPad Air 4
. It only has an 11-inch variant and isn't nearly as powerful, but iPadOS 14 flies on it regardless. Slightly thicker bezels, no Face ID (has Touch ID instead), not as impressive a display, but it's still arguably the greatest midrange tablet to get right now.
Recommended Stories