Samsung Galaxy Tab S6 Lite review
6
We may earn a commission if you make a purchase from the links on this page.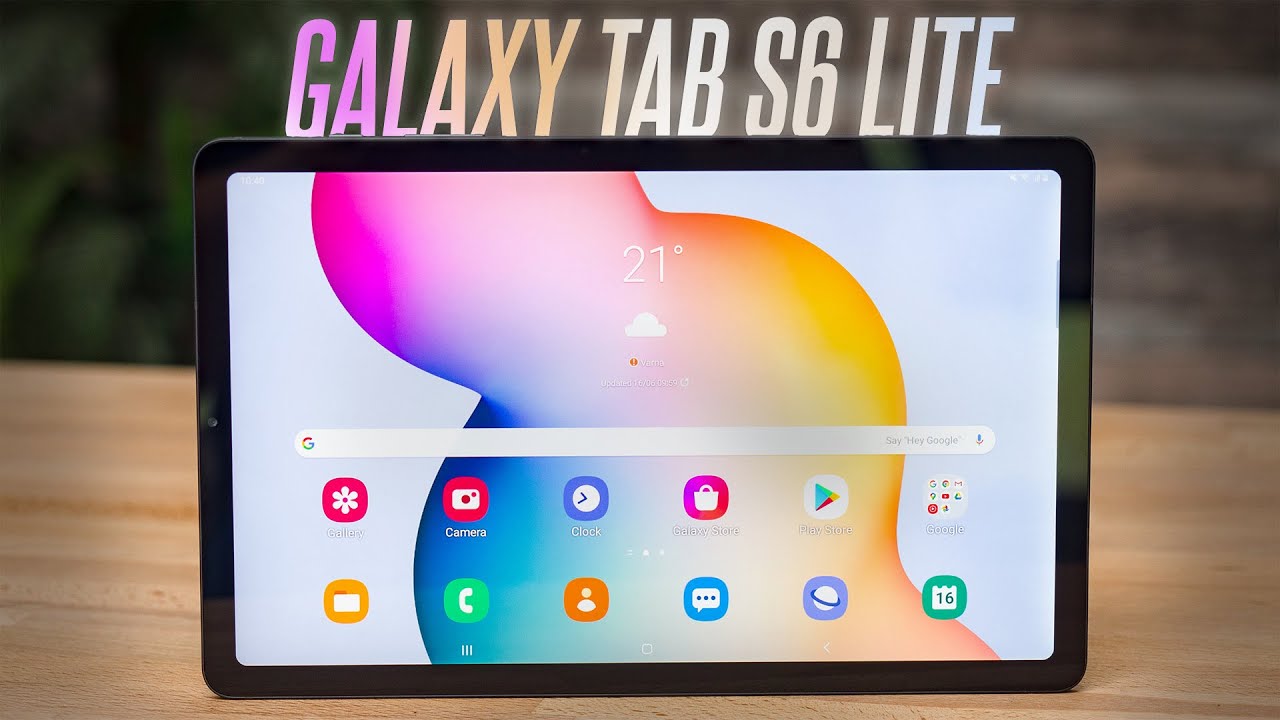 The Samsung Galaxy Tab S6 Lite is positioned very well, price-wise, to take some attention away from Apple's excellent iPad 10.2. The Galaxy Tab S6 Lite comes with an S Pen out of the box and only costs $350, while you will have to spend an extra $100 on top of the iPad's $330 if you want to draw on Apple's tablet.
The Tab S6 Lite has excellent stereo speakers and One UI's multitasking capabilities are nothing to snark at, though they can feel choppy on the midrange hardware. However, Samsung had to cut some corners to make the Tab S6 Lite so affordable. Performance lags when you put the tablet through heavy tasks, the screen is OK at best, and there are no connection pins for a proprietary keyboard, like on the Galaxy Tab S6 or the Apple iPad.
Should you buy it? If you want a media-consumption machine or a drawing tablet that comes with a great active stylus in the box, all without breaking the bank — yes, it can fulfill those roles very well.
Buy Samsung Tab S6 Lite from:
Design and display
The Samsung Galaxy Tab S6 Lite is a narrow and rather light tablet that's very easy to carry around and use in portrait or landscape mode. The bezel around the screen strikes a perfect balance between being thin enough to look modern, yet thick enough for me to comfortably grip the tablet with my thumb, without touching the screen by accident.
The S Pen doesn't have a battery like on Samsung's latest Note phones but still works like an active stylus thanks to the Wacom technology, which Samsung has been using for years now. The pen sticks to the tablet via a very strong magnet on the right-hand side, so you always have a place to store it. Though, I did find the positioning to be annoying when holding the tablet with two hands and trying to type on the keyboard.
The display has a 10.4-inch diagonal and a ratio of 16:10. This slightly elongated aspect ratio makes it kind of weird when trying to type on the keyboard in landscape orientation, which is probably why Samsung included a few customizable keyboard layouts. None of them make the experience perfect, but you can definitely make it a bit more manageable.
The Galaxy Tab S6 Lite's screen resolution is 1200 x 2000 pixels, making for a pixel density of 224 PPI. In my experience, this should be an OK resolution, but on the Tab S6 Lite, letters and small icons can appear weirdly jagged. It appears as if the software itself is having trouble with scaling the image properly. The latter is definitely the case within some 3rd party apps like Skype — just take a look at the screenshot below. The app definitely had trouble figuring out which pixels it should use to draw letters with and how high the resolution of avatars should be.

Letters and small icons can appear weirdly jagged
This is, of course, not so apparent on Samsung's 1st party apps and throughout the interface, but it will still pop its ugly head here and there.
Other than that, it should also be noted that the Galaxy Tab S6 Lite uses an LCD panel, instead of Samsung's fantastic AMOLED ones. This means you don't get the beautiful, deep blacks that OLED fans are addicted to. It can get bright enough for most use cases, though, its minimum brightness gets as low as 9 nits, meaning it's not the best bedside companion. You don't get any of the color profiles that Samsung likes to provide for its users, but the good news is that, color-wise, the Galaxy Tab S6 Lite display is very accurate and true to life.
Display measurements and quality
Camera and audio
The Galaxy Tab S6 Lite gets one camera on the back — with an 8 MP sensor — and one 5 MP shooter on the front. Realistically, nobody buys a tablet specifically to go and shoot pictures with it, so that should be fine.
The 8 MP camera on the back is good enough for you to take pictures of documents or lectures with. In fact, if the camera app detects that it's looking at a sheet of paper with words on it, it will automatically suggest that it takes a "Scan" shot — a high-contrast picture that makes letters deeper and darker, to be more legible against a white background.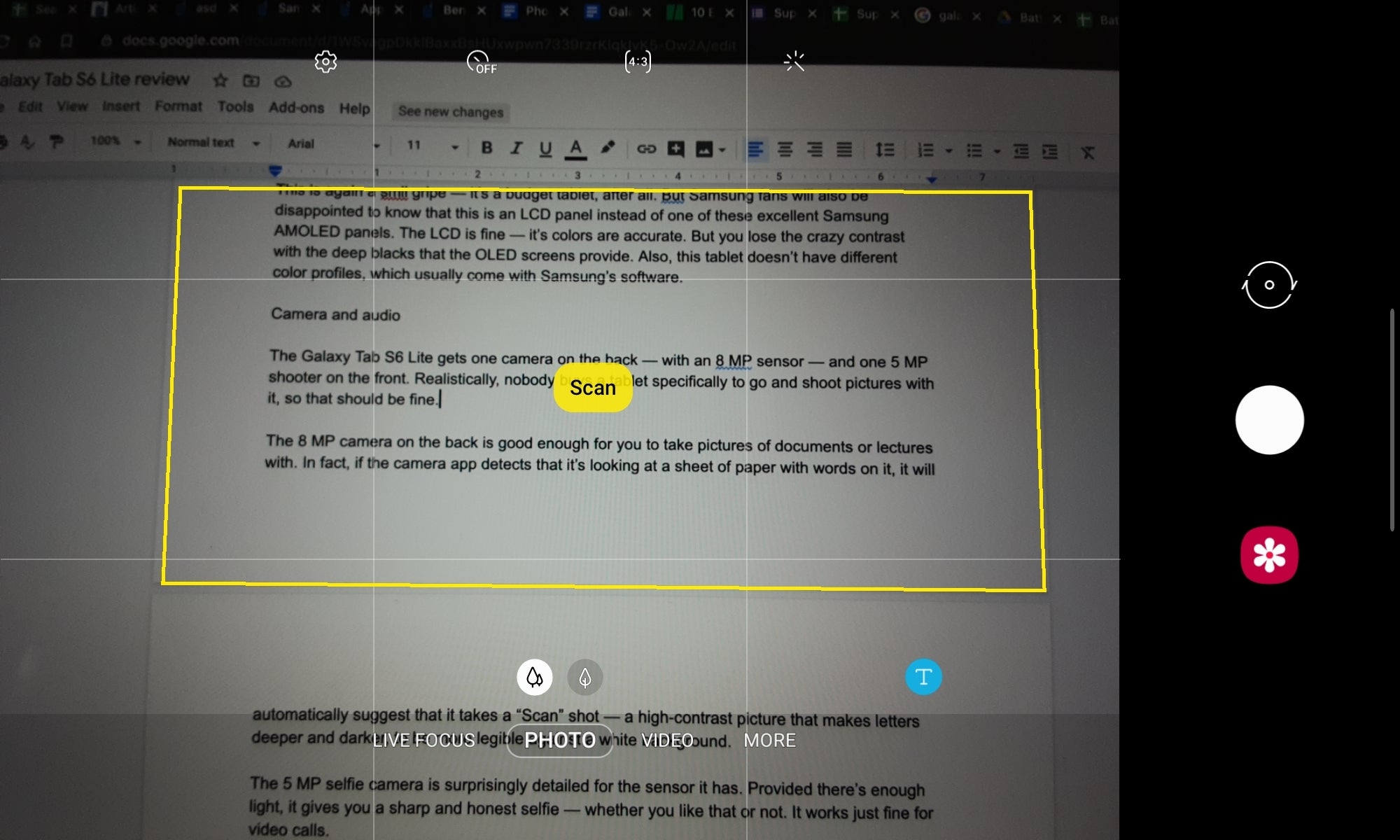 The 5 MP selfie camera is provides OK detail. If you are under direct sunlight, it can be sharp-ish and honest. Once you move indoors, it gets fuzzy. But it can get the job done for video calls.
This tablet definitely shines in the audio department. The Galaxy Tab S6 Lite has two stereo speakers and the "sound by AKG" logo on the back. "Sure", I thought — "Marketing strikes again". Well wasn't I about to eat my foot as I played my favorite test song through it!
The speakers have a surprising amount of bass, giving the songs that much-needed thickness, while the highs are crisp and clear, only slightly edging on sounding "tinny". The Galaxy Tab S6 Lite can get pretty loud without distorting. And, unlike the iPad 10.2, the Tab S6 Lite's two speakers are actually placed on two opposite sides of the tablet, essentially giving you stereo sound, instead of two channels that play from the same side.
Software and performance
Samsung's One UI is famous for adding a ton of features on top of stock Android — a completely new look, Samsung's own storyboard in place of Google discover, Samsung's Bixby voice assistant (you still have the Google Assistant), proprietary calendar and clock apps, and many others. Weirdly enough, the Galaxy Tab S6 Lite does not have Samsung's Game Launcher or the Theme Store. I've no idea why.
There is no Samsung DeX on the Galaxy Tab S6 Lite — presumably because the midrange processor would have a hard time to run that desktop-like, multi-window environment.
But what Samsung did keep on the Galaxy Tab S6 Lite is the excellent multitasking. Let me just say this — you can have two apps in split-screen and a total of 5 extra apps in floating windows on top. So, in total, you can look at 7 apps simultaneously on this tablet.
You definitely won't want to do it — you only have so much screen real estate and the performance takes a huge hit — but that gives you a good indication of the multitasking headroom of Samsung One UI.
Switching between apps or dragging them in and out of split-screen view is made easy thanks to an app tray — a persistent, semi-transparent handle that resides on the side of the screen. Pull it in and either drag an app in view to automatically split the screen, or tap it to open it in full screen.
The Galaxy Tab S6's S Pen is a fantastic stylus — accurate and responsive. Samsung has years of expertise in making these Wacom-powered styli and this cheaper tablet does not feel like a compromise.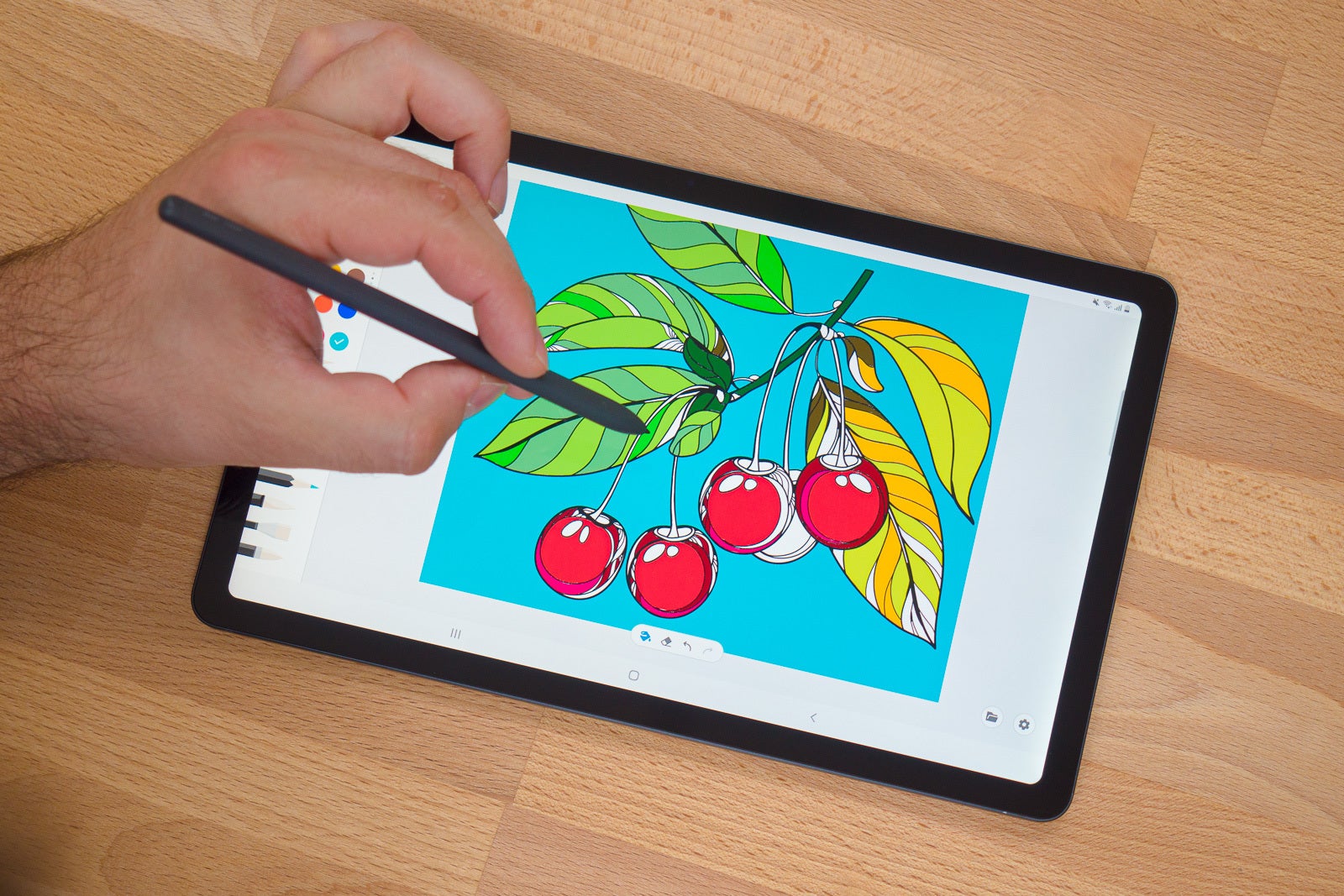 If you use it for web browsing, the S Pen pointer functions exactly as a mouse — websites with drop-down menus and other buttons that act unpredictably with touch controls can be manipulated with the S Pen.
It's a bit of a letdown that you don't get support for a proprietary Samsung keyboard, as on the "big" Galaxy Tab S6. There are no pins on the side of the Galaxy Tab S6 Lite, which means it won't get its own Keyboard Book Cover down the line. You can still use a 3rd party Bluetooth keyboard.
Here's something cool — if you have a Samsung smartphone, you can forward calls and messages directly to you Galaxy Tab S6 Lite. Sort of how iPads and iPhones work together. Nice to see Samsung getting on that "ecosystem" vibe.
When it comes to performance, the Galaxy Tab S6 Lite is not really a workhorse. Choppy animations and kind of slow response times are something you will have to get used to. And yes, I did praise the multitasking features of One UI, but the Tab S6 Lite definitely starts to trip when you have a couple of apps active on screen.
It's not experience breaking if you just want to watch YouTube videos or if you want to open a drawing app and just sketch — the tablet was made for this and it works pretty well for it. But if you set out to push the Galaxy Tab S6 Lite's limits in a productivity setting, you will be quick to find them.
As for gaming — games are, thankfully, optimized for a wide variety of mobile devices. If you don't push the settings to high, you should be fine. The tablet does have a slight touch input lag, though not enough to break the experience.
I played PUBG Mobile on the lowest settings — the menus may be choppy, but the game runs fine. CoD Mobile on High, tried C&C Rivals, Vainglory, and Infinity Ops — they run just fine. You may not be able to get the sharpest graphics and the bloomiest explosions, but you get the smooth performance.
Battery life
The battery life of the Galaxy Tab S6 Lite is excellent. We got between 8 and 10 hours on our different battery tests. In real-life use, it's an endurance champ. If you need a tablet that will last a full workday with its screen on — the Tab S6 Lite can do it. Provided, of course, you don't have 5 floating apps on-screen at all times.
Recommended Stories