Best Android tablets to buy in 2023
We may earn a commission if you make a purchase from the links on this page.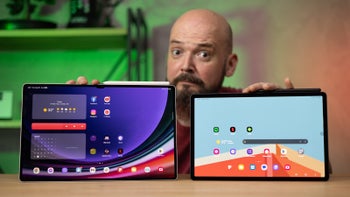 Android tablets may be up for a glorious return, after taking a bit of a pause. Even Samsung took two years to update the flagship Galaxy Tab S7 with the new Tab S8 series. The Pixel Tablet has also been promised and should be coming shortly. Other manufacturers are also exploring the space again — with even Nothing being rumored to be planning a tablet.
So, what are the best Android tablets to buy right now? Here's our concise list, pick your winner:
Here are the best Android tablets for different uses and in different price tiers:
Save on the Galaxy Tab S8 and S7 at Best Buy now
Samsung Galaxy Tab S8 Ultra
Hot off the show floor, the Tab S8 Ultra already has our ears perked! Samsung just announced the tablet with its massive screen, super-thin bezels, top-tier hardware, exclusive access to LumaFusion, and all the regular Samsung bells and whistles — like DeX.
The whole Galaxy Tab S8 family is worth a look — if the massive Ultra is not in your budget (or size preference), do check out the smaller Tab S8 Plus or Tab S8 models. They rock the same stellar hardware, but cost less and are much more... mobile.
Samsung Galaxy Tab S8 and Tab S8+
The Galaxy Tab S8 Ultra is cool and all, but it's absolutely overkill, plus it's a bit pricey. The regular Galaxy Tab S8 is plenty good for much less money. Plus, with an 11-inch screen, it's much more manageable. It still has stereo speakers, DeX mode, an S Pen, and a 120 Hz refresh rate. The downside? It lacks an AMOLED screen — instead, the Tab S8 uses good old LCD. If that doesn't deter you — it's a lot of Android tablet for not so much money!
The Galaxy Tab S8+ is for those that want more than what the regular S8 has to offer, but don't want to go as far as the Ultra. The Tab S8 has a rather big screen and it's an AMOLED panel this time around. With a 120 Hz refresh rate, it's smooth and you can enjoy those pretty animations more with the vibrant colors and deep blacks of the AMOLED. Plus, it's a bigger canvas for those that want to draw with the S Pen.
Xiaomi Pad 5
Released in late 2021, the Xiaomi Pad 5 rocks some serious specs — a 120 Hz screen, quad speaker stereo setup, a Snapdragon 860, and support for a Xiaomi Smart Pen and a proprietary keyboard folio. Yep, it looks a lot like an iPad Pro for Android fans, and can work as a proper alternative.
Samsung's last-gen heavy-hitters. The Galaxy Tab S7 and Tab S7+ are a bit long in the tooth right now, but if you can find them at a bargain price, they might be worth a pickup. They come with an S Pen stylus and support their own keyboard folio (you can also go 3rd party). And, since the Note series perfected the S Pen experience, you can rest assured that drawing and writing on the Tab S7 line feels superb.
With Samsung's own OneUI interface on top of Android, these tablets are also built for work and multi-tasking — split screen, multiple windows, quick app switching. DeX mode specifically makes them feel like Android-powered laptops, as it brings a desktop experience to your mobile device. Slap a keyboard on them and you are ready to write articles on the go — I rarely go out of DeX mode when using a Samsung tablet. It's just so convenient.
The Galaxy Tab S7's quad speakers are not as meaty as the iPad Pros', but they still sound good.
Do note: the Galaxy Tab S7+ has a 120 Hz Super AMOLED screen, which looks fantastic — crisp, vibrant, with deep blacks and high brightness. The regular Tab S7 takes a step back and has a 120 Hz LCD screen, which still looks good — just not as good.
The Galaxy Tab S7 FE was announced in mid 2021 in lieu of an actual Tab S8. It's a middle-of-the-road solution, combining midrange specs with 5G connectivity for those that need it.
So, where does the Galaxy Tab S7 FE stand? It's a mix between the Tab S7 and Tab S7+. Meaning, it has a large, 12.4-inch screen, as big as the Tab S7+, but it's a 60 Hz LCD panel, like on the Tab S7. The processor inside is also different — a midrange Snapdragon 750G. The Tab S7 FE comes in three variations — 4 GB RAM and 64 GB storage, 6 GB RAM and 128 GB storage, or 8 GB RAM and 256 GB storage. Any one of them is available in Wi-Fi only or 5G variants.
So, it provides the big screen experience if you want that Tab S7+ size, but don't want to pay Tab S7+ money. It's curious that Samsung decided to cover this niche, but hey — it's happening. The Galaxy Tab S7 FE starts at $379.99 in the US, which is a very reasonable price, especially considering it comes with the S Pen in the box!
Amazon Fire HD 10
"Best" can mean a lot of things and while Amazon's Fire HD 10 can't keep up with the rest of the tablets on this list when it comes to specs, it has them all beat in one department: the price. Costing between 2 and 5 times less than the rest, the Fire HD 10 offers incredible value. So, it can easily be the best Android tablet to buy on a budget, especially since it has a keyboard accessory for that hybrid experience. Amazon even confidently bundles the new Fire HD 10 with a Bluetooth keyboard, giving you a tablet/laptop hybrid at an incredibly low price.
While the Fire HD 10 is technically an Android tablet, it's running on a heavily modified Amazon-centered software and doesn't come with Google's Play Store (there are ways to install it, if you insist). Still, Amazon's own app store offers enough variety to fit the relatively narrow focus of this tablet, so for most people this won't be an issue. The new Fire HD 10 tablet comes with 12 months of Microsoft 365, too, as to underline its new aim at productivity features.
Keep in mind that the Amazon Fire HD tablets have historically not had the best performance. They are great as simple slates to enjoy some media on, but don't expect a laptop replacement unit here.

The Galaxy Tab A8 was announced in December of 2021 as a successor to the fairly well-received Galaxy Tab A7 midranger. It's still slowly making its way to markets worldwide, but at this point — it's better to wait for the A8 than to buy the A7.
If you simply want a tablet for media consumption and you don't care about S Pen shenanigans or productivity — the Galaxy Tab A8 offers just that. A quad-speaker system provides full stereo sound in any orientation and a 10.5-inch screen gives you plenty of real estate to watch movies or browse the Internet on. It's easily the best Android tablet for Netflix binging or to satisfy your kid's gaming cravings.

You can still slap a Bluetooth keyboard case on it, but there's no DeX on this one.
Huawei MatePad Pro 10.8
The Huawei MatePads are pretty cool — they come with a proprietary stylus and support a keyboard of their own. Unfortunately, Huawei still hasn't made it out of that "no Google apps" carfuffle, so we can't recommend you buy a Huawei tablet unless you are... a bit adventurous. Also, it's worth noting that the Huawei M-Pencil should come bundled with the MatePad Pro, but — in some markets — it doesn't. So, research carefully before hitting that Buy button!
Conclusion
Whether you are after a budget device or a productivity machine, you've got a few options laid out here. And yeah, Samsung is definitely dominating the best Android tablet field right now, but who knows — maybe someone will try to step up in the months to come. We will certainly be keeping an ear to the ground, our eye on the market, and our fingers on a fresh touchscreen, hunting out those devices for you!