Google Pixel 7 release date, price and features
We may earn a commission if you make a purchase from the links on this page.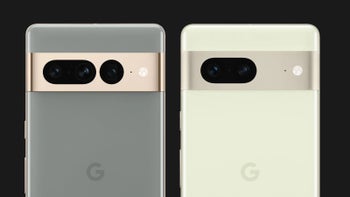 Google's Pixel 7 series come in two models, a vanilla Pixel 7 and a souped up Pixel 7 Pro, and both of them are flagship models with tempting prices that give the iPhones and Galaxies of this world a run for their money.
The Pixel 7 series were first teased by Google in May 2022, but officially and fully unveiled on October 6th, 2022, with the release date on October 13th.
Google mostly sticks with the Pixel 6 formula from last year: two models, a slightly more compact $600 Pixel 7 and a larger Pixel 7 Pro with a bigger screen, bigger battery and a dedicated zoom camera for $900.

So... let's dive in and explore everything you should know about the Pixel 7 series!
Google Pixel 7 latest news
Google Pixel 7 Release date
The Pixel 7 family was officially and fully unveiled on October 6th, 2022 at a dedicated event for the new phones and a new
Pixel Watch
.
Google
held this event a bit earlier than previous years, and it also pushed the release date of the Pixel 7 series a week or two earlier compared to previous generations.
Pixel 7 series actual release date is set for October 13th.
For reference, we have the table below that shows the release date times for the previous Pixel series, as well as the expected dates for the next generation of Pixels:
| Device family | Announcement date | Release date |
| --- | --- | --- |
| Google Pixel 6 | October 19, 2021 | October 28, 2021 |
| Google Pixel 7 series | October 6, 2022 | October 13, 2022 |
Despite inflationary headwinds, Google keeps the same tempting prices for the Pixel 7 series, and they look even better as the competition has raised prices in many markets across the globe. The vanilla Pixel 7 at $600 looks like a particularly good deal compared to $800 phones in the same bracket by Apple and Google, but the Pixel 7 Pro version at $900 also undercuts the $1,100
iPhone 14 Pro Max
and the $1,200 Galaxy S22 Ultra.
Below are the full prices for the Pixel 7 series:
| Pixel model | 128GB of storage | 256GB of storage | 512GB of storage |
| --- | --- | --- | --- |
| Pixel 7 | $600 | $700 | N/A |
| Pixel 7 Pro | $900 | $1,000 | $1,100 |
Curious about the Pixel 7 family specs?
Google has the second generation of its in-house chip, and it calls it the Tensor G2. Notable are slight changes to the size of the Pixel 7, as it's now more compact, but that also comes at the cost of a smaller battery. The Pixel 7 Pro retains the size from the previous generation model and it also has the same battery capacity as before, but it's got a new, longer-range 5X zoom lens.
Here's a quick rundown:
Specs
Pixel 7 Pro
Pixel 7
Size and Weight
162.9 x 76.6 x 8.9 mm, 212g
155.6 x 73.2 x 8.7 mm, 197g
Display
6.7" OLED, 1440p, 10-120Hz
6.3" OLED, 1080p, 90Hz
Processor
Tensor G2
Tensor G2
RAM and Storage
12GB LPDDR5X RAM, 128GB/256GB/512GB storage
8GB RAM, 128GB or 256GB storage
Software
Android 13
Android 13
Cameras
50MP main camera, f/1.85
12MP ultra-wide with AF, f/2.2
48MP 5X telephoto, f/3.5
10.8MP front cam
50MP main camera, f/1.85
12MP ultra-wide, f/2.2
10.8MP front cam
Battery Size
5,000mAh
4,355mAh
Charging Speeds
23W wired
23W wireless
20W wired
20W wireless
Price
starting from $900
starting from $600
Check out our dedicated pages for a deep dive into each model's specifications:
Our Pixel 7 series reviews are coming out soon, but you can already take a look at our extensive previews:
Pixel 7 Pro preview - Pixel's big phone with a large battery, higher end screen and periscope zoom camera
Pixel 7 preview - Pixel's entry-level flagship at an affordable price and with the same Tensor G2 chip as the Pro model
Pixel 7 comparisons
We also have a bunch of in-depth comparisons with the Pixel 7 series:
Pixel 7 colors
Google has new
Pixel 7 colors
this time around. Both the vanilla and Pro models come in Obsidian (black) and Snow (white), but there is a third, signature color for each version. For the Pixel 7 Pro that third colorway is Hazel (a dark, nutty gray with gold accents) and for the Pixel 7 it is Lemongrass.
Here is how all those Pixel 7 and Pixel 7 Pro colors look in one picture: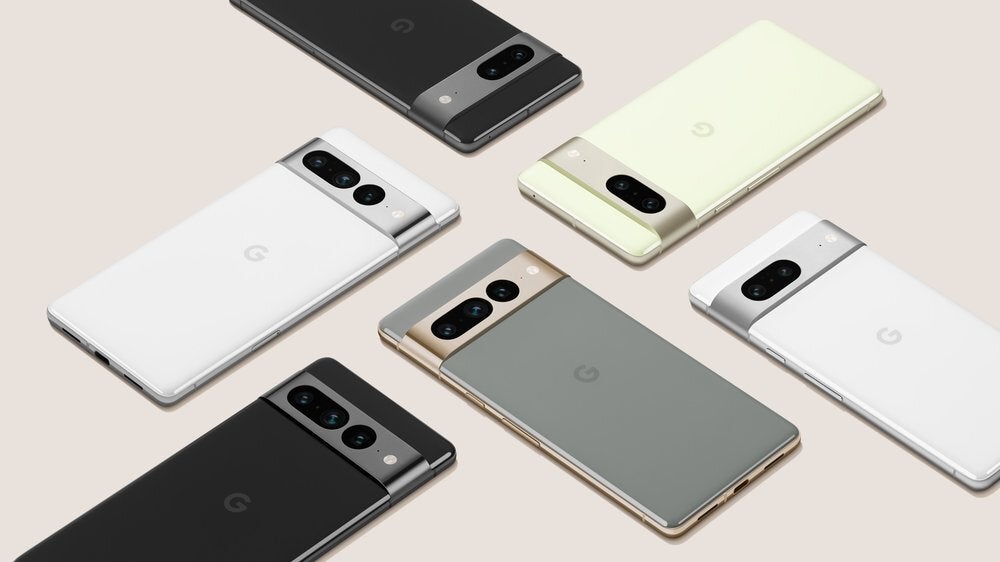 Pixel 7 Pro colorways are in the bottom left, Pixel 7 colors are in the top right
What is the Pixel 7 battery capacity?
The Pixel 7 Pro comes with a 5,000mAh battery, a size that has become the de-facto standard for big-screen flagships in the Android world. However, interestingly, the slightly smaller Pixel 7 comes with a slightly smaller battery. Here are the details:
| Phone | Battery size | Official battery estimate |
| --- | --- | --- |
| Pixel 7 | 4,355mAh | 24+ hours, up to 72 hours using Extended Battery Saver |
| Pixel 7 Pro | 5,000mAh | 24+ hours, up to 72 hours using Extended Battery Saver |
As you can see, Google estimates the same battery life for both Pixel 7 versions. Despite the fact that the Pro model comes with a larger battery, it is not quoted as having longer battery life.
We will be testing real-world battery life in a lot more detail very soon and will update you with the results and all the nuances.
While Google recommends and sells a 30W charger for its Pixel series, the maximum wired charging speeds on both models are lower. The Pixel 7 Pro charges at up to 23W, while the Pixel 7 maxes out at 20W charging speeds via a cable.
Interestingly, you can achieve the same speeds with wireless charging provided you use the Google Pixel Stand 2nd gen. You can also use other Qi-compatible wireless chargers with the Pixels but charging speeds won't be quite as fast.
What are the Pixel 7 camera specs?


The Pixel 7 and Pixel 7 Pro keep mostly the same camera hardware as the previous models with a 50MP main sensor coupled with an ultra-wide shooter for the Pixel 7 version, while the Pro model has an additional, third telephoto zoom camera. Check our dedicated
Pixel 7 camera
article for the full scoop.
Here's a break-down of the Pixel 7 camera specs:
| Camera | Wide (Main) | Ultra-wide | Telephoto | Front |
| --- | --- | --- | --- | --- |
| iPhone 14 | 50MP, 25mm, f/1.9, 1/1.31" sensor size | 12MP, f/2.2 | - | 10.8MP, 4K video |
| iPhone 14 Plus | 50MP, 25mm, f/1.9, 1/1.31" sensor size | 12MP, f/2.2 | 48MP, 5X (120mm), f/3.5 | 10.8MP, 4K video |
We will be adding real-world camera samples to our reviews and comparisons, so don't miss those (links are above).
The one more notable change is the switch from a 4X zoom lens to a 5X one on the Pixel 7 Pro, which gives users more range and more clarity when shooting far-away objects. Also, not reflected in this camera sheet is a new 2X optical-grade zoom that is possible thanks to a crop from the main sensor. This is great news for portrait mode photos, which were the big camera sore in previous Pixel generations. The front camera is also finally getting 4K video support, a feature that was strangely missing on earlier models.
What are the best Pixel 7 accessories?
Google sells a few official cases for the Pixel 7 family, and good news is that those cases seem to be improved compared to the previous generation where cases would yellow and age very quickly.
Of course, there are various third-party cases for the Pixel 7 family, and to guide you in this vast universe of Pixel cases we have an article summarizing our favorite case options.
Check it out below:
What are the best Pixel 7 deals?
Both Pixel 7 models are offered at lower prices than the competition, which in itself is a great deal, but you can save even more with trade-ins and other very tempting deals that we have summarized in our dedicated
Pixel 7 deals
article. We are constantly updating that too, so you know you are getting the most up-to-date and best deals possible.