Google Pixel 7 vs Samsung Galaxy S22: comparison
5
We may earn a commission if you make a purchase from the links on this page.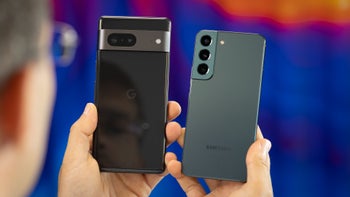 Intro
Google had a bit of a soft reboot of the whole Pixel line with the
Pixel 6
back in 2021 — they were back on track, making premium handsets and pricing them aggressively. The
Pixel 7
is a continuation of that concept — while the
7 Pro
is up there in price, the regular Pixel 7 is an absolute bargain. It offers the same performance and same main camera as its bigger sibling, the full access to the exclusive Google Assistant features and a pretty screen with a 90 Hz refresh rate. Pretty hard to beat for $600!
While now, in 2023, Samsung's latest "mainstream" phone is the
Galaxy S23
, you can still find the 2022
Galaxy S22
at a discount — often as low as $600. So, is Google's latest up for challenging the Galaxy of yesteryear?
Samsung takes a different approach to Google. Its "cheapest flagship" still has all the features you can find on the
Galaxy S22+
— the triple camera, the pristine build, the excellent 120 Hz display. That alone may be worth paying a bit more than the Pixel 7, but let's dive deeper.
Pixel 7 vs Galaxy S22 in a nutshell:

Very different, but distinct designs
Two main cameras on Pixel 7, three on S22
90 Hz screen on Pixel 7, 120 Hz on Galaxy S22
Tensor chip on Pixel, Snapdragon (Exynos) on S22
Slightly larger screen on Pixel 7
Google's Android vs Samsung's One UI
The Galaxy S23 are now almost here! Reserve yours now!
Design and Display Quality
OLED vs AMOLED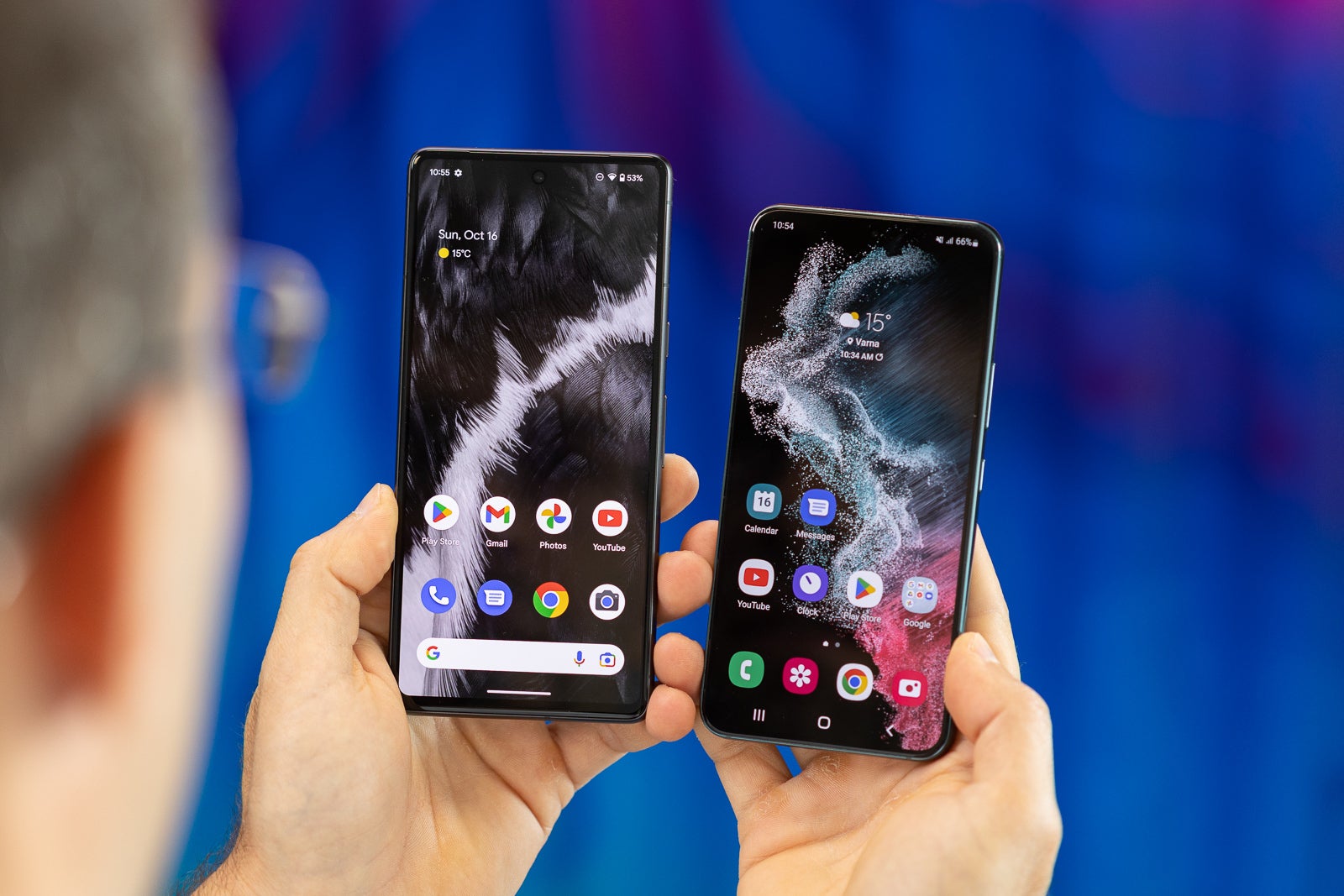 The Google Pixel 7 comes with an OLED panel, same as the Pixel 6. And, its refresh rate is a smooth 90 Hz — nothing insane, but enough to add some extra snap and the feeling of responsiveness over the 60 Hz of yesteryear (or of today... looking at you,
iPhone 14
). The Galaxy S22, however, has a 120 Hz screen. And, of course, Samsung's AMOLED panels have been fantastic for years now. While we can't say that the Pixel 7's screen is bad, it definitely comes through as slightly more muted or dull compared to the S22's screen, which just pops with vivid colors.
In terms of size, the Galaxy S22 is the more compact of these phones, hands down. The Pixel 7 may be smaller than its "Pro" sibling, but it's still a fairly big phone.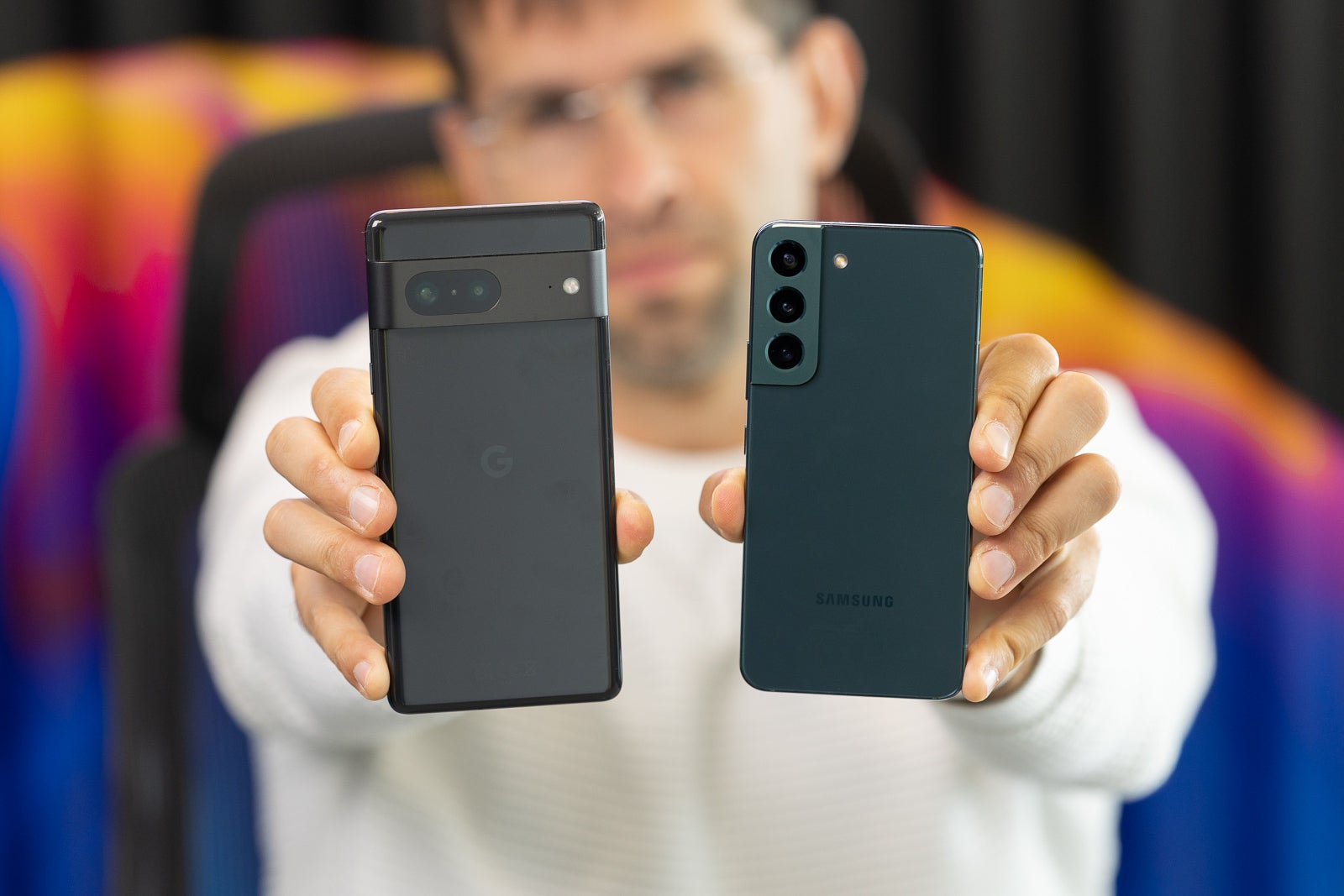 Both the Pixel 7 and Galaxy S22 have very distinct designs. The Pixel line keeps coming out with that bar-shaped camera module on the back, which is instantly recognizable. And Samsung keeps doing that metal camera module in the corner of the phone, which blends into the frame — a very stylish and seemingly loved design choice. The S22 is also very easy to grip, thanks to its almost flat sides, while the Pixel 7 seems to be going down the rounded frame road once again. The latter is not bad in any way, a lot of people enjoy the soft touch of a rounded corner.
Water- and dust-resistance in modern smartphones is basically a standard. The Galaxy S22 has an IP68 rating and so does the Pixel 7, so these devices are fairly safe — just keep them away from salt water... or soap.
When it comes to biometrics, both of these phones have under-screen fingerprint scanners. Samsung bets on its ultrasonic technology, while Google keeps working with optical sensors that light up under your finger to read the print. Samsung's scanner has the ability to respond better even if your finger is greased up or dirty, which is quite impressive, but it's still a smidgen slower than other fingerprint scanners on the market. The Pixel 7 was supposed to have a faster scanner but it feels on par with the Galaxy S22 one.
Of course, don't expect any headphone jacks on any of these phones — such is the modern smartphone world. Speaking of which:
What's in the box: Pixel 7 vs Galaxy S22 edition
You guessed it — definitely not a charger. Both of these phones will come with a data cable and some booklets.
Performance and Software
A Samsung chip in the Pixel, a Qualcomm chip in the Galaxy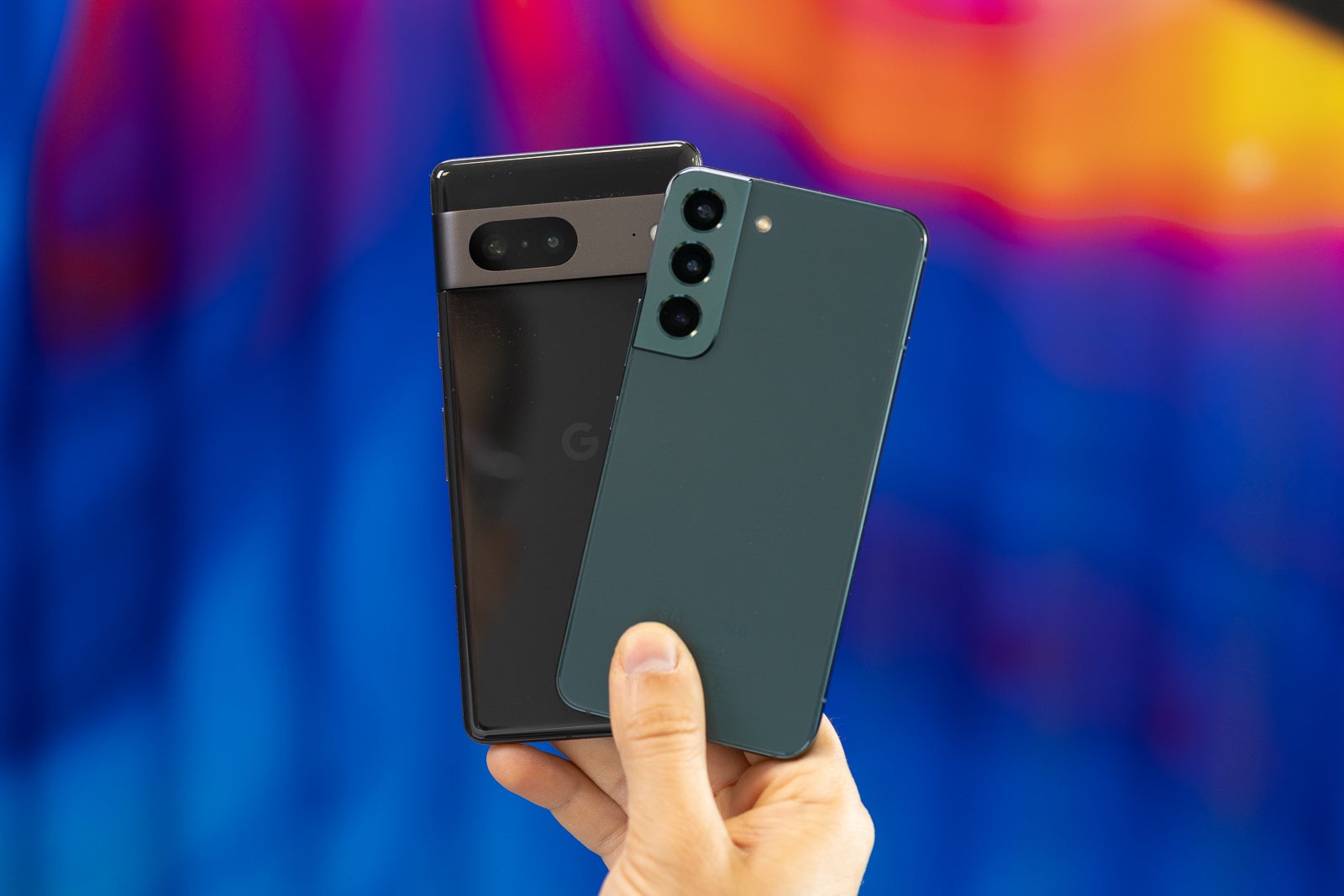 Here's a fun fact. Google's Tensor chips are designed by Google, OK, but are actually built by Samsung. Then, Samsung goes out and buys Qualcomm Snapdragon chips for its flagships.
Well, that's not the whole truth — most international markets get a Samsung-made Exynos chip in lieu of the Snapdragon, but now things are becoming a bit harder to follow. Let's reel it in.
The Google Pixel 7 is powered by the new Tensor G2 inside. Google spent... pretty much 0 time promoting its power and, as we expected, it's not really the top performer of 2022. The Galaxy S22 has the excellent Qualcomm Snapdragon 8 Gen 1 inside, which does beat the Tensor G2 in terms of raw performance, and the benchmarks show this.
What's special about the Tensor G2 is that — just like its predecessor — it was built with AI and picture processing in mind, with cores dedicated to those tasks. And smart, the Pixel 7 is.
Google makes Android, therefore it uses its
Pixel phones
as platforms to showcase the OS in its purest form — how the developers wanted it to look, feel, and operate. The Google Assistant shines in full here, with exclusive features for the Pixel phones. Like transcribing received voice messages to text, improved speech-to-text for your dictated messages, amazing "direct-my-call" which makes it easy to navigate automated voice lines, and the new picture unblur, which can remove haziness from your photos. Even old photos that you took a decade ago! Import them into the Photos app and let Tensor G2 sharpen them up!
Samsung generally says "Nah" to the vanilla Android look and develops its own One UI skin, which it overlays on top. By all accounts, One UI is a mature software in its own right and there are plenty of reasons to prefer it over the "stock" Android — from how it looks to how certain interface elements work, to the fact that Samsung fills it to the brim with extra features and customization options. You've got edge panels for multitasking, shortcuts to insta-opening split screen apps, and the excellent Samsung DeX, which gives you an Android-powered desktop environment to literally work in (external screen and peripherals required).
When it comes to software updates, one would assume that Google would lead here — pushing out Android updates as soon as they are ready for the public. But, credit given where credit is due, Samsung has always been amazing at sending out somewhat timely updates for its phones in recent times. Also — get this — Samsung promises 4 years of Android build updates and 5 years of security updates. Google promises 3 years of Android builds and 5 years of security patches.
This is a bit humorous, with Samsung promising more versions of Android for its phones. However, if you consider the release windows for these phones, it doesn't make much difference in the end. In early 2026, the Galaxy S22 will have Android 16 and so will the Pixel 7, with both devices being past the end of their promised update cycles.
Two leaders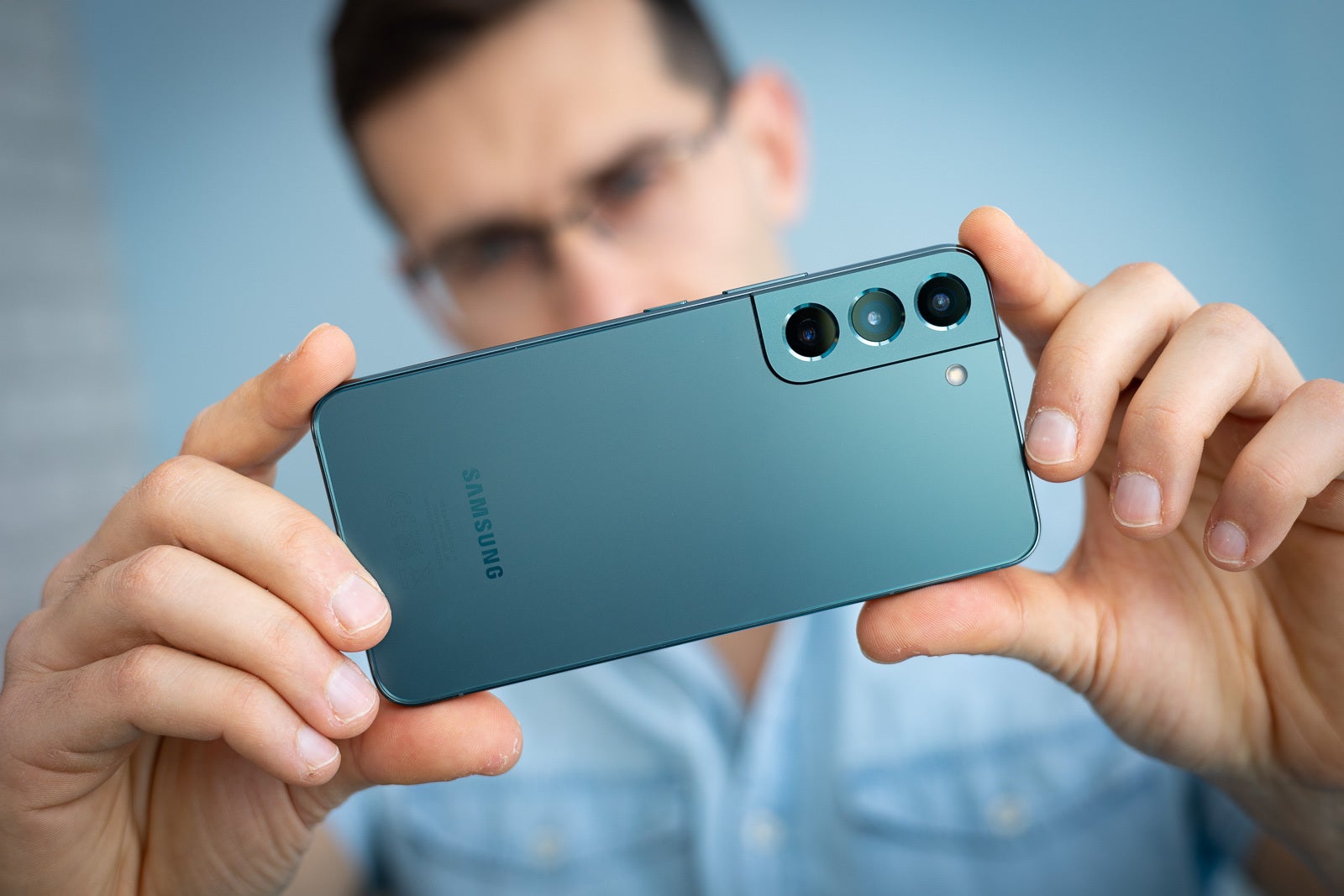 Last year, Google made a significant upgrade to its main cameras, giving the Pixel 6 phones 50 MP sensors. In 2022, it stuck to that spec, but now uses computational photography to squeeze even more from that sensor! Then, there's a 12 MP secondary camera for ultra wide-angle shots.
The Galaxy S22 also has a 50 MP main camera, then a 10 MP triple zoom telephoto camera, and a 12 MP ultra-wide one. So, from the get-go, we have more in the package here.
| | Pixel 7 | Galaxy S22 |
| --- | --- | --- |
| Main camera | 50 MP; f/1.85; pixel size 1.2 μm | 50 MP; f/1.8; pixel size 1.10 μm |
| Ultra-wide camera | 12 MP; f/2.2; pixel size 1.25 μm | 12 MP; f/2.2; pixel size 1.4 μm |
| Zoom camera | X | 10 MP; f/2.4; pixel size 1.0 μm; 3x zoom |
| Selfie camera | 10.8 MP; f/2.2; pixel size 1.22 μm | 10 MP |
But how do they do out in the real world? We knew you'd ask:
The Galaxy's propensity to take warm and saturated photos sure worked in its favor during Golden Hour — a couple of these photos (2 and 18) look strikingly vivid and warm! Even though the Pixel 7 is closer to reality, the Galaxy shots are definitely social media-ready, and even great for memorabilia.
Those examples aside, we see very similar performance throughout the other daytime samples. Both phones seem to perform equal in terms of sharpening the tiny details. The Galaxy S22 leans more towards the yellow-ish look and its HDR has a tendency to flatten out dynamics a bit. As a positive — this results in bright photos that just pop out.
The Pixel 7 gave us slightly colder hues and it wasn't afraid to let darker parts of the scenes to just be dark. Yet, it didn't crush shadows — a very well-balanced performance overall.
When it comes to night shots, of course we have Night Mode on both of these phones:
The Galaxy's colors, again, look warmer and more vivid, inviting us to stare at the image. Unfortunately, spending more time on it allows us to see some ISO noise seeping through. The Pixel, on the other hand, did a fantastic job at noise reduction, sharpness, and also preserved halos and colors around the lightbulbs better.
Both of these phones have ultra-wide cameras:
Ultra-wide cameras typically suffer with softer details and worse exposure due to their narrow apertures. However, both phones here do a good job at adding software sharpening and also reducing lens distortion towards the edges of the photos. Well, the Pixel 7's finer details — like the outlines of leaves and strands of glass — appear a bit more jagged, if we have to be really picky. Then again, in certain scenes, the Pixel seems to be better at preserving shadows.
Selfies!
The Pixel camera has the edge here — slightly more sharpness in the details and more realistic colors overall — both in the greenery but skintone as well. The Galaxy S22 threw a yellowish hue over the selfies, and its greens look quite saturated.
Samsung also pushes the limits with 8K video from its main camera and 4K video capabilities from all the different sensors. The Pixel 7, so far, can't do 8K, though one may argue "Does it need to?".
Audio Quality and Haptics
Samsung's loudspeakers have generally been great over the past few years, with a few weird mishaps. Sometimes the next-gen phone has slightly worse speakers than last year's, for example. But, without digressing futher, the Galaxy S22 has pretty OK speakers. They are a bit on the tinny side, but you can definitely get usable, detailed sound out of them, to watch YouTube videos or play soft music as a background — especially if you get into the Dolby Atmos and EQ settings.
The Pixel 7's stereo speakers are also... OK. A bit of a mid hump, not a lot of bass — you won't be delving into your favorite albums with this one, but it does the job just fine for YouTube videos.
As for headphone jacks — none of these phones have them. What, did you think this is 2014?
The Pixels' haptic motors have been very much on point for the past few years. And Google knows it, as it always loads up a ton of little haptic vibrations and effects to give you feedback as you navigate through Android. They are satisfying, cool, and accurate. Samsung's vibration motors have also been very good in recent times, maybe a smidgen softer. But, in general, great haptic performance from both phones.
Battery Life and Charging
The Pixel 7 lasts longer
The Google Pixel 7 has a 4,355 mAh cell — smaller than 2021's Pixel 6, still bigger than the Galaxy S22's 3,700 mAh. Google promises a beyond-24-hour battery life and sure, we can see that happening. In fact, the Pixel 7 did great in our battery tests, beating the Galaxy S22 in every component. A good couple of hours more screen-on time is definitely something you will notice in your day-to-day.
As for charging, the Galaxy S22 supports 25 W wallplugs (the S22+ can handle 45 W), while the Pixel line has gone up to 30 W last year. Well, at least in specs — in reality, the Pixel 7 charges with about 21 W. Enough numbers — the tests show that both of these phones can get from 0% to 50% in about half an hour, so — with the appropriate charger — you get the same top-up speeds, more or less.
Of course, both phones support wireless charging, as it's the industry norm nowadays, and reverse wireless charging for your accessories and tidbits.
Specs Comparison
The expected specs of the Pixel 7 vs the Galaxy S22:
Specs
Pixel 7
Galaxy S22
Dimensions
6.13 x 2.88 x 0.34 inches ( 155.6 x 73.2 x 8.7 mm)
5.75 x 2.78 x 0.30 inches (146 x 70.6 x 7.6mm)
Weight
6.95 oz (197.0 g)
5.89 oz (168.0 g)
Screen
6.3" OLED 90 Hz
Camera hole top center
20:9; 1080 x 2400
6.1" Dynamic AMOLED 120Hz
Camera hole top center
19.5:9; 1080 x 2340
Processor
Tensor G2
Snapdragon 8 Gen 1 (or Exynos 2200)
RAM
8 GB LPDDR5
8 GB LPDDR5
Rear Cameras
50 MP Main (1X), 26 mm f/1.85
12 MP Ultra (0.7X), 18 mm f/2.2
50 MP Main (1X), 26 mm f/1.8
12 MP Ultra (0.5X), 13 mm f/2.2
10 MP Tele (3X), 69 mm f/2.4
Front Camera
10.8 MP
12 MP
Battery Size
4,355 mAh
3,700 mAh
Charging Speeds
30 W wired charging
21 W wireless
25 W wired charging
15 W wireless
Price
from $600 for 128GB
from $800 for 128GB
There you have it — we can definitely see a corner cut here or there, but we definitely believe that the Pixel 7 brings tons of value for $600 — that's a whole $200 cheaper than the Galaxy S22!
Summary and Final Verdict
In summary, the Pixel 7 is fantastic — especially at the low starting price of $600. It gives you the core Google experience, it has a great camera, and its performance, so far, is very solid (fingers crossed). We are cautiously optimistic, since the Pixel 6 had some annoying bugs, but so far — we are liking the Pixel 7 and would recommend it.
Would we recommend it over a Galaxy S22? We see very little reason to say that one of the two phones is the clear winner here.
However, it's worth noting that the Galaxy S22 will give you access to a couple more camera features, like a Portrait Mode with an actual telephoto lens, and a more robust ecosystem. The Galaxy Watches still seem to be better than the Pixel Watch, and there are more models of Galaxy Buds to pick from. Plus, Samsung makes tablets, chromebooks, and laptops, while the Pixel Tablet has still not launched, despite Google teasing it twice already. The whole plethora of smart electronics that Samsung manufactures can be controlled by the SmartThings hub. And Samsung's One UI interface is a very pretty-looking take on Android in its own right. We wouldn't say that the split screen functions are a huge plus on a small device like the Galaxy S22, but DeX is still very much appreciated!
If you feel like experimenting and taking a peek at the smart mobile future the way Google imagines it, the Pixel 7 is a great jump-in option. If you want something that's fleshed-out, mature, and well-established on the market, the Galaxy S22 is solid.