Google Pixel 6a vs Pixel 7: main differences
2
We may earn a commission if you make a purchase from the links on this page.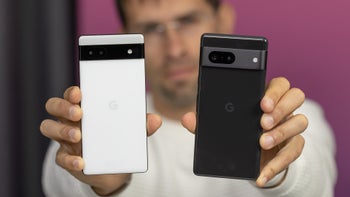 Intro
Is it worth splurging a bit more to get the flagship Google Pixel 7 or is the budget
Pixel 6
a model already good enough?
This is the big question that we'll answer in this comparison, and let's start with the most important improvement in the
Pixel 6
a. The
Pixel 6
a runs on Google's first generation Tensor chip, which is faster than most other phones in the same price, and is only marginally slower than the Tensor G2 processor in the
Pixel 7
.
And while the Pixel 7 has higher resolution main camera, the image quality is actually strikingly similar and both also share one short-coming that they don't have a deidcated zoom lens.
But what else is different? Let's find out.
Pixel 6

a vs Pixel 7 in a nutshell:

6a is more compact
Only the Pixel 7 has fast screen refresh rate
Similar dual rear cameras, but Pixel 7 has 2X zoom mode
Tensor Gen1 on 6a vs Gen2 on 7
6a is made of plastic, 7 has a glass back
6a is more affordable
Design and Display Quality
The Pixel 6a is more compact, but only runs at 60Hz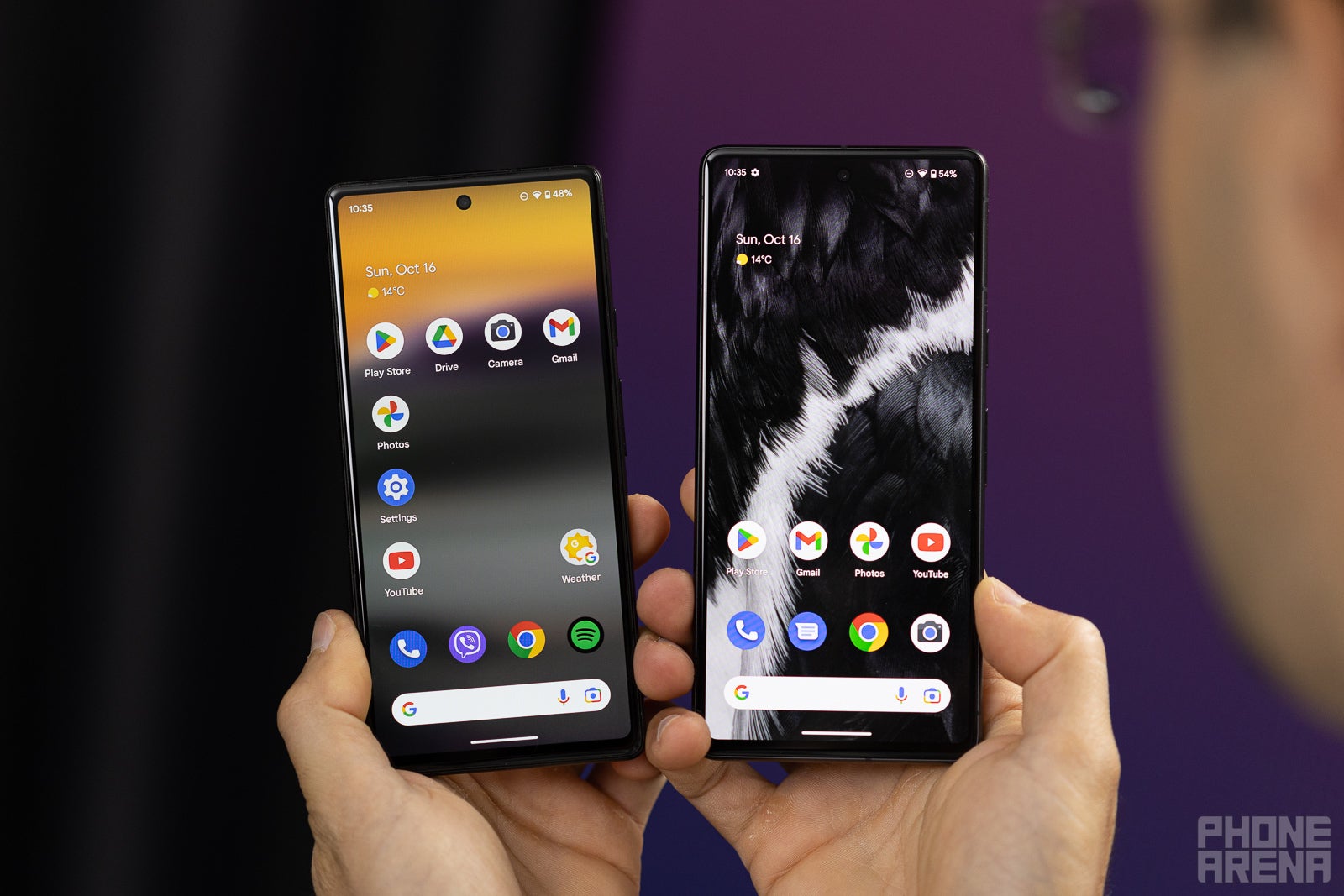 (Image Credit - PhoneArena) Pixel 6a is on the left, Pixel 7 - on the right
The
Pixel 6
a and Pixel 7 have similar designs, but the similarities end when you look at the materials used making the phones: the Pixel 7 has Corning's latest Gorilla Glass Victus on the back, while the 6a has a plastic back.
Both, however, are officially water and dust protected, a nice feature. The
Pixel 6
a comes with an IP67 certification, while the Pixel features higher IP68 rating.
And here is how they compare in pure size:
As you can see, the
Pixel 6
a is actually smaller than the Pixel 7, so for those looking for a compact phone this is an important advantage to consider. We have also included the size of the iPhone 13 to illustrate that even if smaller, the 6a is not quite as compact as Apple's popular 6.1-incher.
When it comes to screens, the
Pixel 6
a has a 6.1" 1080p OLED display, while the Pixel 7 sports a larger display at 6.3" and supports 90Hz refresh rate. This is the big compromise with the 6a: it does not support a fast refresh rate and is stuck at 60Hz, which looks stuttery in comparison.
Display Measurements:
The screen on the Pixel 7 also gets brighter, which is helpful when you use the phone outdoors.
As for biometrics, no surprises: both use an in-screen fingerprint scanner. The Pixel 7, however, finally adds support for Face Unlock, a useful feature that is not available on the 6a.
Performance and Software
Tensor G1 vs Tensor G2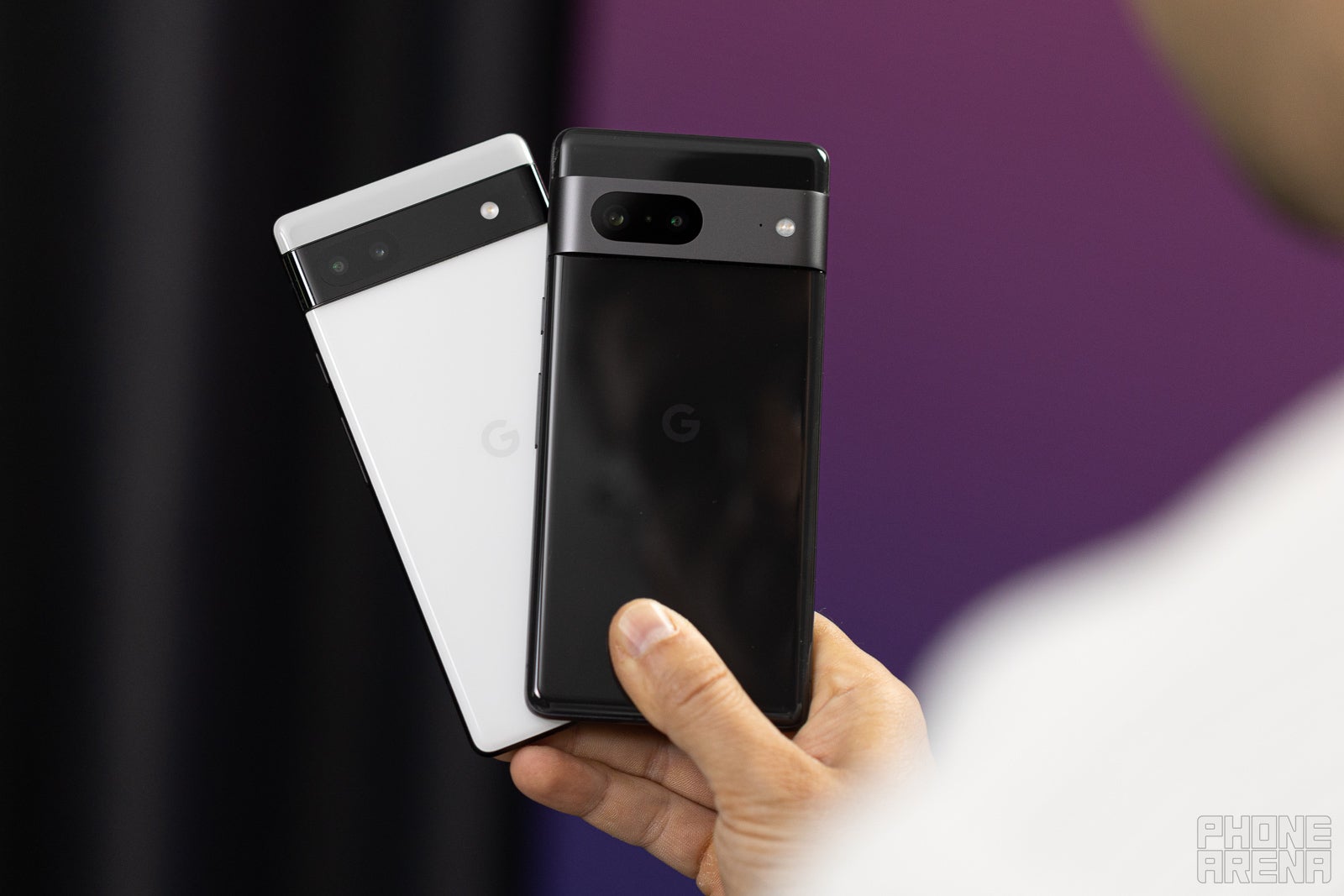 (Image Credit - PhoneArena)
Under the hood, both phones carry the same brands of processor: Google Tensor. However, the
Pixel 6
a uses the original Tensor chip, while the 7 has the Tensor v2, which is more powerful.
Also, the Pixel 7 has 8GB of RAM vs 6GB on the
Pixel 6
a, which will certainly help with faster and more efficient multitasking.
Performance Benchmarks:
Looking at the GeekBench CPU benchmark, you can see that the single-core performance of the new Tensor G2 chip is practically identical to the previous one, however, multi-core speeds get a nearly 20% boost.
For gaming, the
Pixel 6
a and all phones with the first-gen Tensor chip suffered from severe throttling, and we are glad to see the Tensor G2 improve upon that. On the 3D Mark test that runs for 20 minutes, we see how towards the end, the Pixel 7 has nearly 50% better performance, a massive difference.
Being "Google phones", these two come with a clean Android build. The
Pixel 6
a launched with Android 12, but has already received the Android 13 update, while the Pixel 7 comes pre-loaded with Android 13.
This is interesting because the
Pixel 6
a has already "burned" one of the three major Android updates Google has promised for it, while the Pixel 7 will have one more major Android update and therefore will have extended lifespan. The Pixel 7 also comes with a promise for 5 years of security updates.
Camera
Pixel 7 has a bigger sensor and now, optical-grade 2X zoom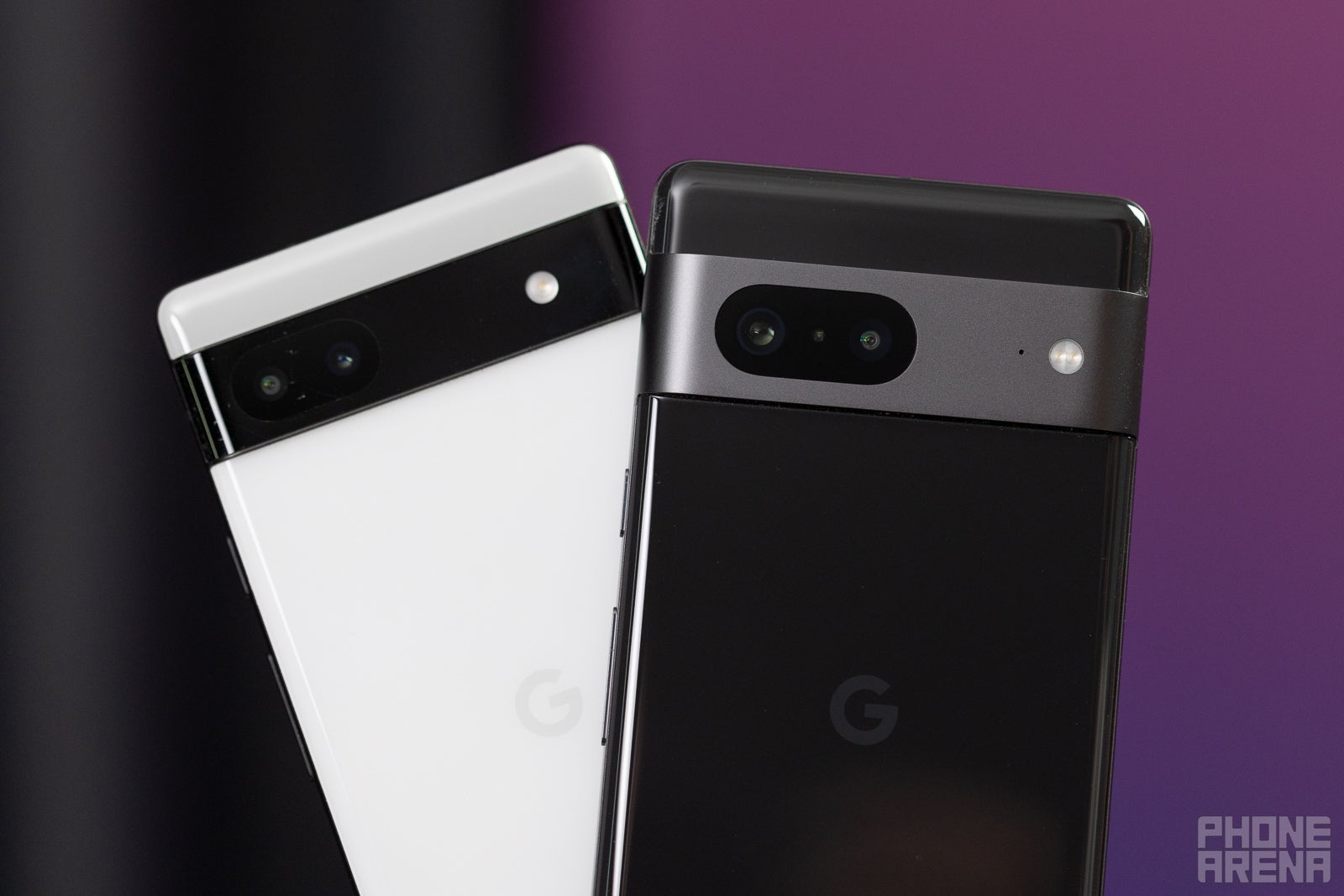 (Image Credit - PhoneArena)
With a single punch hole front camera and two cameras on the back, one a wide and a secondary, ultra-wide lens, both phones look similar, and both are missing a dedicated telephoto zoom lens.
Of course, dig deeper and you'd find differences: the Pixel 7 uses a larger sensor for the main camera, while the
Pixel 6
a features an older generation, smaller sensor for the main camera.
Day Photos (Main Camera)
Despite its larger sensor, you can hardly tell much of a difference between the Pixel 7 and
Pixel 6
a in these photos.
Ultra-wide Camera
You get a 0.7X ultra-wide camera on both phones, not as wide as the competition. The quality is nearly identical on both phones.
Night Photos (Main Camera)
The biggest difference for night photos is not the quality per se, but just the speed of capture on the Pixel 7, which is much faster than the
Pixel 6
a.
Front Camera
The big new feature in the Pixel 7 is 2X optical grade zoom. This is possible thanks to the larger sensor and is great for portrait photos, and it's also something we have long been waiting for.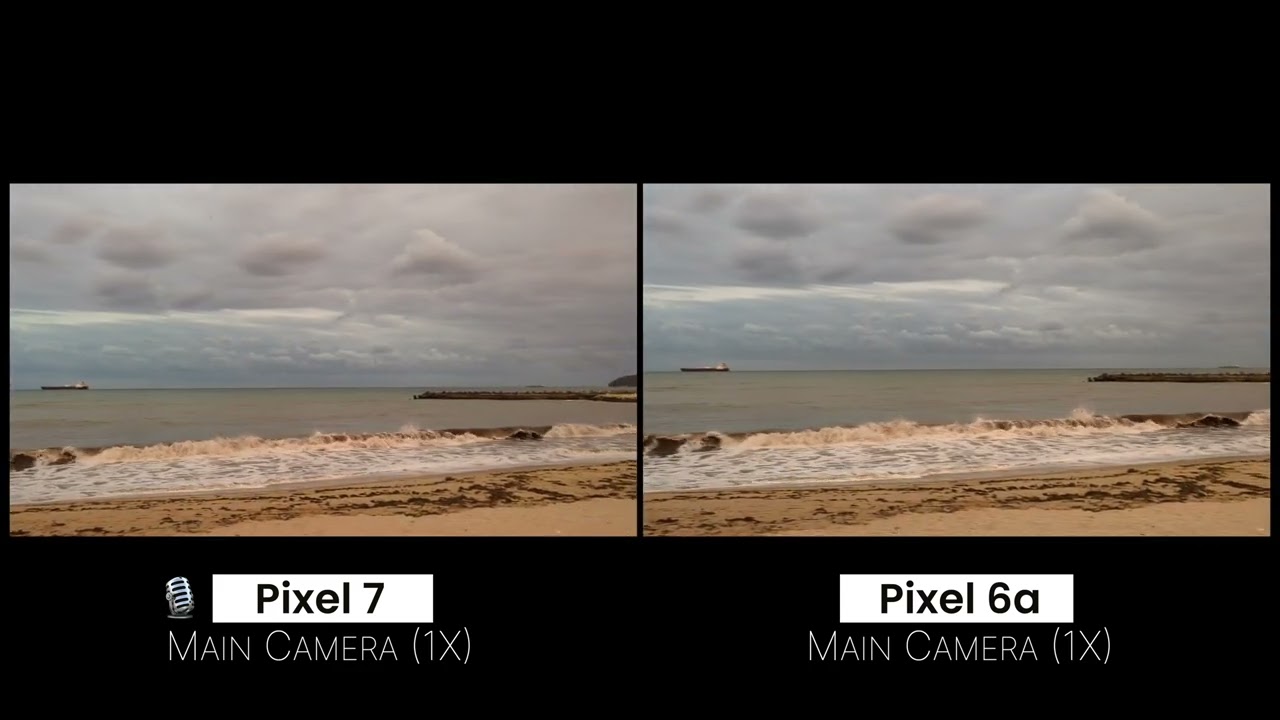 On the video side, the Pixel 7 has Cinematic Blur, which blurs the background much like portrait mode for photos.
The
Pixel 6
a supports HDR video recording even at the maximum 4K60 resolution, which is great to see. We will be updating this section with more information once we learn more about the Pixel 7.
Audio Quality and Haptics
The
Pixel 6
a does away with one feature that used to remain on Google's
budget phones
: the headphone jack. It is no longer here, and the Pixel 7 does not have one either.
Both phones come with dual loudspeakers, but the quality out of the
Pixel 6
a speakers is merely decent, it definitely lacks in "oomph" and the Pixel 7 is expected to have a big advantage in that regard.
As for the haptic feedback and vibration motor quality, the
Pixel 6
a has made no compromise, vibration is nice and sharp, so no complaints on that front.
Battery Life and Charging
Pixel 7 has wireless charging and a slightly larger battery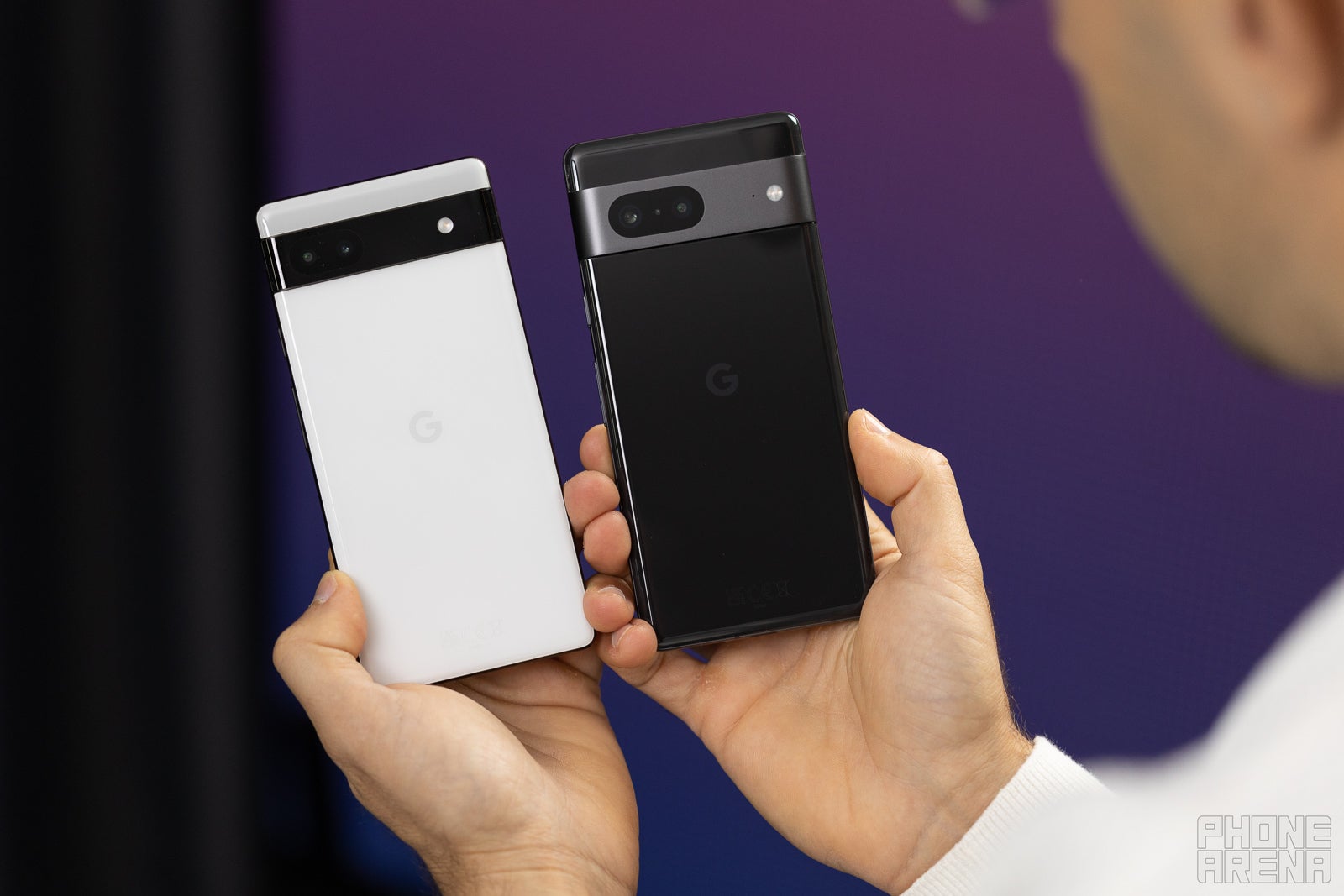 (Image Credit - PhoneArena)
So far, it's too early to compare the battery life between these two.
The
Pixel 6
a ships with a 4,410mAh battery, a decent one for its size, while the physically bigger Pixel 7 actually has a slightly smaller, 4,355mAh battery.
Both phones promise "all-day" battery life, which means you have to plug them every night.
PhoneArena Battery Test Results:
In our independent battery tests, we see that the Pixel 7 and
Pixel 6
a last about the same time. Both scored around 9 hours of video playback over Wi-Fi, which is a decent score, and both had nearly 14 hours on our web browsing test. This suggests both of these phones will comfortably last you through one day, but not much more, so overnight charges are necessary.
And just as many other modern phones, don't expect to see a charger in the box. Maximum charging speed on the
Pixel 6
a is a frustratingly slow 18W, while the Pixel 7 tops up only slightly faster at 20W.
The Pixel 7, however, supports wireless charging at the same 20W speeds, while the more affordable
Pixel 6
a can only be charged via a wire.
Specs Comparison
And here is a quick overview of the specs of the
Pixel 6
a vs Pixel 7:
Specs
Pixel 6a
Pixel 7
Dimensions
152.2 x 71.8 x 8.9mm
155.6 x 73.2 x 8.7 mm
Weight

178g
197g
Screen
6.1" OLED 60Hz

6.3" OLED 90Hz

Processor
Tensor G1
Tensor G2
RAM
6GB
8GB
Rear Cameras
12MP Wide (1X), 26mm f/1.7
16MP Ultra-wide, f/2.2
50MP Wide (1X), 26mm f/1.9
12MP Ultra-wide, 18mm f/2.2

Front Camera
8MP Front
10.8MP Front
Battery Size
4,410mAh
4,355mAh

Charging speeds
18W wired charging
no wireless charging
20W wired charging
20W wireless
Price
$450 for 128GB
$600 for 128GB
Don't forget that you can also see the
Pixel 6
a vs Pixel 7 full specs comparison on our website, where you can find a lot more details like cellular bands, etc.
Summary and Final Verdict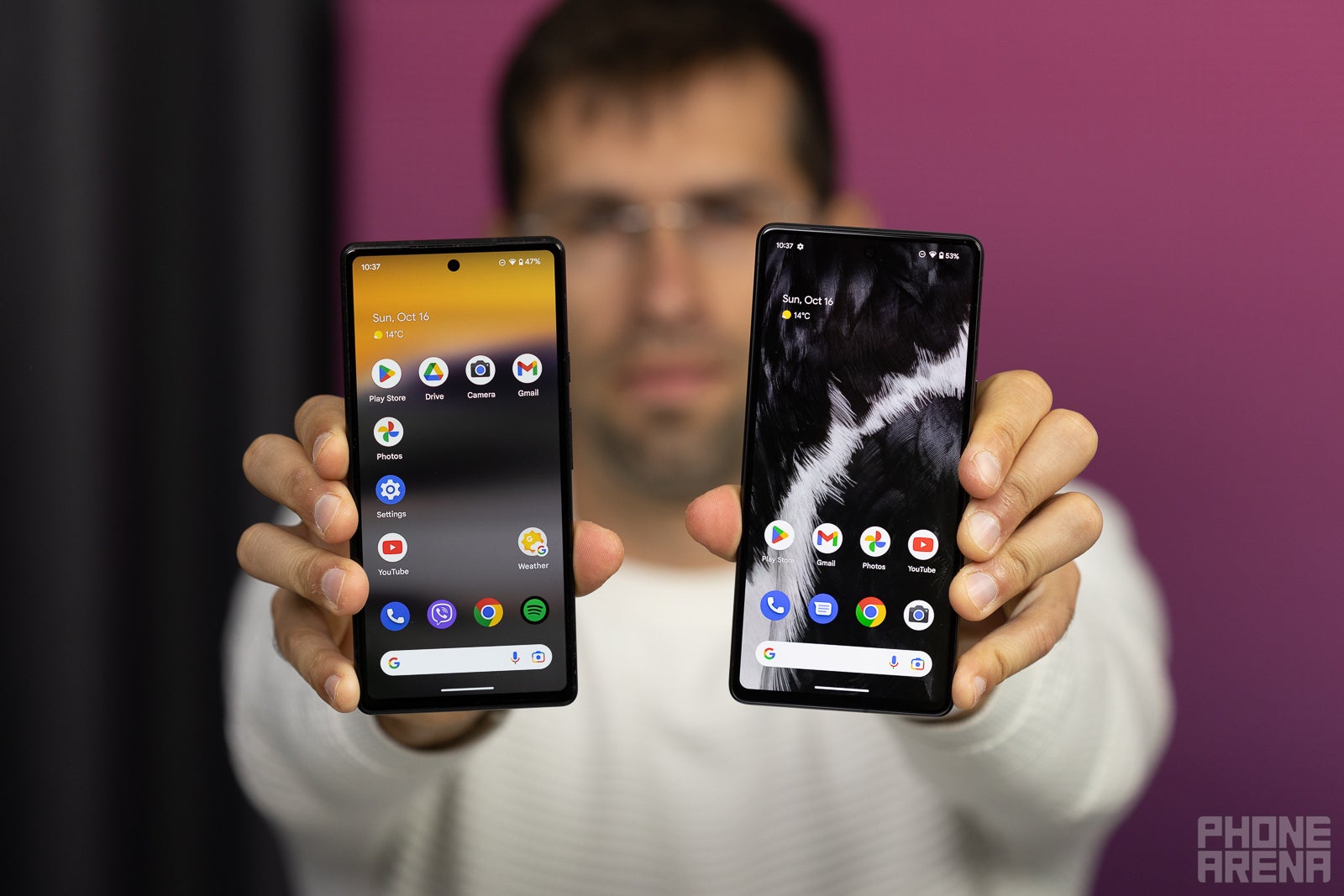 (Image Credit - PhoneArena)
Google stepped up its game big time with the
Pixel 6
a, which has a faster processor and appealing design.
At the same time, there are some things missing, and the lack of a fast refresh rate feels like the biggest of those compromises.
On the other hand, the Pixel 7 is not much more expensive and it seems to have all the fundamentals covered. The faster Tensor G2 chip is nice to have and it enables new camera features. The 90Hz screen adds that smoothness that the
Pixel 6
a doesn't have, the fingerprint scanner on the Pixel 7 is faster, you also get Face Unlock on it and wireless charging.
Yes, the Pixel 7 is the better option and it is absolutely worth it for those who use their phones more and would appreciate the added features, but the
Pixel 6
a is a bit more affordable and we can recommend it to those who want to go easy on their wallet.
Recommended Stories