Best Mother's Day deals on tech 2023: gift your mom a fine watch for cheap
We may earn a commission if you make a purchase from the links on this page.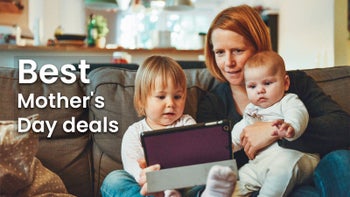 It's that time of the year again - Mother's Day 2023 is here! If you're on the hunt for the perfect gift for your mom, now is the perfect time to check out some amazing Mother's Day deals.
And if your mom is a tech enthusiast (yes, we know such moms exist!), this article can assist you in selecting the ideal gift for her while getting the best deal possible. However, even if your mom isn't into technology, you can still surprise her with a practical tech gift or even a new phone.
Without further ado, let's dive into the Mother's Day 2023 deals that are currently available.
Top 3 best Mother's Day deals:
When is Mother's Day 2023?
Mother's Day is on
May 14
, which falls on a Sunday, it's the second Sunday of May in the US. The day honors the mother in the family, as well as motherhood in general.
Jump to section:
Best Mother's Day deals on phones
Whatever the needs or preferences in your mother's life, there's something for everyone during the deals for Mother's Day. In terms of phones, you can get a great gift with around 50% off in the form of a Galaxy Z Fold 3 (actually, exactly half price), or a non-folding flagship from Samsung (last year's S22 Ultra is heavily discounted), Motorola, or OnePlus. These deals are hot and for a limited time, so don't miss them out!

Best Mother's Day deals on tablets
Who doesn't like a good tablet, especially if you enjoy cooking, or reading magazines, or just browsing the net on a big screen. You mother will be extremely happy with a nice iPad, or a Galaxy Tab, and the best thing about all this is that just for Mother's day both camps (iOS and Android) are offering a substantial discounts on a variety of tablets. It's rare to see an iPad with an 18% off, outside of Black Friday or Amazon Prime day, but here it is. Get it while you can!
Best Mother's Day deals on smartwatches
There's no better gift for a lady than a piece of jewellery. And today's tech enables us to blend the stylish and pretty with the functional. Here we have a great selection of smartwatches with a huge discounts to serve as a perfect Mother's day gift. Form Apple Watch models, through Galaxy Watches and unique picks such as the Garmin Lilly, these beautiful devices are discounted up to 50%. There are quite a few to choose from, so pick your perfect gift below.
Best Mother's Day deals on headphones and earbuds
A pair of good quality earbuds can make for a great gift for this year's Mother's Day. Surprisingly, there are discount even on AirPods, which makes things a bit easier - who wouldn't like a pair of AirPods Pro 2? There are Galaxy Buds and Sony earbuds on a discount as well, and you can save a good 20% on these. You can also combine this present with a nice smartwatch or even a phone, if you want to be the perfect son.
Where can I find the best phone deals for Mother's Day?
The best phone deals for Mother's Day can be found on the websites of major retailers and mobile carriers. Some popular options include Amazon, the retailer often has special promotions and discounts on smartphones for holidays like Mother's Day. You can check their website for deals on popular brands like Apple, Samsung, and Google. But the best thing is that you don't have to browse for hours to find the best deal, we've already curated everything for you!
Are there any special Mother's Day discounts on iPhones?
There may be special Mother's Day discounts on iPhones available from various retailers and mobile carriers. Don't hold your breath, though - Apple is notorious for its steady prices, and discounts are reserved for bigger shopping events such as Black Friday and Amazon Prime day. You can still check out our piece to see some rare Apple deals popping up.
Which retailers are offering the best tech deals for Mother's Day?
Amazon is normally the go-to place to find tech deals for Mother's Day, with discounts on products like smartphones, tablets, and smartwatches. The online retailer often has daily deals and lightning deals on tech items, and you can find your perfect gift without the need to go and browse the site - we've neatly picked up and arranged the best deals just for you.
Recommended Stories