Google Pixel 7 vs Pixel 6: comparison
12
We may earn a commission if you make a purchase from the links on this page.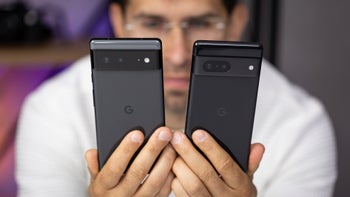 Intro
Google had a successful "soft reboot" of its line with the
Pixel 6 series
— they finally introduced their own chip, a design language that sets them apart (and sticks around for more than a generation). But they still had some kinks and bugs that needed ironing, so we were all waiting for the
Pixel 7 series
with bated breath. Was it worth it?
Well, yes. Mostly. Slight facelifts, small fixes and touch-ups here and there, and we got another duo of phones that are actually pretty good!
So, is it worth buying the new
Pixel 7
or should you jump on one of those sweet, sweet
Pixel 6
discounts and get a killer device for $400? Let's compare them more closely!
Pixel 7 vs Pixel 6 in a nutshell:

Same design language, slightly different accents
Same camera hardware on both
New Tensor G2 chip vs last year's Tensor
Slightly smaller screen on Pixel 7, same 90 Hz refresh rate
Smaller battery for Pixel 7, but same battery life expected
Pixel 7 has face unlock
New Lemongrass (green) color for Pixel 7
Design and Display Quality
Hoping for improvements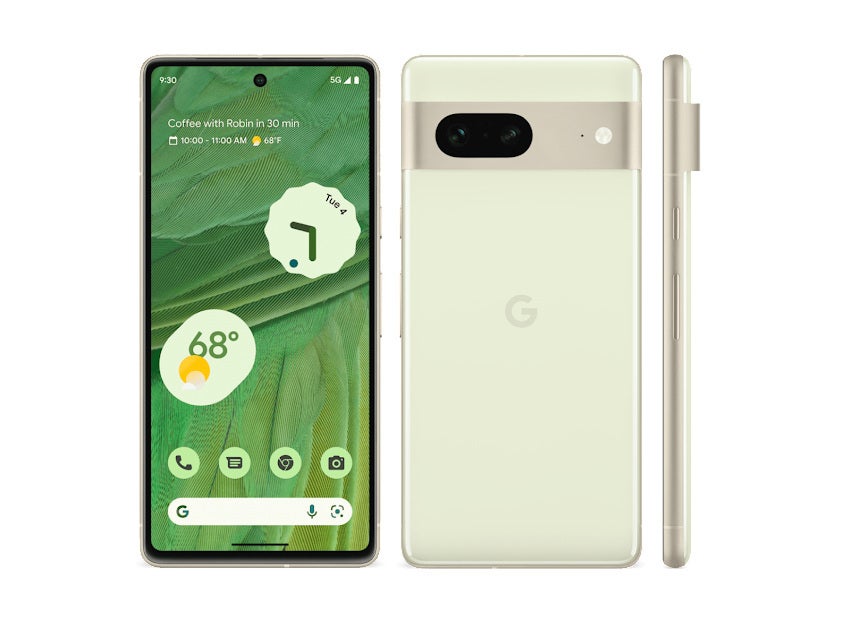 To no surprise, the Pixel 7 comes with an AMOLED display, just like the Pixel 6 before it. The panel is ever so slightly smaller at 6.3 inches (vs 6.4 inches on the 6). This, together with the slimmer bezels, results in the Pixel 7 having a slightly smaller footprint than its predecessor.
Without a doubt, the biggest display upgrade here is the 25% improved peak brightness for superior outdoor visibility. That aside, we're looking at the same 90Hz refresh rate, 1080p resolution, and Gorilla Glass Victus protection.

The rear of the Pixel 7 should also be familiar to any Pixel 6 owner as the signature camera stripe is still present. However, it is now all metal and less reminiscent of Robocop's visor. Water resistance is now pretty much a must for any phone at this price point. The Pixel 7 is IP68 water resistant, just like the Pixel 6.
Overall we find the Pixel 7 to feel slightly better in the hand due to the slight design adjustments. Though, if you can find the Pixel 6 at a huge discount, we wouldn't say the design by itself is something that should sway you otherwise.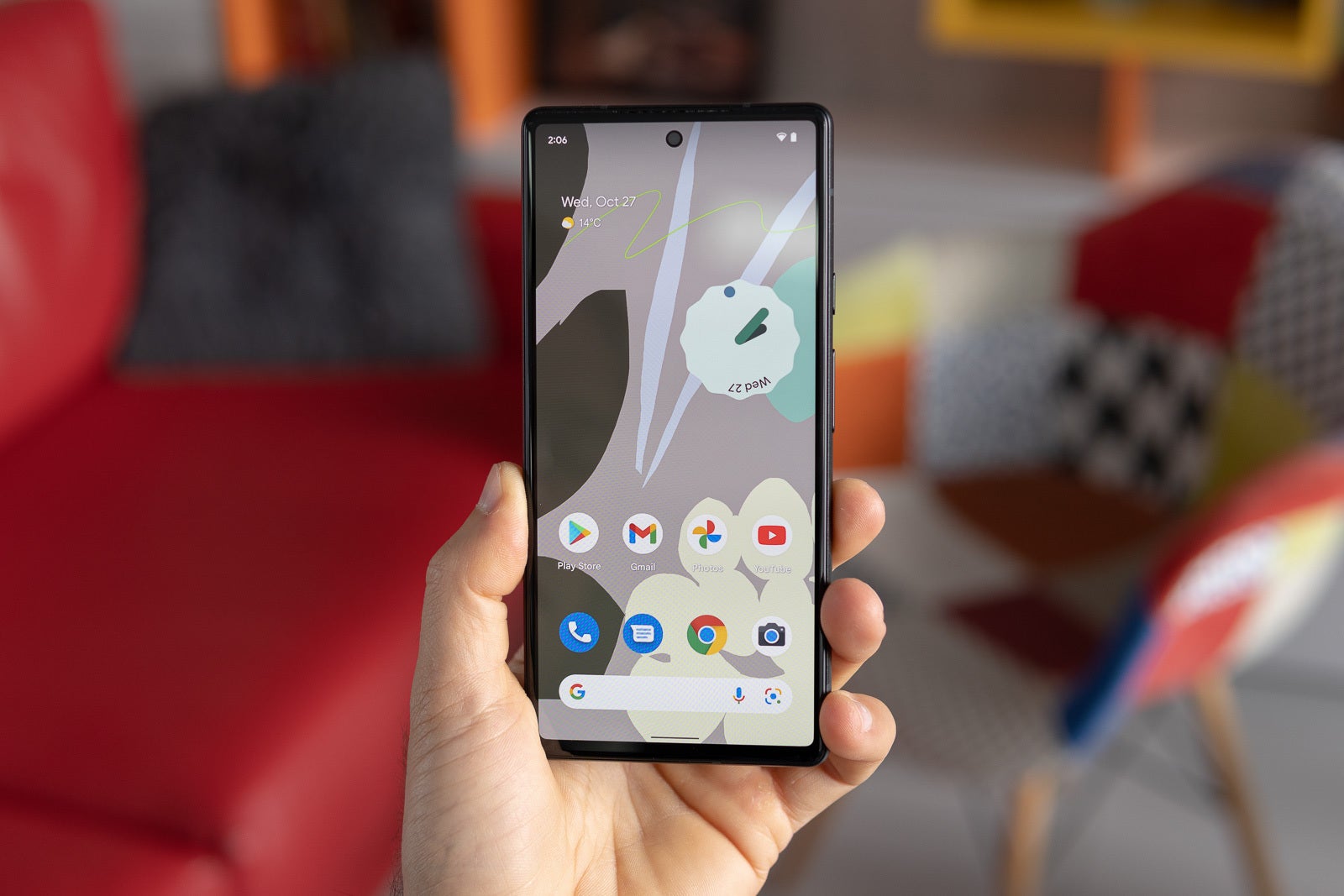 The under-display fingerprint scanner is still present on the Pixel 7. However, Google confirmed to us that a new sensor is in use on the newer model, which should result in 30% improved latency. Given the lackluster performance of the Pixel 6's scanner, this upgrade is more than welcome.

Now that we've mentioned biometrics, Face Unlock is a feature present on the Pixel 7. The Pixel 6 doesn't support face recognition and we don't know if it will, ever.

Naturally, don't expect a headphone jack on either of these phones.
What's in the box: Pixel 7 vs Pixel 6
Inside the Pixel 7's box you'll find a USB-C cable, a SIM ejector tool, and a USB adapter designed to help you move your data from another phone. No charger is included, as was the case with the Pixel 6.
Performance and Software
Can the Tensor improve?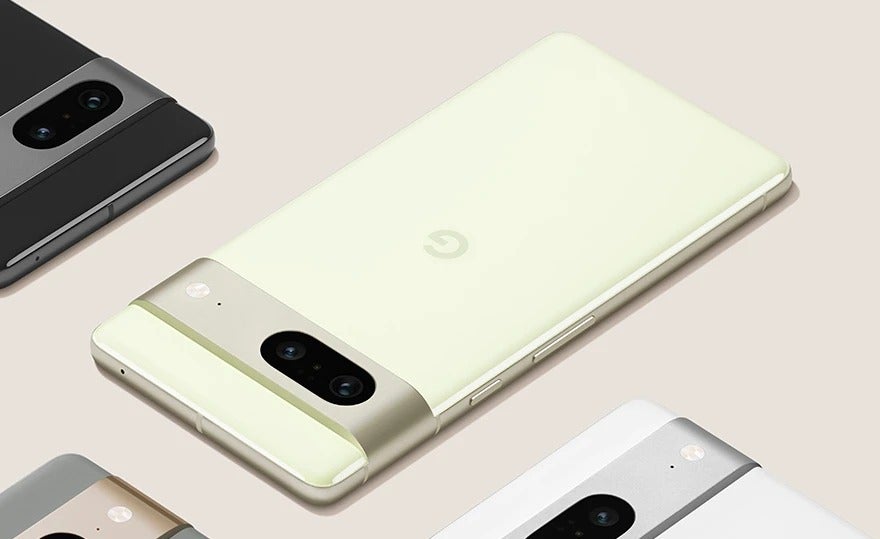 Google's Pixel 6 line had the very first chips designed by Google — the Tensor. Not much of a performer, but raw performance was never the point. The Tensor SoC is built with cores enhancing the AI and photo processing of the phone, powering the two core features that
Pixel phones
are known for — excellent computational photography and enhanced Google Assistant capabilities.
The Pixel 7 series introduces the Tensor G2 chip, which follows the same concept. It's not a gamer's dream for sure, but Google did boast its new chip is 60% faster at running machine learning tasks, and it does this 20% more efficiently. The Tensor is here to support the Google Assistant as it makes your phone an effective tool to manage day-to-day life a bit easier.
In plain terms, the new chip improves the phone's ability to recognize speech, perform real-time translations, and providing voice assistance. The Pixel 7 is also said to be more efficient with every-day tasks, including recording video and playing music.
All in all, the new chip inside the Pixel 7 didn't blow us away with major improvements over the Pixel 6. It feels a bit snappier, a bit tighter, but we'd be fine with the older phone. The software isn't much of a differentiating factor either as both phones run practically the same version of Android.
Camera
Awesome on both sides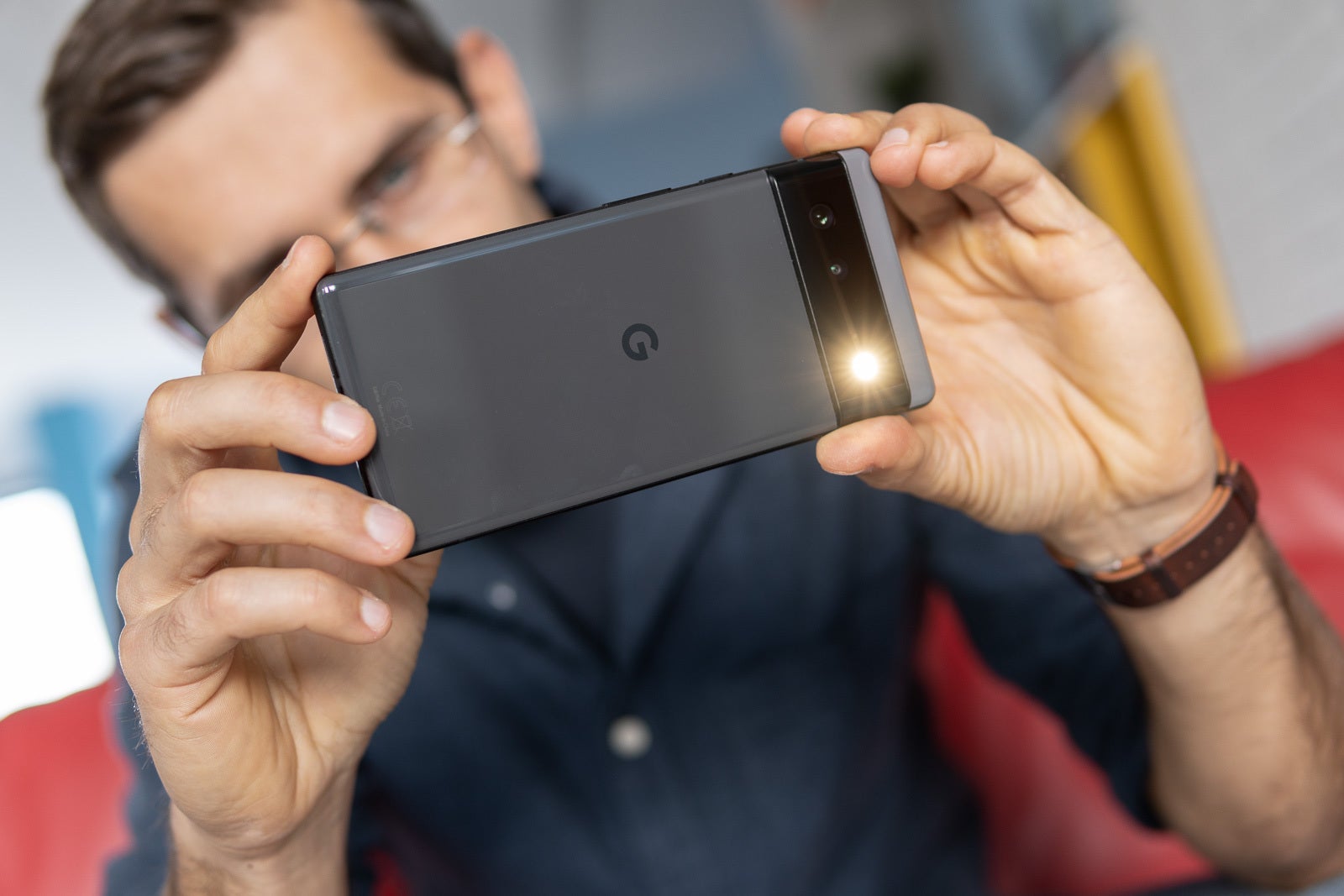 Last year, Google made a significant upgrade to its main cameras, giving the Pixel 6 phones 50 MP sensors. No surprise, the Pixel 7 stuck with that sensor, but it also employs smart software tricks to squeeze more from it and make the 2-lens camera system feel like... something more.
| | Pixel 7 | Pixel 6 |
| --- | --- | --- |
| Main camera | 50 MP; f/1.85; pixel size 1.2 μm | 50 MP; f/1.85; pixel size 1.2 μm |
| Ultra-wide camera | 12 MP; f/2.2; pixel size 1.25 μm | 12 MP; f/2.2; pixel size 1.25 μm |
| Zoom camera | X | X |
| Selfie camera | 10.8 MP; f/2.0; pixel size 1.22 μm | 8 MP; f/2.2; pixel size 1.12 μm |
OK, the numbers tell us these two camera systems are mostly the same. Props for the upgraded selfie camera, by the way.
But back to that main camera — Google upgraded the Super Res Algorithms this year and now uses a digital crop together with the Tensor G2's computational photography chops to add a 2x zoom step for portraits. It's supposedly an "optical-zoom-like quality", as per Google. We didn't find it to be that amazing in our tests against phones with dedicated portrait lenses — like the
Pixel 7 vs Galaxy S22
.
In any case, we don't think the Pixel 6 will be getting this upgrade via a patch. Google kind of implied that the Tensor G2 is the star of the show here, but we'll see.
Another thing that the Tensor G2 will be doing is an improved Photo Unblur feature. Now, Google already did this around faces before — HDR+ would crop and stitch up multiple takes, so that faces in photos aren't blurred. But now, Photo Unblur can take any picture taken with any device from your past and clear it up. Plus, it will allow you to use Magic Eraser on them, too.
We also got a new feature called Cinematic Blur — for faux bokeh effects in video — but it's not amazing and we didn't end up using it at all. We imagine you wouldn't either.
Audio Quality and Haptics
The Pixel 6 has OK speakers that didn't wow us in any way. They are a bit middy, a bit tinny, and not something you will listen music through. Loud and clear enough for talking head videos, though.
The Pixel 7 doesn't really change that by a lot. They are still fine speakers for notifications and simple media, but nothing exceptional.
As for headphone jacks — none of these phones have them. Did we need to call it?
Google's haptic motors have been very much on point for the past few years. And Google knows it, as it always loads up a ton of little haptic vibrations and effects to give you feedback as you navigate through Android. They are satisfying, cool, and accurate. We expect nothing less of the Pixel 7.
Battery Life and Charging
We expect similar results
The Pixel 6 had a 4,614 mAh battery which, with the help of the Tensor chip's efficiency, allowed it to keep its screen on for quite a while — 14 hours on our browsing test.
The Pixel 7 seems to have a smaller backpack, as its battery capacity is down to 4,355 mAh. Surprisingly, for non-demanding tasks, it is on par with its predecessor. But when we activate some heavy 3D games, the Pixel 7 burns through its battery pack faster.
As for charging, the Pixel line has gone up to 30 W in 2021. Well, on paper — in reality they charge with about 21 W. Same story with the Pixel 7. They won't spin your head around with super-fast charging, but you should be able to get 50% of juice in half an hour on the wire.
Of course, both phones support wireless charging, as it's the industry norm nowadays.
Specs Comparison
The specs of the Pixel 7 vs the Pixel 6 are as follows:
Specs
Pixel 7
Pixel 6
Dimensions
6.13 x 2.88 x 0.34 inches ( 155.6 x 73.2 x 8.7 mm)
6.24 x 2.94 x 0.35 inches
(158.6 x 74.8 x 8.9 mm)
Weight
6.95 oz (197.0 g)
7.30 oz (207.0 g)
Screen
6.3" OLED 90 Hz
Camera hole top center
20:9; 1080 x 2400
6.4" OLED 90 Hz or 120 Hz
Camera hole top center
20:9; 1080 x 2400
Processor
Tensor G2
Tensor
RAM
8 GB LPDDR5
8 GB LPDDR5
Rear Cameras
50 MP Main (1X), 26 mm f/1.85
12 MP Ultra (0.7X), 18 mm f/2.2
50 MP Main (1X), 26 mm f/1.85
12 MP Ultra (0.7X), 18 mm f/2.2
Front Camera
10.8 MP
8 MP
Battery size
4,355 mAh
4,614 mAh
Charging speed
30 W wired charging
21 W wireless
30 W wired charging
21 W wireless
Price
from $600 for 128GB
from $600 for 128GB
So, yeah, we see a minor improvement here and there. One might wonder "Should I even upgrade from the Pixel 6 to the Pixel 7?". Well... we kind of think you are probably fine with the Pixel 6 for the time being. But let us get our hands on the Pixel 7 and put it through its paces first!
Summary and Final Verdict
The Google Pixel 7 looks like it offers incredible value for its asking price. Pure Google Android, enhanced Google Assistant features, new camera upgrades for better zoom and deblurring, and... oh, that's it.
It's by no means a small list — that Pixel formula is getting better and better. If you are just now going for a new Google Pixel phone, we'd say sure — grab yourself a Pixel 7! But if you already have a Pixel 6, it's pretty hard to justify an upgrade.