The best streaming deal just got better: Spotify and Hulu for $9.99 a month
2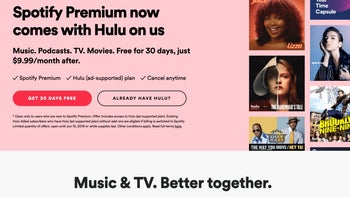 Two of the world's largest streaming platforms entered into a mutually beneficial partnership back in 2017, expanding a
student-only bundle deal
to
all users last year
and taking your savings to the next level today. Effective immediately, the popular
Spotify Premium/ad-supported Hulu combo costs $9.99 a month
for new and existing subscribers, which essentially means the video streaming component is now offered free of charge.
Previously, you could choose to pay $9.99 every month for a "standard" Spotify Premium subscription or an extra 3 bucks to get access to Hulu's entry-level service tier as well. Reducing the two's price by the aforementioned $3 makes it even harder for
Apple to catch up
to the
music streaming market's uncontested champion
. Meanwhile, Hulu may not be able to challenge Netflix when it comes to original content investments, but more and more users could be convinced to "chill" on a different platform at a significantly lower price.
On its own, Hulu's ad-supported plan continues to fetch $5.99 a month, compared to Netflix's recently hiked $9 Standard service tier, which limits the streaming quality to HD resolution while including no commercials. By the way, if you're a Hulu subscriber but not also a Spotify user, you can take advantage of the new bundle offer as long as you switch your billing to the latter app and don't have add-ons activated on your Hulu account.
As far as existing Spotify + Hulu subscribers are concerned, no effort seems to be required on their part to score the additional $3 a month discount. Finally, new Spotify users and those not currently enjoying extra Hulu perks simply need to make sure the freebie is enabled in their account's services page. Oh, and free Spotify Premium trials include complimentary Hulu access for 30 days as well. Things absolutely cannot get better than this in terms of streaming bang for your buck.