Spotify reports first ever quarterly profit while nearing 100 million premium subscribers
6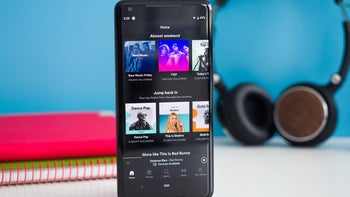 If you thought the
50 million paid subscribers milestone
recently reached by Apple Music was impressive, wait until you see
Spotify's expectation-exceeding Q4 2018 financial report
.
After struggling for a little while with somewhat sluggish global growth, the uncontested music streaming market leader managed to add a whopping 16 million monthly active users over the final three months of last year compared to
the previous quarter
.

The new 207 million MAU tally is 29 percent higher than the platform's already remarkable Q4 2017 number, incredibly topping the high end of the company's 199 - 206 million monthly active users guidance range from November.

Of course, premium subscribers is what music streaming services are primarily interested in, and even though Spotify's refreshed 96 million headcount of paying customers was in line with its (most optimistic) predictions, that also represents a staggering year-on-year increase.
We're talking 36 percent growth versus the October - December 2017 timeframe, as well as 9 million more premium Spotify subscribers than back at the end of Q3 2018. Obviously,
holiday discounts
played a crucial role in this "broad based" outperformance, with worldwide growth driven by a first-of-its-kind hardware bundle deal as well.
Naturally, offering a
free Google Home Mini
smart speaker for US-based master account holders of Family Plans proved to be a win - win - win move, benefitting Spotify,
Google
, and music-loving bargain hunters nationwide.
Interestingly, Spotify is describing "home voice speakers" as a "critical area of growth", with a "number of ways to explore and refine our offering in this arena" currently being evaluated. Did someone say official Spotify support for the
Apple HomePod
? Well, there's nothing explicit to report on just yet, but with
Apple Music now available on Amazon Echos
, it certainly seems plausible.
Back to Spotify's financials, it's definitely worth pointing out that the company not only boosted its revenue by a colossal 30 percent year-on-year in Q4 2018, also generating a profit for the first time ever.

We're not talking a huge profit, but a €94 million ($107 million) operating win sure beats the €6 million and €87 million losses recorded in Q3 2018 and Q4 2017 respectively.
Looking ahead, Spotify expects its growth to significantly slow down in the January - March 2019 quarter, with anywhere between 97 and 100 million premium subscribers and 215 to 220 million monthly active users forecasted for the next official announcement. By the end of the year, the service should easily surpass 245 million monthly active users while racking up between 117 and 127 million premium subscribers. Can
Apple Music
keep up?