Apple Music continues to chase Spotify with 'over' 50 million paid subscribers
1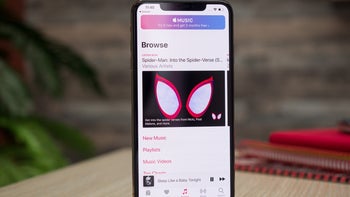 Apple might be going through a period of unprecedented
revenue decline
and surprisingly
weak iPhone demand
leading to unusual
price cuts in certain markets
, but the final three months of 2018 weren't all bad for the Cupertino-based tech giant.

The Services business segment continues to thrive, setting a new all-time revenue record of $10.9 billion in the October - December quarter on the back of stellar results generated across several categories of Services including the App Store, Apple Pay, cloud services, and the App Store search ad business.
CEO Tim Cook took a little bit of time during the latest earnings conference call (
as transcribed by Seeking Alpha
) to also express his pride regarding the recent performance of another key Apple "service."

The Apple Music streaming platform has managed to break the 50 million paid subscribers barrier not long ago, naturally producing the company's "highest quarterly music revenue ever."

Launched in 2015, this was by no means the world's first "premium", on-demand music streaming product. But its growth rate these past three and a half years has exceeded the imagination, with Spotify still on top in terms of paying users, but an ever-narrowing gap suggesting the market is in for a new leader before long.
Apple Music boasted
40 million paid subscribers
less than 12 months back, mind you, while Spotify last
reported 87 million "premium" users
, up from 83 million during the previous quarter. That may look impressive for the world's most popular music streaming app, but it's a much smaller progress than what Spotify was capable of in 2016 or 2017.

Meanwhile, if you think you've heard the 50 million number reported before in connection with Apple Music, you're absolutely right. But the platform obviously achieved that milestone first by counting both paid subscribers and those sampling the service on a free trial. It goes without saying the latest accomplishment is more momentous, putting a smile on Tim Cook's face in a time of crisis.