Sonos is finally gearing up to unveil a portable Bluetooth speaker (with Alexa and Google Assistant)
2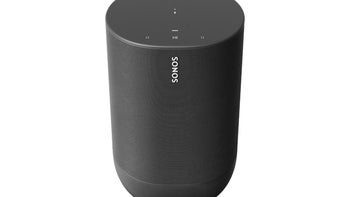 Despite being one of the world's most popular audio brands, Sonos only added
Google Assistant support
to a few of its speakers recently. And now the US-based company is apparently preparing to do another thing practically all its rivals have been doing for ages. Namely, sell a portable speaker with both Wi-Fi, and get this, Bluetooth audio streaming technology.
While that's obviously far from a novel concept, what could be special about this upcoming, as-yet-unnamed product is its compatibility with both Google Assistant and Alexa for hands-free voice commands, although the feature might be restricted to Wi-Fi-powered home use, possibly in order to save precious battery life. Still, there aren't a lot of portable smart speakers around after Amazon left the 2016-released
Tap
for dead. The
Harman Kardon Allure Portable
comes to mind, but its
massive recent discounts
strongly hint at modest sales numbers.
It remains to be seen exactly how Sonos intends to liven up this pretty much non-existent segment of an otherwise
thriving market
. According to unofficial information obtained by
The Verge
, one thing the speaker could have going for it is a technology called Auto Trueplay. This would essentially be able to recognize your surroundings at all times and adjust the sound to squeeze out the best quality whether you're chilling at home or playing your favorite tunes outside.
If that sounds familiar, it's probably because both the
Apple HomePod
and Google Home Max come with similar automatic music adjustment and enhancement features. But again, we expect this bad boy to be portable and (hopefully) more affordable than those two premium smart speakers, so Auto Trueplay could be a pretty big deal.
Already pictured and approved by the FCC
for an impending release, the first-ever Sonos portable Bluetooth speaker is rumored to be announced at the IFA trade show in Berlin early next month. Described by The Verge as "larger than it may look" in that first photo, as well as "taller and slightly wider than the Sonos One/Play:1", the thing is also guaranteed to come with support for Apple's AirPlay 2 standard, Bluetooth Low Energy technology, a USB-C port for easy on-the-go charging, an ethernet jack, and an integrated handle ensuring hassle-free portability.