Portable Amazon Tap speaker with Alexa is on sale for 73 percent off its list price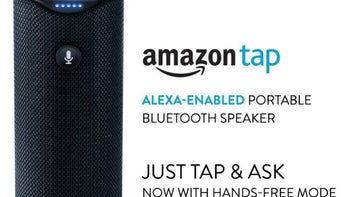 For some reason, the 2016-released Amazon Tap hasn't proven quite as successful as the rest of
the company's smart speaker lineup
, receiving no sequel as the original Echo got a direct follow-up, as well as more spin-off products in recent years than we can count on the fingers of one hand.
While it seems the Tap is not the best-sounding member of its Alexa-supporting family, you'd have figured its portability and versatility would be enough to offset that widely reported flaw. That's right, you can actually carry this bad boy around and get it to answer your questions and take your voice commands on the fly by connecting it to Wi-Fi or a mobile hotspot. And although you needed to physically "tap" on the device to interact with it initially, hands-free Alexa capabilities have been
added to the mix a long time ago
.
Bottom line, this is a very appealing product... at a massively discounted price of $34.99. That's a whopping 73 percent off, or $95 lower than the original recommended price point of the portable Bluetooth and Wi-Fi-enabled speaker. While Amazon no longer sells the gadget directly on its own e-commerce platform, daughter company Woot can absolutely be trusted to deliver on its promise of shipping you all-new, sealed units with original accessories included, albeit in a black box that "may be damaged with possible dents or scratches."
To be perfectly clear, the actual Taps are unused and naturally guaranteed to work flawlessly, although oddly enough, they only come with a 90-day Woot limited warranty rather than Amazon's own typical 1-year coverage.
Available in a single black color option, the $35 Amazon Tap vows to keep the lights on for up to 9 hours between battery charges (8 in hands-free mode) while tipping the scales at a little over a pound. In case you're wondering, this thing can work like any "dumb" Bluetooth speaker, playing music from your phone or tablet, as well as replicate the basic functionality of a standard Echo, from standalone music streaming to supporting
all those amazing Alexa skills
. That's some impressive bang for your buck, no matter how mediocre the audio technology might be.