The excellent Samsung Gear Sport is on sale at an unbelievable $110 after $170 discount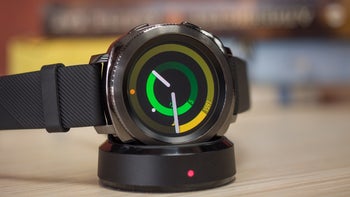 If you're in the market for a new wearable device and only plan to spend around $100, you probably already know you'll need to cut some corners. For instance, Samsung sells the recently released
Galaxy Fit
for a Benjamin with a pretty robust list of features... as far as low-end smart bands are concerned. The same essentially goes for the likes of the
Fitbit Inspire HR
or
Garmin Vivosmart 4
, the latter of which typically costs as much as 130 bucks.
But for a no doubt limited time, Fry's Electronics has the
Samsung Gear Sport
smartwatch on sale at an incredibly reasonable price of $109.99. Unlike most of the retailer's promotions, this particular "clearance" deal is available online in addition to physical stores, and you even get free nationwide shipping.
Unveiled less than two years ago, this sporty wrist-worn gadget is pretty much as feature-packed as other high-end smartwatches on the market today, including everything from built-in GPS functionality to Samsung Pay support (no smartphone needed), heart rate monitoring technology, a beautiful 1.2-inch Super AMOLED display with 360 x 360 pixel resolution, and even music streaming capabilities (with offline access to your Spotify playlists).
While perhaps not as stylish as the older
Gear S3
or newer
Galaxy Watch
, the Gear Sport certainly shines with its robust design, withstanding water immersion up to 50 meters and thus being always ready to jump in the pool with you. Bottom line, this Android and iOS-compatible bad boy is an unbelievable bargain at $110, normally fetching a whopping $280 and
recently dropping to $150 at Samsung
, which already felt like an unbeatable deal.
This time, we really can't imagine the Gear Sport going any lower anytime soon (at least not at any reputable retailers in brand-new condition), so you may want to hurry and grab one from Fry's before it's too late. Unfortunately, the only hue available right now is black, but that's the best color for a smartwatch anyway, right?