Garmin Vivosmart 4 goes after Fitbit Charge 3 with slim design, pulse ox sensor
3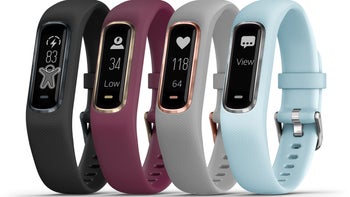 While Garmin has yet to try its hand at a mainstream Apple Watch challenger, leaving arch-rival Fitbit struggling to turn the
Versa
and
Ionic
into commercial hits, when it comes to activity trackers, every action gets an almost instant reaction.
Case in point, the inexpensive, health-focused Garmin Vivosmart 4 has arrived hot on the heels of the
Fitbit Charge 3
with a similar price tag and nearly identical list of features.
Both affordable wearable devices are essentially capable of the same things, tracking your heart rate, providing insight into your sleep habits and quality of rest, and even boasting the same impressive 7 days of battery life "under typical use."
But the Vivosmart 4 is slightly cheaper, at $129.99, so naturally, its OLED display is smaller and less eye-catching. Interestingly enough, although the
Vivosmart 3
fetches $119.99, the older version of the fitness-tracking powerhouse actually comes with a larger screen as well.

Then again, it seems as though Garmin made the Vivosmart 4 intentionally smaller and slimmer, not to mention prettier, courtesy of multiple snazzy color combinations. We're talking silver, gold, and rose gold metal trim accents, paired with "berry", azure blue, powder grey, and black silicone straps.

The two most important features that set the Garmin Vivosmart 4 apart from its predecessor are a so-called "pulse ox" sensor and an all-new Body Battery energy monitor. The former helps you better understand just how well you sleep at night by gauging your "blood oxygen saturation levels." Sounds familiar? That might be because the Fitbit Charge 3 makes similar promises by including what the company calls a "relative SpO2 sensor."

Meanwhile, that Body Battery thing actually sounds original and (potentially) useful, estimating the "body's energy reserves" at all times to let you know when you might want to take it easy and when you should "go crush that cycling class."

Advertised as "safe for the pool and shower", the Garmin Vivosmart 4 can obviously pair with both iOS and Android smartphones to deliver notifications, alerts, and messages on your wrist, as well as control music, and even reply to texts with preset messages (only on Android).
Standalone GPS and NFC functionality are among the top features this wearable device does
not
offer, which is hardly surprising considering that $130 price point.