Killer Galaxy S9 deal sees the phone discounted to $335 with 30 days of prepaid service included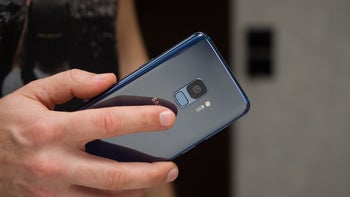 It was only a few weeks ago that a
$350 refurbished Galaxy S9
seemed like a decent enough bargain, but in the meantime, it's been raining killer deals on brand-new units from major retailers like
Costco
and
Walmart
. The latter has a fresh special offer for Straight Talk customers, allowing them to buy the
2018-released 5.8-inch powerhouse
at at incredibly affordable $334.99 bundled with 30 days of unlimited wireless service.
Of course, there are different "unlimited" service tiers on this relatively popular MVNO (mobile virtual network operator), and if you want more than 3 gigs of high-speed data, you'll need to cough up a little extra dough. Namely, 10 bucks on top of the aforementioned $335 for a 25GB LTE bucket or another $10 on top of that to eliminate all limits, caps, and restrictions.
Whichever of the three Airtime options you'll end up choosing, the Galaxy S9 itself will come significantly cheaper than unlocked variants from Samsung or Best Buy. The handset's $600 list price is marked down by a cool $265 (without even taking the carrier activation kit freebie into consideration), and at least in theory, you have no contractual obligations to stick with Straight Talk after that first month of service.
Then again, the heavily discounted phones are not technically unlocked out the box, so you may need to wait up to a year before you can use the Galaxy S9 on a different network. Speaking of networks, though, Straight Talk promises to offer the same stellar coverage as all the major operators, with affordable monthly plans typically starting at $30.
At the end of the day, this is a pretty sweet deal for folks unfazed by the "modest" single rear-facing camera or 3,000 mAh battery of the otherwise elegant and powerful
Samsung Galaxy S9
.
Check out the deal here