Galaxy S9 and S9+ go down to ultra-low prices at Walmart with Simple Mobile freebies
1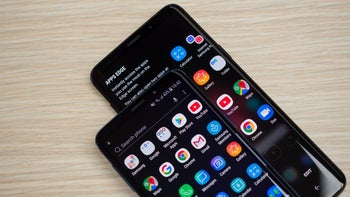 If you can't afford a member of
Samsung's newest high-end smartphone family
even after
a recent onslaught
of
substantial discounts
and
killer bundle deals
offered by everyone from Best Buy to Costco, B&H, and Microsoft, it might be a good idea to settle for last year's
Galaxy S9
or
S9+
.
Those two are obviously not as powerful, versatile in terms of camera capabilities, or as eye-catching as the Galaxy S10, S10e, and S10+, but they can be purchased at low enough prices to offset their advanced age and unimpressive specifications (by 2019 standards). Case in point, the 5.8-inch variant is currently available at $346.92 and up, while the 6.2-incher starts at $440.85 with Simple Mobile activation through Walmart.
The heavily marked-down prices also include a decent freebie, which normally costs $30 on its own. We're talking 30 days of unlimited talk, text, and data on Simple Mobile, with the first 2 gigs of data available at
up to
4G LTE speeds, followed by a 2G limit. Alternatively, you can pay $10 or $20 extra and get 10 gigs of high-speed data or a "truly unlimited" 30-day plan with no caps or restrictions whatsoever.
In case you're wondering, Simple Mobile is a prepaid mobile virtual network operator owned by Mexico-based telecommunications giant America Movil and offering wireless service in the US on T-Mobile's network. Bottom line, you shouldn't be worried about things like coverage or download speeds.
At less than $350 and $450 respectively, the
Galaxy S9 and S9 Plus
certainly come with plenty of bang and excellent specs, including Snapdragon 845 processing power, beautiful Super AMOLED Infinity screens with no notches or holes, capable cameras (only one on the back of the regular variant and two on the plus-sized model), and modern software. For comparison purposes, the same phones are currently up for grabs from their manufacturer starting at $500 and $600 respectively in unlocked versions.
Check out the Galaxy S9 and S9+ deals here