Huawei will handily beat Apple to become world's second largest smartphone maker in 2019
41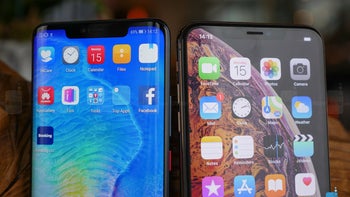 Another day, another bleak report dealing with the short-term repercussions of the mobile industry's lack of "breakthrough features or specs." But while Credit Suisse analysts made downright apocalyptic predictions yesterday of a
massive Q1 2019 decline in global smartphone production
, TrendForce today
tackles full-year numbers
, which might not be quite so bad.
If the market research firm is correct, 1.41 billion smartphones will be produced in total around the world this year, down 3.3 percent from the estimated 2018 tally. In addition to a weak "overall demand outlook" caused by the industry's inability to innovate in a meaningful and practical way, the
US-China trade war
is expected to play a key role in driving that figure up or down.
If tensions between the two nations continue to escalate, smartphone production could take a hit of up to 5 percent in 2019 compared to last year.
Apple's already dwindling numbers
would be dramatically impacted by a heightened trade war, although even if a truce is called, there's no stopping Huawei now from ranking as the world's second-largest vendor.
Of course,
the controversial company
can't defy market trends forever and keep up
that impressive recent growth rate
. Still, Huawei's 205 million production total of 2018 is projected to grow by a healthy 8 percent to 225 million units this year, putting quite a distance between the market's forecasted silver and bronze medalists of 2019.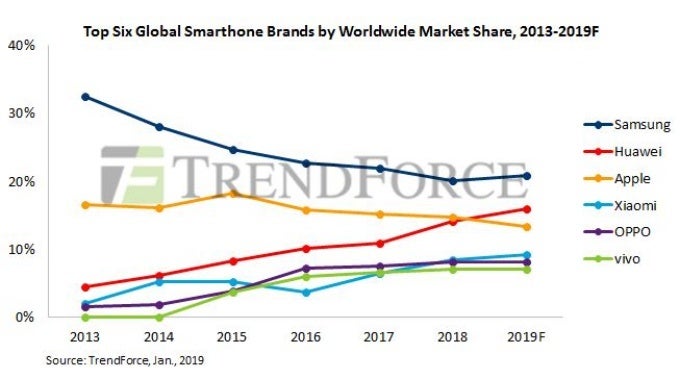 Apple is merely expected to move 189 million iPhones this year, likely to represent a market share of 13 percent, down from a 15 percent slice of the 2018 pie. Huawei should be able to account for around 16 percent of the world's overall 2019 smartphone production, even though it's not entirely clear how the aforementioned trade war might impact its own numbers.
In first place, Samsung will probably just try to stop
the recent bleeding
, aiming to maintain a dominant market share of around 20 percent by adopting more "aggressive strategies this year in terms of specifications and pricing to compete with its Chinese rivals."

Speaking of them, Xiaomi, Oppo, and Vivo should retain their fourth, fifth, and sixth place in global shipment rankings while also struggling to achieve growth. Like Huawei, Xiaomi is forecasted to marginally boost its yearly production, with Oppo and Vivo looking at flat and shrinking volume scores respectively.
Recommended Stories