Google One subscribers get cool new perks on Pixel 4 purchases and more
2
If you're willing to overlook
the many flaws and compromises
of Google's
newest stock Android-powered flagship handsets
but are unsure where to buy the Pixel 4 or 4 XL from, the search giant's official e-store might be the best option after all.
While everyone from
Amazon
to
B&H Photo Video
,
Best Buy
,
T-Mobile
, and
Verizon
is offering cool discounts on actual purchases of the two phones or future shopping sessions, Google has a nice deal for the masses and
an extra one for a select group of customers
. Google One members can earn up to 10 percent back in digital credit, and although the company doesn't spell that out, we presume this special offer can be combined with the standard Pixel 4 pre-order promotion letting anyone save $100 on a separate acquisition of eligible accessories.
In other words, if you hurry and buy, say, a 128GB Pixel 4 XL, you should get $100 to spend on accessories in the online Google Store and an additional $100 credit as a 10 percent cashback offer... as long as you're a Google One subscriber on the top-tier 2TB storage plan. Meanwhile, those paying Big G $2.99 a month or $29.99 a year for 200 gigs of cloud storage are looking at receiving only 3 percent back on Google Store purchases, with no deal whatsoever available for Google One members on the entry-level 100GB service tier.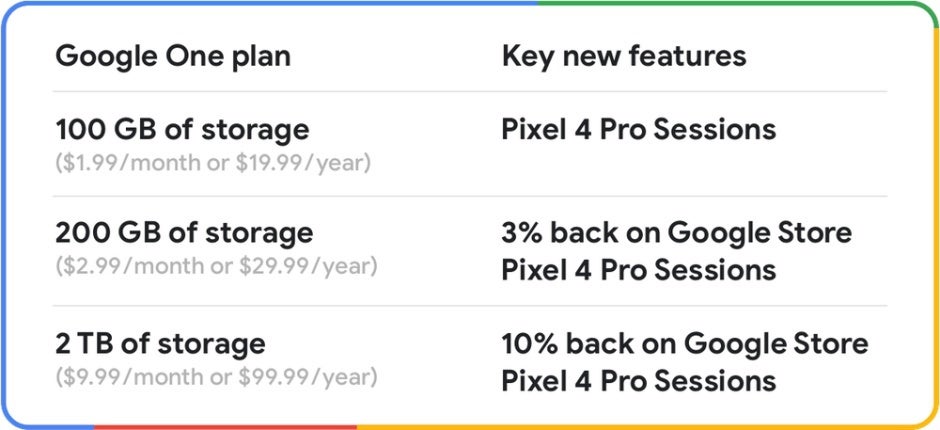 Interestingly, Google One subscribers should be able to score their free credit when buying other stuff from the search giant as well. That apparently includes accessories and any sort of device, be it new or old. All you need to do is make sure you're signed in to the Google Store with the same account used for Google One, and within 30 days of your shipment, the credit will be automatically calculated and issued without any heavy lifting on your part.
Speaking of Google One, this might be the ideal time to sign up for a premium account or upgrade your plan, as the
Pixel 4
and
4 XL
come with limited internal data hoarding room, no microSD support, and
no free and unlimited Google Photos storage
at the best quality available. If it makes you feel any better, you can get a complimentary extended three-month trial with your hot new stock Android smartphone. Also, something called Pixel 4 Pro Sessions, which essentially means you can get professional tips on how to customize your device, take the "perfect photo", or set up your new phone from a "Google expert" in a live Hangouts session.