Pixel 4 XL price, deals and release date on T-Mobile, Verizon, Best Buy and AT&T
9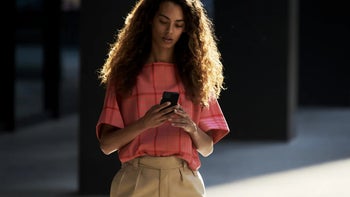 Last we heard, Google was supposed to be widening the
Pixel 4
and XL market availability this year, as we got tipped by a store manager that the Pixel 4 will be released on AT&T for the first time. As a reminder, the Pixel 3 had the widest availability of any Google phone before it, and still was not present in AT&T's portfolio.
While T-Mobile, Verizon and Sprint are the usual suspects when it comes to Pixel phone releases, AT&T store managers have been getting emails to provide employees who would be carrying the Pixel 4 as a "seed" device. The practice is typical for big brands and popular phones so that each store has someone who will be using the gear as a daily driver and can answer questions or troubleshoot problems with more in-depth knowledge.
AT&T just confirmed to us the phone's availability in its portfolio, and T-Mobile's flamboyant CEO
cooked
with two Pixel 4 boxes chillaxing in the background yesterday, leaving actions to speak louder before the press release.
Here's the full list of deals and carrier availability for the new Pixel 4 and 4 XL. Google says they are coming to AT&T, C Spire, Cellcom, Google Fi, Spectrum Mobile (Charter), Sprint, T-Mobile, U.S. Cellular, Verizon, Visible and Xfinity Mobile (Comcast).
Google Pixel 4 and 4 XL price and release date on T-Mobile, Verizon and AT&T
| | Google Pixel 4 64GB/128GB | Google Pixel 4 XL 64GB/128GB | Release date |
| --- | --- | --- | --- |
| Verizon | $799/$899 | $899/$999 | October 24 |
| T-Mobile | $799/$899 | $899/$999 | October 24 |
| AT&T | $799/$899 | $899/$999 | October 24 |
Google Pixel 4 and 4 XL deals on T-Mobile, Verizon, and Best Buy
As we already listed, B&H is offering a $100 e-gift card with the new Pixels, and adding its usual Mint Mobile 3-month 8GB prepaid SIM card option, for a total of $160 in discount value.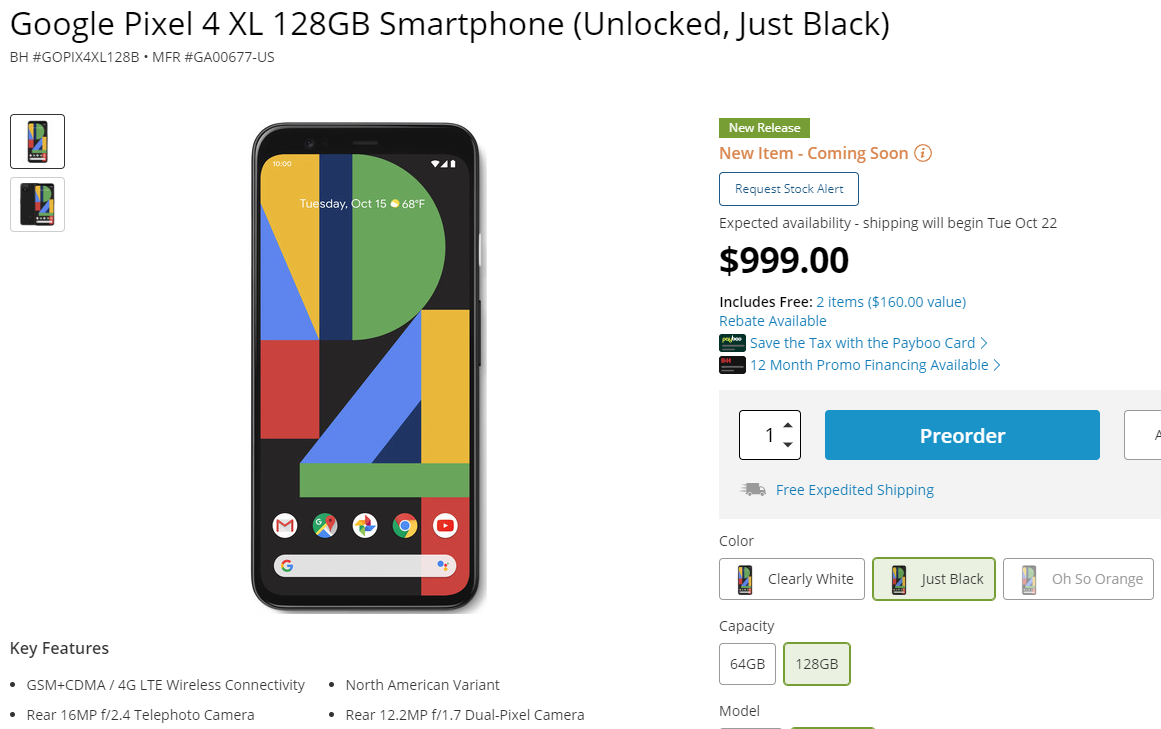 Google has its usual $100 off accessories towards the purchase of the new Pixels, if you get them from its Store, too.
T-Mobile is out in full swing, too, offering its "on us" and trade-in rebate deals for the new Pixels:
Get a Pixel 4 "on us" or up to $800 off a Pixel 4 XL via 24 monthly bill credits when you switch to T-Mobile and trade in an older Pixel phone. Meaning, when you get a Pixel 4 on T-Mobile's interest-free Equipment Installment Plan, you'll see a bill credit every month for $33.34. That means, at the end of 24 months, you'll have paid a grand total of $0 — zero, zip, nada —plus the sales tax for your Pixel 4.


Get up to $300 off a Pixel 4 or Pixel 4 XL via trade-in credit and rebate when you trade in an eligible device


Best Buy is one-upping those, offering you to get a $150 Best Buy Gift Card with a purchase and qualified activation of the new Google Pixel 4 or 4 XL on Verizon, AT&T or Sprint, or get a $100 card when you buy the unlocked Google Pixel 4 or 4 XL phones
Verizon, the Pixel phones' original carrier, is coming out swinging out of the gate with the best Pixel 4 and Pixel 4 XL pre-order deal that mimics what T-Mobile is offering with its "on us" promo (are these guys in cahoots with Google to be giving out phones like candy?)
You need to purchase one Pixel 4 or Pixel 4 XL at up to $999.99 (that would be the most expensive, 128GB XL model) on a new line, and get a second one "at equal or lesser value" for which Verizon will reimburse you up to $800 over 24-month bill credit cycle. Ew.
In any case, you can also take advantage of a generous trade-in offer for up to $450 on your old phone, and in addition you will get a prepaid $200 MasterCard if you get the Pixel 4 series on installments and sign up for one of Verizon's unlimited plans.
AT&T told us that it will indeed be carrying the new Pixel 4 and 4 XL for the first time, along with some nice deals to go along with them. Pre-orders start tomorrow, with October 24 as a launch date.
The Pixel 4 will be $28 per month for 30 months and the 64GB model, while 4 XL with the same basic storage will start you off at $32 per month. To celebrate the launch, AT&T will offer current customers $300 in bill credits for trading in their old phone. For switchers, AT&T sweetens the pot with up to a $700 discount and a trade-in.