The Google Pixel 4 is the worst value phone in 2019
98
This article may contain personal views and opinion from the author.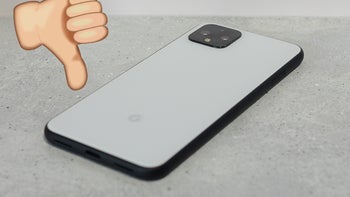 The Google Pixel 4 and 4 XL are the phones with the worst value in the mobile industry right now. Anyone that pre-orders these two flagships or buys them full-price within the first month of their availability will be shooting themselves in the figurative foot.
Google's Pixel 4 and 4 XL fail to entice and don't offer consumers any justifiable reasons to drop $799 or more. With not enough storage, a redundant telephoto camera, and a misunderstood identity, the Pixel 4 will probably struggle to succeed.
I'm certainly not the only person to see what a bad deal these two new phones are in terms of what you're getting for your money, right? At this point, any other Android flagship seems like a better buy for the wiser consumers out there.
So, what's actually wrong with the Pixel 4?
Battery life to last you till... 3 o'clock?
When it comes to Android, one thing has become crystal clear throughout the years: despite all advances in power efficiency and battery optimizations, if you really want a good battery life, you really need to
go heavy on the mAh
. You can't outweigh the negatives of a small battery with software optimization, and small is exactly what the Pixel 4 battery is - it's already late 2019, and Google has put a merely 2,800mAh battery inside the Pixel 4. Will that be enough to last you to your afternoon coffee? So far this year, we witnessed how just about any relevant phone manufacturer greatly increased the battery capacity of their flagship phones. Even Apple, which has often faced criticism over battery life, increased the battery capacity of all of its latest iPhones to the surprise of many. Yet, Google didn't get the memo. Last year's Pixel 3 didn't have a very good battery life, and chances are the Pixel 4 with its smaller battery wouldn't have mind-boggling battery endurance as well. The 90Hz display and motion radar that's working almost all the time (even with the display off) would certainly take a very strong hit on the already small battery.
The Pixel 4 XL with its 3,700mAh battery sounds better, indeed.
64GB of base storage for $799... and no original Google Photos backup
Okay, here's the real kicker: not only do the most affordable versions of the Pixel 4 and 4 XL come with just 64GB of storage on deck, but Google has also removed the unlimited original quality backup to Google Photos. To be completely fair, the free high-quality backup option in Photos is just fine and doesn't incur any noticeable downgrades in terms of image quality. However, if your whole marketing strategy is centered around the camera of your device, you probably don't want to half-bake the whole photo experience.
What's the point of having a killer camera if you're going to have a measly 64GB or less of storage at your disposal?
With the Pixels, Google is making one step ahead and two steps backwards
No ultra wide-angle, but a redundant telephoto camera...
To be really competitive with all the new iPhones and Galaxies, Google should have really thrown in a ultra wide-angle camera instead of a telephoto one. I feel that Google is very wrong in its strong conviction that telephoto is more useful than a proper ultra wide-angle one. The reason is simple - Google's Super Res Zoom was already doing a good job even with a single camera and so was the portrait mode, as evident on the Pixel 3/3a. Thus, the telephoto camera is adding some additional hardware prowess to both of these features, but is kind of redundant as software was already doing a decent enough job. Meanwhile, you can't simulate the field of view of a ultra wide-angle camera with software, and no, taking a few steps back doesn't always do the trick.
I am very curious to see how Google will backtrack and justify putting a ultra wide-angle camera on any of its future flagships once it inevitably does, because let's be real, Google will have to add a ultra wide-angle camera if it wants to stay relevant next year.
No dongle or earbuds in the box
Okay, that one is just pesky at this point. I understand that Google wants to sell its new Buds as well, but that's not the way. A free pair of even the most basic earbuds would have soothed the blow. Even Apple includes a pair of free proprietary earbuds inside the box.
The price is too high
Starting at $799, the 64GB Pixel 4 looks like a very, very bad deal right off the bat. At $899, a 128GB Pixel 4 is not any better. Why would anyone choose a Pixel 4 over a, say, Galaxy S10 or S10e, which are priced similarly but offer way more features right out of the box? Furthermore, $599 will get you a OnePlus 7T, a phone that might not have the same array of software algorithms, but is a much better value overall. Finally, if you go with Apple, you can get a 128GB iPhone 11 for $749 and even drop down to $699 if you opt for the base 64GB version.
Does Google really want to sell phones?
Does Google really want to be a recognizable force in industry? Does it really want to sell phones? I believe it does, but why is it making its devices such a hard sell? Why have all Pixels since the second one dropped the ball in most of the important areas save for the camera? Why the first Pixel was used to figuratively
rub
its headphone jack in the face of Apple? Why did the second one ditched the jack? Why did stock Android initially had its own gesture navigation but was later on changed to very closely resemble the iOS' way of interacting with the interface? Why was a 3D face unlock system employed on the Pixel 4 instead of an in-display fingerprint scanner?
The Pixel 4 makes a strong case for buying an iPhone
The answer seems very clear to me - Google wants to be the Apple of Android. However, it will never achieve such a status for multiple reasons, but the most important one is this: Google, at its core, is not a hardware company and never will be. We've
actually tackled this topic before
, and came to the conclusion that hardware for Google is merely an afterthought, "
just another access point to Google's bread-and-butter search and ad business that still accounts for the lion's share of the revenue and profits
". Google is very good at developing and introducing new products and features, but terrible at maintaining and improving them with time. Just take a look at the
Google graveyard
for proof how many things has Google actually killed throughout the years.
How long before Google gets bored and the Pixels go the way of the Nexus?