Apple iPhone revenues decline 15% during the fiscal first quarter
26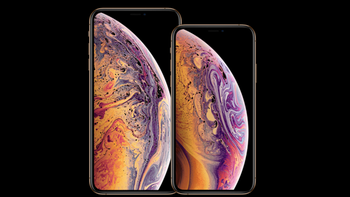 Shares of Apple soared 5.4% or $8.32 in after-hours trading to $154.68 following
the company's release of fiscal first quarter earnings
. While Apple is no longer reporting the number of iPhone units sold in the period, the tech giant announced that revenue from iPhone sales declined to $51.9 billion from $59.8 billion during the same quarter a year ago. That works out to a 15% decline. Apple says that it now has 1.4 billion active devices, an all-time high.
Services revenue hit an all-time quarterly high at $10.9 billion, up 19% year-over-year. The most profitable segment for Apple, the company aims to hit $50 billion in annual services revenue by 2020. This group includes Apple Pay, the App Store, Apple Music, AppleCare, iTunes and more. Revenue from tablet sales rose 17% over last year, while a new all-time quarterly record for revenue was set by the Wearables, Home and Accessories segment. That business includes the Apple Watch and the HomePad smart speaker.
Fiscal first quarter revenue slightly surpassed revised estimates of $84 billion. Earlier this month,
Apple lowered its guidance
from the original $89 billion-$93 billion it forecast. That lead to a 10% drop in Apple's stock price the very next day. Earnings per share met Wall Street estimates of $4.18 a share, up 7.5% year-over-year and a new company record. Net income, at $19.96 billion, was lower than the year earlier's $20.07 billion. Apple was able to set a record for EPS because it has been constantly buying back its shares.
With the U.S.-China trade war, and rising Chinese nationalism taking bites out of Apple's business in the country, Apple rang up $13.17 billion in China during the three month period. That was off 27% from the $17.96 billion Apple grossed in China during the 2018 fiscal first quarter.
"While it was disappointing to miss our revenue guidance, we manage Apple for the long term, and this quarter's results demonstrate that the underlying strength of our business runs deep and wide. Our active installed base of devices reached an all-time high of 1.4 billion in the first quarter, growing in each of our geographic segments. That's a great testament to the satisfaction and loyalty of our customers, and it's driving our Services business to new records thanks to our large and fast-growing ecosystem."-Tim Cook, CEO, Apple
Cook blamed the drop in iPhone sales on the strong dollar, which made the iPhone more expensive in China and in other foreign markets. The executive also said its discounted battery program, the end of carrier subsidies and the longer upgrade cycle were also factors.
For the fiscal second quarter, which covers January through March, Apple expects revenue to fall in between a range of $55-$59 billion.