Which phablet would you get: Lumia 1520, One max, Galaxy Note 3, or Xperia Z Ultra?
97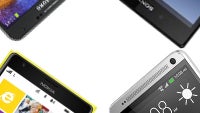 Nokia, which is still struggling to regain its foothold on the smartphone market, has now decided to challenge Samsung, HTC, Sony and other manufacturers with
a new premium phablet - the Lumia 1520
.
By the looks of it, Nokia knows what it's going up against, as its Lumia 1520 is a very well-spec'd handset with a powerful Snapdragon 800 chipset, and a marvelous 20.7 MP camera, complementing its massive 6-inch display with a resolution of 1080 x 1920 pixels. The battle is far from over, though. Samsung and Sony have already launched their popular
Galaxy Note 3
and
Xperia Z Ultra
, respectively, while HTC is gearing up to release its
One max
, which can seriously challenge the Lumia 1520 as far as design goes. Still, it seems all three phablets are different enough and have something unique to offer. The question is, which one are you most likely to pick up?
Show us where your sympathies lie when it comes to phablets - cast your vote in the poll below and let us know which one you'd prefer!