HTC One max Review
27

Introduction
Can you imagine that just a few years ago, the word "phablet" did not exist? It wasn't needed at that time, of course, since even the top smartphones couldn't come close to providing a tablet-like user experience. Yet today, we're witnessing a fascinating phenomenon – the number of handsets that blur the lines between phones and tablets is steadily increasing, and more and more people seem to be quite keen on having one. It is Samsung we have to thank for that – the company that pretty much created the phablet category with its highly-acclaimed Galaxy Note series.
HTC is now also ready to join the party and jump on board the phablet bandwagon. Its first handset of this class is called the
HTC One max
, and as the name implies, it is based on the company's flagship – the
HTC One
. Following in the footsteps of the latter, the HTC One max offers an outstanding metallic design and a 4MP UltraPixel camera, combined with a large, 5.9-inch 1080x1920 pixel touchscreen. And to spice things up, HTC has thrown in a few extra perks, including a fingerprint scanner and a slot for microSD cards.
Will all this be enough for the HTC One max to cause an impact in the Samsung-dominated phablet segment? Perhaps a thorough examination will allow us to arrive at a specific answer to that question.
In the box:
Wall charger
Micro USB cable
Wired in-ear headphones with microphone
Extra headphone tips
Quick start guide
Design
Clearly, the HTC One max is not a phone built with the mainstream consumer in mind. It is for those who just don't find the display on any flagship device large enough for their needs. HTC has chosen to outfit the One max with a gargantuan, 5.9-inch touchscreen, occupying most of its front side. As a result, the One max looks and feels a lot more like a small-sized tablet, rather than a smartphone, which makes it highly suitable for web browsing, watching videos, or playing games. On the downside, the HTC One max is simply humongous. It is not only impossible to operate single-handedly, but also difficult to tuck even into a large pocket, so carrying it around might be an issue.
As for its appearance, the HTC One max can't be regarded as a fresh-looking smartphone since it is, more or less, a super-sized clone of the HTC One. Still, it looks outstanding both on its own and when compared to its rivals. Following in the footsteps of the company's flagship, the stylish One max sports a premium outer shell made of matte aluminum and a plastic trim around the side providing a sufficient amount of grip.
Yet some things have changed and must be highlighted. For starters, the HTC One max can have its storage space expanded with the use of a microSD card – a welcome feature not present on the HTC One. The microSD card slot is located underneath the back cover, which is now removable, providing access to the micro SIM card as well. The battery, however, is off limits and cannot be swapped by the user. You might have also noticed that three terminals are found on the smartphone's back, near the bottom. These are used for connecting the smartphone to the Power Flip case – an official HTC accessory with a built-in rechargeable battery. But the most unusual perk you get with the HTC One max is, without a doubt, the fingerprint scanner, located below the camera. More on it in a couple of paragraphs.
Continuing further with our HTC One max inspection, we find a 3.5-millimeter headphone jack and an infrared blaster placed on the smartphone's top edge. The latter, used for controlling TVs and home entertainment systems among other gadgets, is a neat feature that only a few handsets have to offer. That little latch on the phone's left side is used to release the back cover open, in case you're wondering. HTC's Boom Sound front-facing speakers are present as well, producing stereo sound of quality that no competitor smartphone can match.
We're glad to see that HTC has done the right thing by placing the max's power button on the side, where it is easy to reach. On the other hand, the volume keys are located a bit further from the user's fingers, which renders them a bit trickier to operate. Below the display we find just two capacitive keys, used for the "back" and "home" functions.
Fingerprint Scanner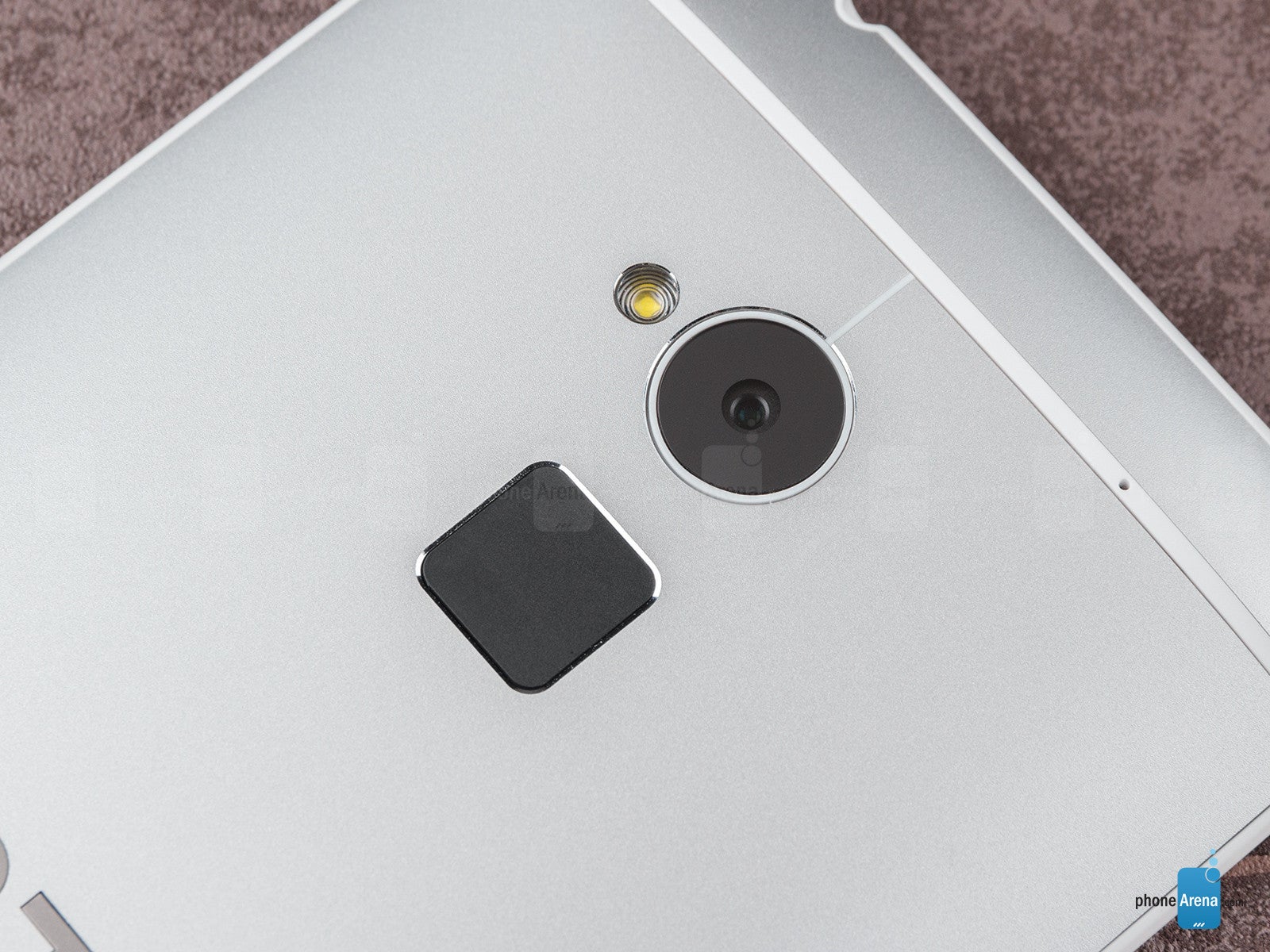 The built-in fingerprint scanner is one of the stand-out features found on the HTC One max. It is meant to be used instead of a lock screen PIN or pattern, thus saving the user time without rendering their phone any less protected against prying eyes. Optionally, using a specific finger can be set to launch a specific app – up to three of these finger-app combos can be assigned. Now, these are both clever ideas, there's no denying that. However, the fingerprint scanner implementation on the HTC One max hasn't been executed in the best possible way, as we shared with you in a recent article.
One of the several things that bother us is the sensor's awkward placement. It is on the back side of the smartphone, right under the camera, and since we don't see it when we try to use it, we often find ourselves swiping the camera lens instead of the scanner. Speaking of swiping, that's how fingerprints are being read by the device, which is unfortunate as this gesture isn't the easiest thing to perform on a smartphone of this size. Why HTC couldn't go with a fingerprint sensor that doesn't require swiping (you know, like the one on the iPhone 5s) is beyond us. Then there's the software integration, or lack of it, to be more specific. It would have been nice if we could authorize Play Store purchases using a fingerprint, yet sadly, the software does not allow that. As for the option to have apps launched depending on which finger is scanned, this feature is pretty much pointless since it works only on the lock screen, and using a lock screen shortcut is both faster and more convenient. So all in all, the fingerprint scanner on the HTC One max is nothing but a gimmick that we don't see ourselves using on a daily basis.
Display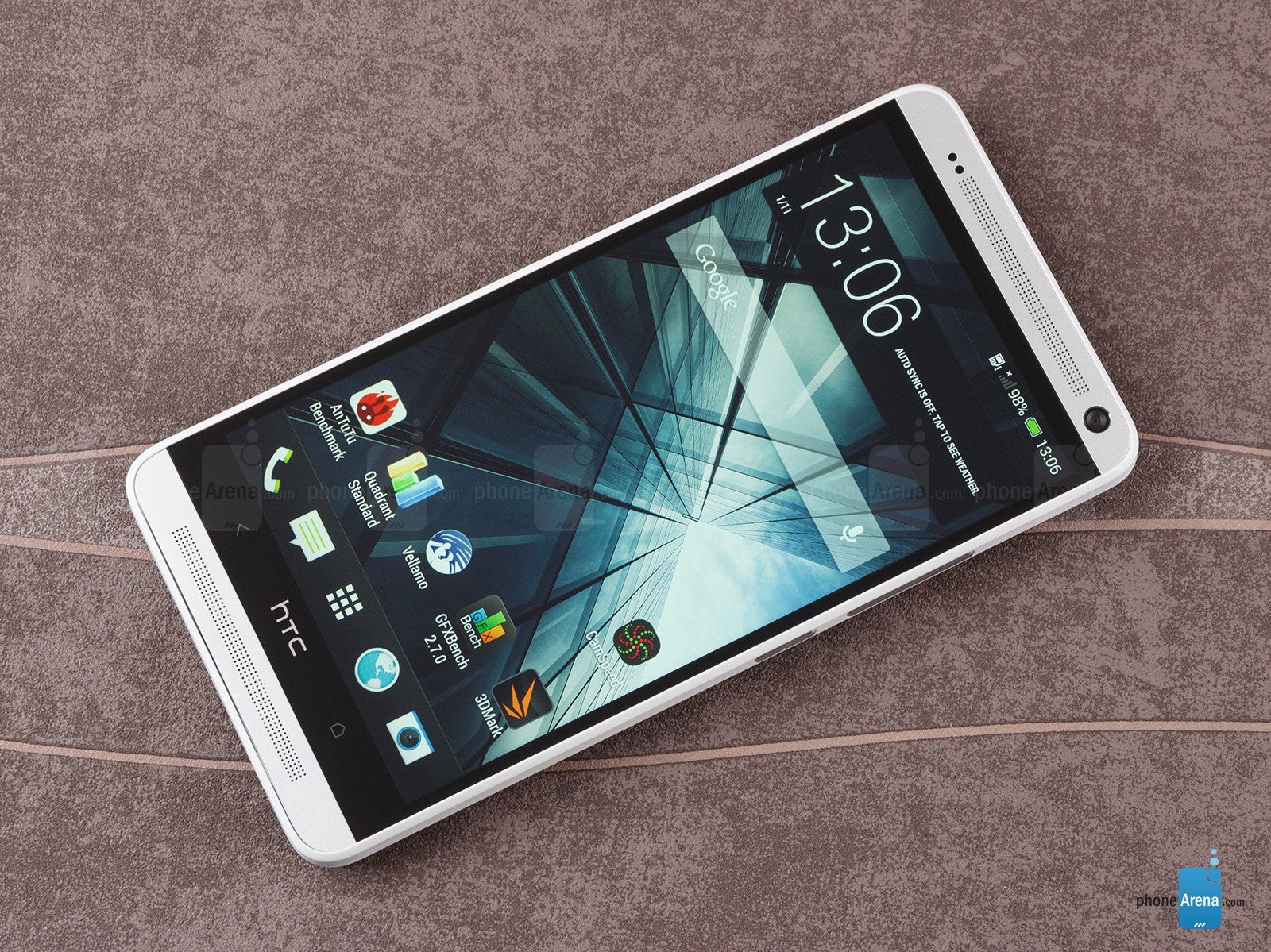 A 5.9-inch Super-LCD 3 touchscreen shines on the front of the HTC One max and it looks brilliant . It has a resolution of 1080 by 1920 pixels, which is as high as smartphones go nowadays. This gives us a figure of 373ppi – not the highest we've ever seen, but still more than sufficient for any task imaginable, with tons of fine details in graphics and text. Its viewing angles are also excellent. Even when it is looked at from the side, everything displayed on the screen is clearly legible.
Color accuracy, however, is slightly off. Whites displayed on the screen appear yellowish regardless of how high the brightness has been set. Color saturation is within neutral levels, but still somewhat lacking. The color temperature and contrast ratios, on the other hand, are of excellent values, as our testing goes to show.
With its peak screen brightness of 480 nits, the HTC One max can be used outdoors without much effort. Its low reflectance helps as well since only a fraction of the sun's light bounces back from its surface.
Display measurements and quality