Nokia Lumia 1520 Review
80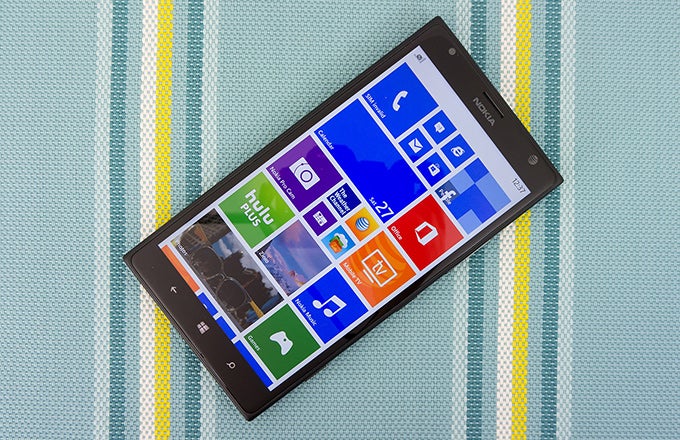 Introduction
Taking a gamble with Microsoft's Windows Phone platform, Finnish company Nokia has been trying extensively to perfect its lineup of Lumia devices for the last couple of years. In complementing the mobile experience, the Luima lineup of Windows Phones have remained very distinctive in the space, thanks partly to their stylish looking designs – and most recently, they've been known to be great snappers too! Try as they might, it's apparent that these high-end Lumias have been overshadowed by beefy spec'd Android smartphones.
Well, that's all about to change! Generally speaking, Windows Phones have been regarded as being underpowered in comparison to those noise makers in the Android space. This past fall, the
Nokia Lumia 1020
became the loudest Windows Phone to arrive on the scene – much in part to its favorable high-end specs and impressive PureView camera. Even though it continues to claim the top spot when it comes to camera quality, the phone as a whole, still didn't have the impressive hardware that would make it a modernized offering to compete with the elites.
Enter the
Nokia Lumia 1520
, the biggest and most specs heavy Windows Phone to arrive ever! This one isn't messing around at all, since it's sporting the latest hardware gear, and Windows Phone 8 experience, to give the competition something to worry about. Interestingly, we haven't necessarily seen a phablet type Windows Phone, so it's refreshing to see that we finally have one here. With everything in tow, it's looking like the Lumia 1520 has all the ingredients to be a mighty force in the industry – especially when it's attached with an aggressive price point of $99.99 on-contract.
The package contains:
Wall charger
microUSB cable
Getting started guide
Warranty information
SIM removal tool
Design
Essentially, the smartphone resembles the Lumia 1020 before it – a stretched out version of that. Distinctively a Lumia smartphone, seeing that it boasts most of the typical design characteristics that have been attached to the popular smartphone line, we can't say that the design of the Lumia 1520 is particularly original. Nevertheless, it continues to be an appealing one, since its rounded edges and tapered design both lend to mask its rather boxy look.
Obviously, this is a big phone! And by big, we mean ridiculously big, mainly because it dwarves most other phablets. Therefore, it's something that proves to be unwieldy for those with smaller hands, as its wide figure is undoubtedly a handful – thus, requiring two-handed operation. In addition, the corners of the phone are rather pointy, to the point that it jabs our palm when holding it. At the very least, we're comforted to find that it sports a pretty thin 0.34-inch profile, and for the most part, it's pretty uniform looking throughout its body.
Being a high-end Lumia smartphone, the 1520 benefits by having a solid unibody polycarbonate plastic casing – giving it a sense of sturdiness with its construction. With our specific unit, it's a black matte finish that does a good job of masking debris. Well, the white and yellow versions of the phone also sport the matte finish, but the red color is actually coated with a glossy finish – making it more prone to smudges and fingerprints. In the phablet space, the Nokia Lumia 1520 is unique looking and definitely comes across as more interesting in design than most others.
Beneath that massive display sits the usual trio of capacitive Windows buttons, but for something so large, they appear somewhat disproportionate in size. Well, at least the spacing between them is enough to eliminate accidental presses. Meanwhile, above the display, we find its narrow earpiece, light & proximity sensors, and its wide-angle front-facing 1.2-megapixel camera.
As the standard formula goes, the right edge of the phone packs in all of the handset's physical buttons, which consist of its power, volume, and shutter keys. Unfortunately, they're all rather flat, making them difficult to feel out with our fingers, but at least the response is solid with all of them.
On the left edge, the engineers over at Nokia manage to discretely hide away the handset's nano SIM and microSD card slots, as it blends into the phone. However, we're required to use the included SIM removal tool to access both of them. Now, it makes perfect sense with the nano SIM slot, but we would've preferred having some kind of spring activated system for the microSD card slot. Rounding things out, the Lumia 1520 features a 3.5mm headset jack, microUSB port, and FOUR Stereo High Amplitude Audio Capture (HAAC) micrphones.
Unlike the Lumia 1020, there isn't a huge ugly looking hump in the rear where the camera normally sits. Although there's still a hump, it's more subdued, which allows the handset to sport a uniform profile for the most part. At the center of it all sits a 20-megapixel PureView camera that features 6-element Zeiss lens, f/2.4 aperture, lossless zoom, optical image stabilization, and a dual-LED flash.
Display
It's a first of a kind, in the Windows Phone camp, that is. The handset gets the prestigious recognition of being the first Windows Phone smartphone to feature a 1080x1920 display. And boy is it gigantic, the largest sized display to grace a Nokia smartphone ever! To be exact, it's flaunting a gorgeous looking 6-inch 1080 x 1920 IPS LCD panel – giving it a sharp pixel density count of 368 ppi. Honestly, this has been a long time coming, as Windows Phone has been constantly downplayed for the lack of devices with 1080p resolution screens. Needless to say, 1080p screens are nothing new in the smartphone space, but we're just ecstatic to find it here on a Windows Phone. Naturally, it produces a ton of sharp details, to make even the most miniscule of text easily visible to the eyes.
And seeing that it employs IPS LCD technology, it boasts natural looking colors, wide viewing angles, strong contrast, and a potent brightness output. All of those qualities enable it to offer superior outdoor visibility, so there's no need to be constantly shielding it away from the sun. Interestingly, there's an option to manually adjust screen color temperature and saturation on the Lumia 1520. You can pick overblown colors that look unreal yet impressive, or you can go for a more realistic, natural tones (that we would recommend). All told, it's without question the best display to ever grace a Windows Phone!
Nokia Lumia 1520 360-Degrees View