What's up, dock? UK retailer accepting pre-orders on docks for Samsung GALAXY Nexus
2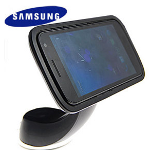 While those in the States
continue to play the Verizon guessing game
, trying to figure out the launch date of the
Samsung GALAXY Nexus
, over in the UK
the phone has already been released
. And to take things a step further, at least one retailer there is accepting pre-orders on four docks available for the handset.
MobileFun.co.UK
is now offering the
Vehicle Dock
which allows you to safely use the Samsung GALAXY Nexus in the car. It will allow you to use the Google Navigation feature while the USB cable makes sure that your phone arrives at your destination with a full charge. A suction cup keeps your GALAXY Nexus from dropping to the floor while you take those curves at 75MPH. The cost for this dock is 49.99GBP ($78 USD)
The next dock is the
Desktop HDMI Dock
which helps you play video over your T.V. using the phone's HDMI slot. Holding the phone in portrait mode, the dock syncs and charges your phone at the same time. The price for this accessory is also 49.99GBP. Priced at only 14.99GBP ($23.38 USD) is the
Holder and Battery Charger
. This dock also holds your phone in portrait mode and charges your spare battery while doubling as a desk stand for your Samsung GALAXY Nexus.
The last of the four docks is the
Desk Stand
, which will run you 49.99GBP. With the desk stand you can charge the battery while viewing web sites, video and emails at an optimized angle. A micro USB port can be used with a charger cable or a USB cable and a 3.5mm audio jack lets you use the stand to plug in an external speaker.
You can check out the videos below to learn more about each dock. Of course, without the phone, who would buy the dock? The question is, will Verizon customers be looking at these accessories by
sometime next week
?
source: MobileFun (
1
), (
2
), (
3
), (
4
) via
Engadget