Leak puts Galaxy Nexus in Verizon stores December 8th
11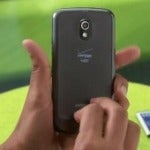 A new leak is making the rounds which says that the Galaxy Nexus will be making its way into Verizon stores on December 8th, but there's no word on if this is the full release or just for stores. As with everything concerning the Galaxy Nexus release in the US, the information is lacking.
online-only
in November. So, it's likely that the phone will launch in November, but just won't be in Verizon stores until December.
Of course, this is all just endless speculation.
source:
Droid Life