Samsung Galaxy Nexus Review
99+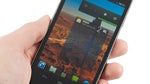 Introduction:
Here it is, guys, the next big thing in the world of Android smartphones. Let us introduce you to the
Samsung Galaxy Nexus
– the third Google phone, which comes to succeed the
Nexus S
by Samsung and
Nexus One
by HTC. Тhe Nexus line-up represents probably the hottest and most desired selection of Android handsets, at least by die-hard geeks around the world. Always cutting-edge as far as technology goes, always having that invisible appeal built-in, making consumers lust after these phones. Have Samsung and Google done well with this latest addition?
In a landscape that competitive, it's really hard for manufacturers to produce a long-lasting handset which has enough potential to stand out from the crowd and kind of rule them all. We've witnessed this only on very few occasions within the Android ecosystem, but knowing what a milestone this is for Google's mobile OS, we just can't help it but set our expectations high. Because of this, in order to be a success, the Galaxy Nexus has to treat us to the best, and nothing but the best. Anything less would be considered a failure. And isn't that the general concept behind the Nexus phones – to obtain the status of being reference devices for all other manufacturers? Besides this, however, the Galaxy Nexus is the first handset to come with the Ice Cream Sandwich version of the OS – a version which could as well be considered as a brand new platform, having in mind its complete redesign.
We know what you're thinking – let's not waste any more time and see if the Samsung Galaxy Nexus lives up to the expectations!
Please note that we're testing the global model of the Galaxy Nexus, which is equipped with an HSPA+ radio, but the handset is also expected with Verizon, where it'll sport LTE, but will also be slightly thicker.
Design:
The Nexus One was one of the most refined Android devices from design standpoint, while the Nexus S came with that attractive curved glass on top of its display. Now, with the Samsung Galaxy Nexus, we again witness this curved design, as well as some other little treats. For example, the back cover uses the so-called Hyper Skin finish, which provides a better grip, and an overall nice feel to the touch. However, the phone's body is still entirely made of plastic, which translates to a relatively light weight, but also to a somewhat standard feel, which fails to captivate or wow the user. There's nothing premium with the build quality and construction of the Samsung Galaxy Nexus, and this is our biggest disappointment with its design. Really, it feels somewhat underwhelming when you take such a well-specced, premium phone, snap the back cover off, and realize that it's one of the thinnest pieces of plastic ever used for the outer shell of a consumer electronics device. Thankfully, the handset doesn't feel cheap in the hand, but it doesn't feel classy as well.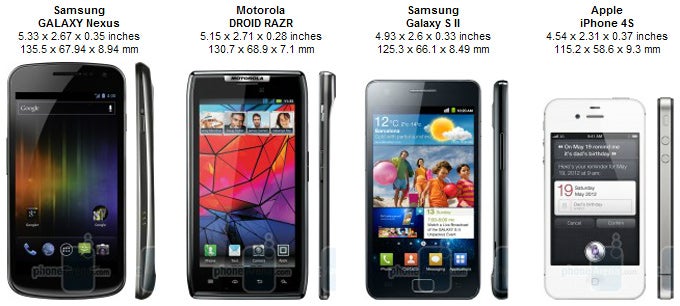 You can compare the Samsung Galaxy Nexus with many other phones using our
Size Visualization Tool
.
Yes, there's still this curved glass on the front, but we don't consider it as being something beneficial in any way. The
curve
is actually very slight, so we really see no difference between this and a completely flat glass. Otherwise, the display beneath it is quite impressive. The Galaxy Nexus sports an enormous
4.65" screen
with an HD resolution of 720x1280 pixels. And even with a screen this big, we're happy to report that the pixel density is 316 ppi, which means that all kinds of fine details and small text that appear on this display remain clearly visible. The Galaxy Nexus sports an HD Super AMOLED screen, which uses an RGBG PenTile matrix for pixel arrangement. This actually shouldn't trouble anyone, as we don't find the overall image quality to be inferior compared to what you see on standard RGB matrix-based displays. Well, if you look really closely at certain elements, like white text on black background, for example, you can actually notice the individual pixels, but this can't be seen when using the phone normally. Naturally, having an AMOLED screen, the Galaxy Nexus offers those characteristic high contrast levels, wide viewing angles, and very saturated colors, that kind of bring images to life. The screen is usable outdoors (and in sunny conditions), though legibility isn't perfect. Samsung definitely has some room for improvement in this respect.
Due to the large screen, you can imagine that the handset can't be compact. Indeed, the Galaxy Nexus is quite large, but interestingly, it isn't uncomfortable to hold and use with one hand only.
For the first time in an Android handset,
you won't find any buttons below the screen
. That's because the Galaxy Nexus has been designed to run Ice Cream Sandwich, which now features on-screen keys for navigation in Android, just like in Honeycomb tablets. As a result, the front side of the device is completely clean and looks very cool.
Around the device
we find a standard microUSB charging port, 3.5mm headset jack, volume rocker and a power key. Interestingly, there is also a three-dot connector on the handset's right side, which will be used for docking the device with some kind of a docking station. On the back side is what many would consider the Galaxy Nexus's downfall – a 5MP camera, instead of something more contemporary like an 8MP one. While we would have really liked it more if it had an 8MP shooter, we'd still be satisfied with this one, if the Galaxy Nexus manages to produce some good-looking results. But more on this later.
Overall, the Samsung Galaxy Nexus is a very well-made device, which looks good, but lacks personality. The neutral color scheme and the non-premium materials in use don't help as well.


Samsung Galaxy Nexus 360-degrees View: