Walmart's Black Friday 2017 deals gift a $300 card with an iPhone X or Note 8 plan
3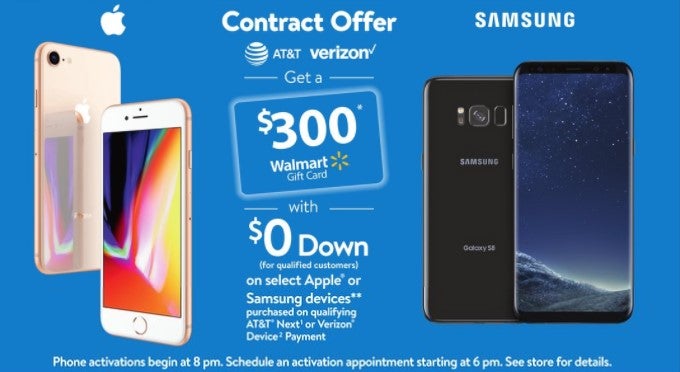 Walmart has listed its Black Friday 2017 deals, and for the first time it will feature color-coded sections for different product categories to make the life of holiday shoppers easier in its huge stores easier on Black Friday. You will be able to find the codes on the retailer's Black Friday circular and store maps. The deals that Walmart announced will be available at 12:01 am EST online on Thanksgiving morning, and at 6 pm local in its stores.
Besides the obligatory best prices on 4K TVs that are a staple for Walmart's Black Friday rush, the early listings include some notable discounts in our neck of the woods, like a
Google Home Mini
for $29, instead of the usual $49 price.
The most interesting for us offer, though, is the $300 Walmart gift card that the retail will deliver to those who purchase the top Apple or Samsung phones with an AT&T Next or Verizon device installment plans, including the newest
iPhone X
and
Note 8
gear. That alone is worth hitting the Walmart app early on Black Friday, but there will be more deals announced in the coming days, says the retail giant.
Said discounted phone activations will begin at 8pm on November 23, and you can schedule an in-store appointment for the purpose starting at 6pm. The activations must be completed by November 26, and Walmart will then give you its $300 gift card valid for future purchases in the store.
The AT&T offer requires at least a $50/month talk and data plan for new customers, as per the fine print below, and a Next or Next Every Year installment plan, which breaks down the price of your phone in even monthly payments. Thus, the iPhone X can be had for $41.63 a month on a two-year payment plan, but when you spread out the $300 value of the Walmart gift card, it's as if you are paying just $29/month for Apple's newest phone.