Samsung Galaxy Note 8 Review
99+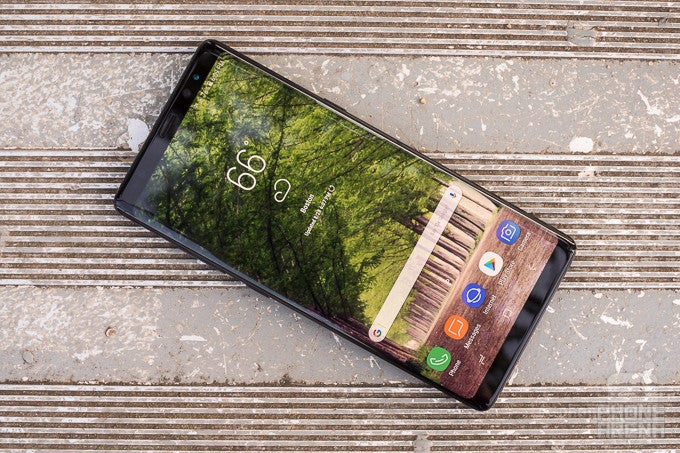 Update

: Read our Galaxy Note 9 review!
Introduction
Just a little bit over a year ago, Samsung must have felt on top of the world, having just launched the
Galaxy Note 7
. It had decided to skip the Note 6 in order to finally put its flagship branding all on the same page, and there was plenty of reason to be excited about this hot new hardware. Maybe "hot" is a little too on the nose, because it wasn't long before reports of particularly exothermic battery failures started making the rounds, sending a current of panic through Note owners. Samsung pivoted and tried delivering a fix, but even that effort proved insufficient, and in a matter of weeks the Note 7 went from utterly overflowing with potential to being an officially doomed smartphone.
Failures in this industry don't get much more public or embarrassing than that, and for months you couldn't get on a flight without being reminded that you and your fellow passengers were one exploding Galaxy Note 7 away from plummeting out of the sky.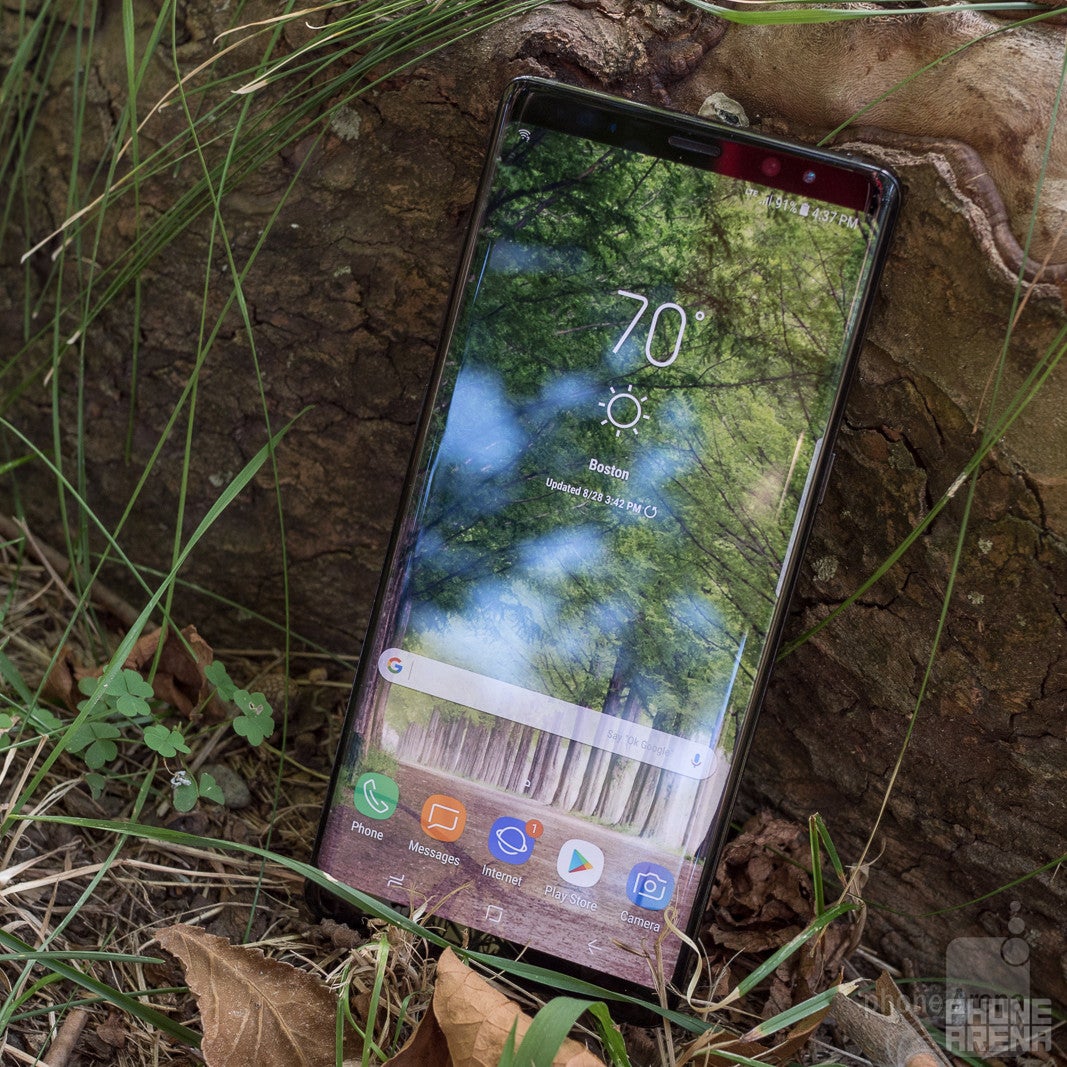 That could have easily been the end of the Galaxy Note family, right there.
But 2017 is a year of reinvention for Samsung, and we've already seen the shocking effect a new design can have on modernizing the company's Galaxy S flagship. Armed with that success, Samsung's taking the same approach to its stylus-equipped phablet, introducing a new
Galaxy Note 8
that manages to both bring the series back from the grave, and celebrate a daring new design in the process.
In the box:
Galaxy Note 8
AKG earbuds w/ alternate tips
Samsung Adaptive Fast Charger
USB Type-C to standard-A cable
Micro-USB to USB Type-C adapter
USB Type-C to standard-A adapter
Quick-start guide
SIM tool
S Pen tweezer w/ alternate tips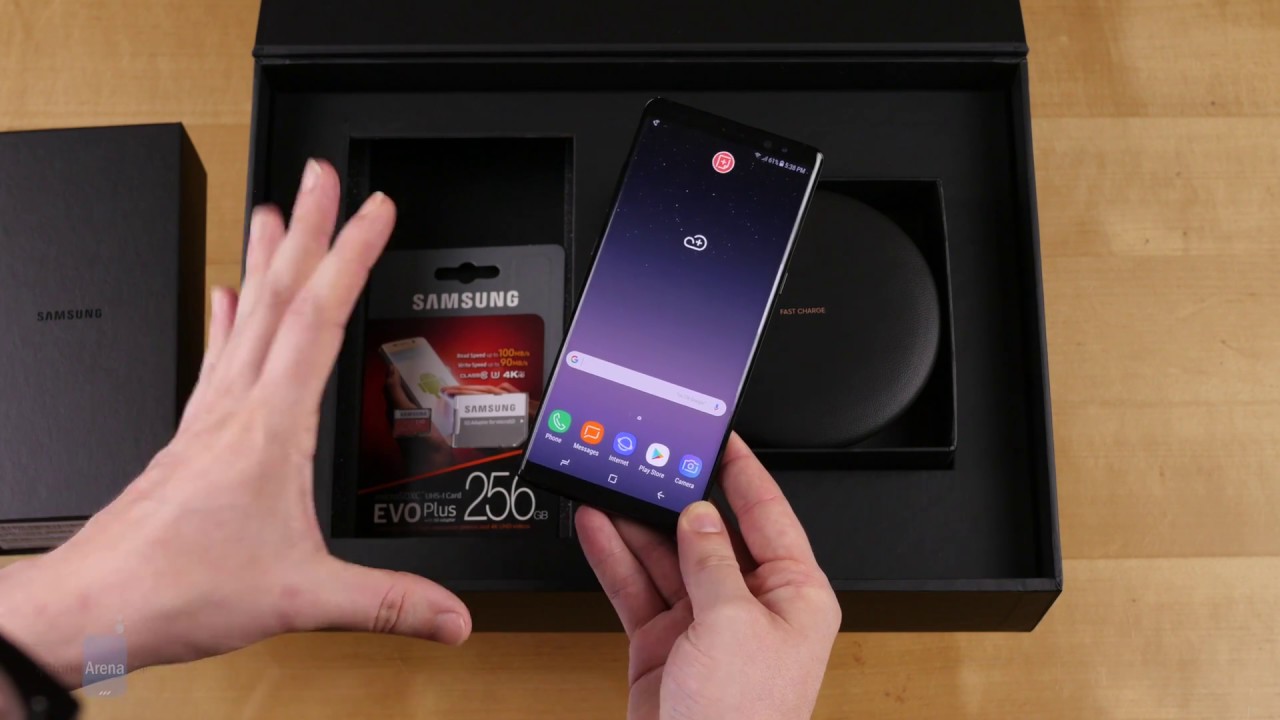 Design
More than just a giant GS8 with a stylus, but the Note 8 still struggles with its own size
It hasn't happened to every phone overnight, and there are still more holdouts than not, but 2017 is the year that the shape of phones changed. With models like the
Galaxy S8
and
LG G6
, designers looked at existing 16:9 widescreen displays and announced, "Nope! Not wide enough!" Instead, they crafted phones with the widest screens we've ever seen – and changed the shape of phones themselves in the process.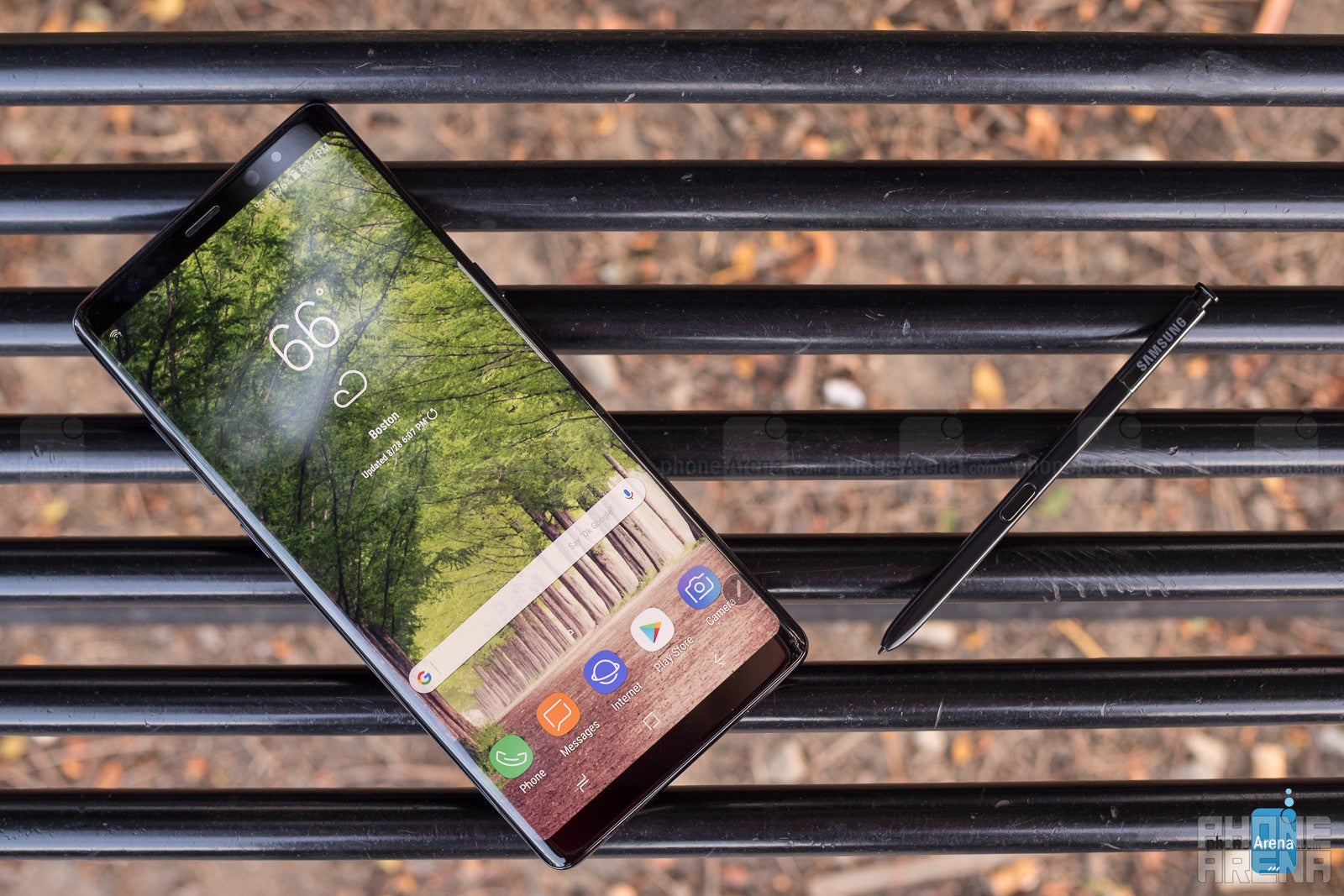 This new look is arguably no more pronounced anywhere than it is on the Galaxy Note 8. While the basic layout of the handset gets its cues from the Galaxy S8, the much more squared-off corners make the Note 8 feel less like a phone and more like some sort of futuristic half-tablet – just an exceptionally tall one.
That's at once the phone's greatest blessing as well as its biggest curse. Right now, at least, there's nothing out there that looks quite like the Note 8. If you're just being different for the sake of being different, that's not necessarily a good thing, but here the Note 8 takes shape as the obvious extension of Samsung's recent design language: the child of the Note 7 and Galaxy S8 that we all knew was coming. It's unusual, and it stands out, but it's also so functional and intentional that its design largely avoids feeling like a cry for attention.
But while we very much understand the thought process that brought this phone to life, we also can't ignore that certain limitations start cropping up when you're dealing with a handset of this size and shape. Probably the most pronounced issue there concerns all the stretching and phone-shifting you'll be doing just to accomplish day-to-day tasks.
If you're anything like a lot of smartphone users, you like to perch your handset' bottom corner against the muscles at the base of your thumb; that posture gives you easy access to Android navigation buttons, and lets you swivel to reach higher areas of the screen. But the Note 8 is just so fantastically tall that it becomes problematic to do things like hitting the phone's volume buttons without shifting the phablet around in your hand.
And while last year the front-mounted fingerprint scanner was still in a convenient location, its repositioning to high up on the phone's back makes reaching it a chore. You'll get used to it eventually, but the lack of familiar tactile cues as you feel around doesn't help any with that period of adjustment.
Another thing to keep in mind is that this is a heavy phone. While basically a scaled-up Galaxy S8 (or slightly lesser-scaled-up
S8+
), the Note 8 comes in just shy of 200g. That's heavier than either of those GS8 brothers, as well as heavier than the Note 7, and though that could be a problem, our impressions haven't been that negative, and instead this contributes to the Note 8 feeling like a really dense, powerful, sturdy device.
Much-appreciated elements of the phone's construction like IP 68 waterproofing are back this year, and that only further helps us feel confident about the Note 8's durability.
There are definitely a few elements here that we wish Samsung would have reconsidered, but by and large the look of the Note 8 comes together as a successful, attractive design that manages to remind us that smartphones still have plenty of room left to experiment and play with our expectations.
Display
An expansive, colorful panel that we only wish pushed brightness to loftier heights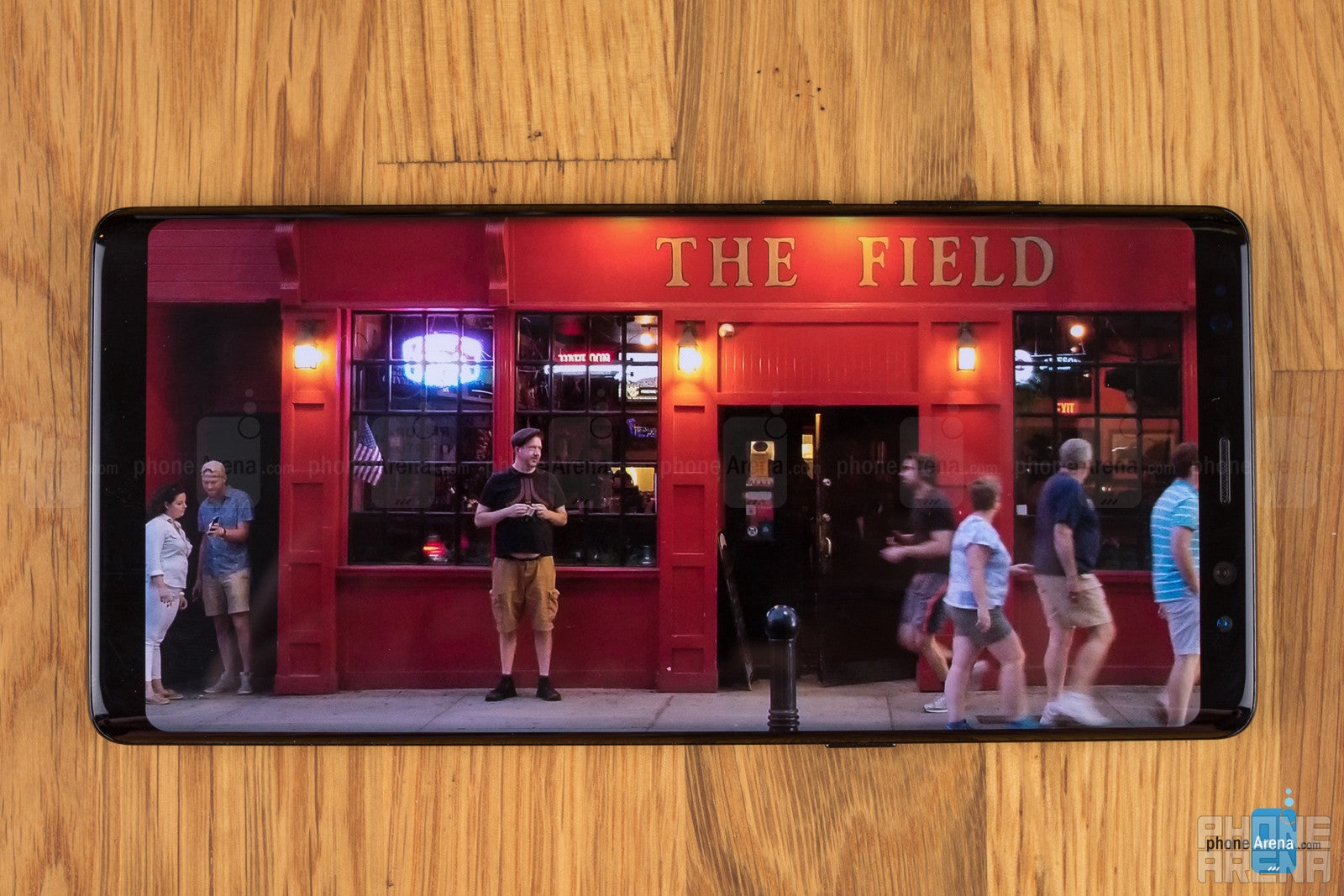 A Note phone's always going to have a big screen, but this year really takes the cake, as Samsung pushes past the Note 7's 5.7-inch display, and even inches past (or rather, millimeters past) the 6.2-inch Galaxy S8+ to give us a curved-edge, rounded-corner, ultra-widescreen 6.3-inch screen. Like we saw on those S8 models, Samsung calls this its Infinity Display, and with good reason, as it feels like this phone is just one big display, stretching to nearly all corners of the hardware. Only a conservative little bezel strip at the top and bottom of the phone's face keep that screen constrained.
As far as the image quality itself goes, Samsung's done this enough times before to know how not to disappoint. We get another of its renowned AMOLED panels, and through a little software magic Samsung manages to give us a best-of-both-worlds situation: you can choose from a number of display calibration preset that offer classic AMOLED-style oversaturation (where colors really "pop" and look boldly unreal), or stick with a basic mode that give us some of the most accurate (while almost ironically, looking a little a less lifelike than those over-the-top modes) color reproduction we've tested on a smartphone screen in months. Those presets are just the start of things, and you can tweak display output to your heart's content, including dialing-in the balance of individual colors.
The Note 8 doesn't ship in a way that's set up to take full advantage of its screen resolution. In order to conserve battery life and rendering time, the phone defaults to 1080 x 2220 pixels, instead of its native 1440 x 2960 px. You're absolutely free to change that, but keep in mind that for all our tests in this review, we did use that out-of-the-box resolution setting.
We don't love how Samsung limits screen brightness in manual mode, and if you prefer really intentional control over display output, you're never going to be able to set the Note 8's brightness to anywhere near the hardware's limits. Toggle auto-brightness on and that ceiling raises considerably, though we've still seen plenty of phones with brighter screens than the Note 8.
Display measurements and quality
Recommended Stories