Vortex swirling around Verizon could be the LG Optimus One
5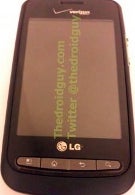 The other day we
reported
to you from LG's Optimus event, about the introduction of the Optimus One. The device is an entry level Android phone as despite being launched with Froyo out-of-the-box, the handset has a rather pedestrian
3.2
inch HVGA display and a 600 MHz processor under the hood. On the back of the device is the 3MP camera with AF.
The interesting thing about these specs is that they match up perfectly with the rumored specifications of the LG Vortex, which is spinning its way to Verizon as you can see from this picture. 2+2 equals 4 which is why we can make the case that the Vortex is Verizon's version of the Optimus One.
As we
told you
, the latter device appeared on a leaked T-Mobile accessories list last week with a launch date of November 1st, so Verizon customers could see the CDMA variant in the stores during the upcoming holiday season.
LG Optimus One Specifications
source:
TheDroidGuy