Verizon's Samsung 4G LTE smartphone vs LG Revolution vs HTC ThunderBolt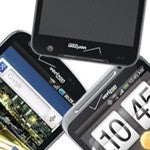 There's no doubt that probably the most exciting event that took place at
CES 2011
today was Verizon's unveiling of three brand new 4G LTE smartphones – the
Samsung 4G LTE smartphone
, the
LG Revolution
and the
HTC ThunderBolt
. So, what do you do when you have three hot upcoming Android smartphones, each promising to become the next big thing? Why, compare their specs, of course!
Although these three handsets share a lot of their features, there are still some notable differences that deserve to be mentioned. For example, you might be interested to know that only Samsung's 4G LTE smartphone (geez, that name!) is the only one of the three to feature the fancy
Super AMOLED Plus screen
technology, which will bring incredibly saturated colors and great viewing angles. On the other hand, the LG Revolution manages to set itself apart by offering the latest
Bluetooth 3.0 version
. And finally, the HTC ThunderBolt should never be overlooked as it pack the latest edition of the
mighty Sense UI
.
As you see, all three are worthy competitors, so let's not waste any more time and get down to business.
Please note that we're using our own
Phone Compare tool
in order to bring you this detailed comparison view of the phones' specs that you see below. And guess what – you can use this tool to compare whichever phones you want!
To compare more phones, use our
Phone Compare
tool.