LG Revolution Hands-on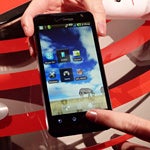 When you hear the word revolution, you generally associate it with something spectacular that's sure to get you off your seat in a heart beat. But for LG, it simply means manufacturing a smartphone that finds itself in the mix of other super phones announced during CES. Previously, LG splashed into the Android realm with some low-key devices that easily got lost in the sea of other mid-range Android phones out there. However, Verizon is finally receiving its own healthy serving of a premier device from the South Korea-based company in the form of the
LG Revolution
.
Surprisingly, we're quite impressed after holding the smartphone for a short time in our hands as it tastefully employs some distinctive design styles to make it jump out over something like the
Samsung 4G LTE smartphone
. Meanwhile, we like the fact that it has that bad boy feel to it thanks to the solid industrial design it's sporting – which is comprised of a gunmetal finish complemented by soft touch surfaces on the top and bottom of the handset. Granted that it might look a little bit on the larger size, thanks partly to its
massive 4.3" capacitive touchscreen
, but its overall solid construction clearly makes it a favorable handset to flaunt. As for the display, it's more than detailed and crisp, but lacks the visual appeal when compared to something like Samsung's Super AMOLED Plus displays.
In following the revolution that Verizon is bringing forth with its LTE rollout, the LG Revolution will be one of the handsets in the near future to enable consumers to experience 4G LTE speeds on a smartphone. Furthermore, there's a healthy dose of
impressive specs
that will easily appease the early adopters out there – such as a 1GHz chipset, 5-megapixel auto-focus camera, front facing camera for Skype calling, Bluetooth 3.0, DLNA support, and an HDMI-out port. And for those who prefer a relatively untouched Android experience, you'll surely come to appreciate the Android 2.2 Froyo experience it has to offer – which appears to be mostly stock.
Again, the LG Revolution's support for 4G LTE with Verizon is undoubtedly going to be a huge draw for those looking to move up to a super phone. So far we're digging the overall design of the handset, which is much better than others that we've been scoping here at CES of late, but Big Red has yet to announce any pricing or release date regarding the handset. Don't fret though because the LG Revolution is definitely shaping up to be a looker when compared to the myriad of devices announced this week.