Samsung 4G LTE smartphone Hands-on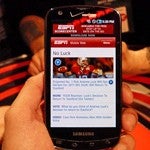 Verizon currently offers two devices from the Samsung Galaxy S family, but now it looks like they're adding on yet another addition to their growing family – the
Samsung 4G LTE smartphone
. Sounds pretty original, don't you think? In any event, this is yet another super phone that's being graced with the LTE love which should propel it to the near top of the ladder amongst Verizon's lineup.
Sadly, we're not all too impressed with the design of the Samsung 4G LTE smartphone since it doesn't provide that initial wow factor with its all plastic exterior. Sure it makes the handset feel extremely light weight, but it doesn't exude that premium feel when you think about a device that's expected to bring forth all the wonders of LTE. In fact, it feels as though it's more of the same and doesn't necessarily embody something drastically original and different.
However, its massive
4.3" Super AMOLED Plus display
shines brightly amongst the heap as it radiates a blinding luminance that other devices only dream about. Dishing out some crisp details and saturated colors, it has the recipe to instantly awe any wandering bystanders in their tracks. Adding to its monumental tow, it features things like an 8-megapixel auto-focus camera,
1.3
-megapixel front facing one, 1GHz processor, and Samsung's usual TouchWiz interface running on top of Android 2.2 Froyo from the onset.
Needless to say that the other main attraction about the handset is its
support for Verizon's LTE network
– which should make the handset fly like no other in terms of browsing the web. Now if you happen to own either the
Samsung Fascinate
or the
Continuum
, it's rather difficult to say whether or not if it would be a worthwhile investment for you to upgrade. Its large 4.3" display is indeed intriguing, but then again, Super AMOLED still stands tall amongst the competition out there. However, the biggest contributing factor in purchasing the Samsung 4G LTE smartphone is none other than faster data speeds with LTE. Still, it's going to come down to pricing for the monthly cost for LTE connectivity – which is something that hasn't been released just yet.
Samsung 4G LTE smartphone specifications