HTC ThunderBolt Hands-on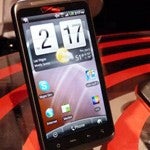 You know who stole the show today at Verizon's press event because it was instantly obvious to everyone in attendance when the lights turned off and thunderous sounds could be heard from all around. Without question, you can say for sure that Big Red is quite happy with the
HTC ThunderBolt
since it basically was the center of attention at today's Verizon event. Honestly, it's a long time coming when you consider the fact that the HTC Droid Incredible has long been a staple on Verizon's lineup with no other HTC branded devices released for Verizon. Needless to say that one can argue that the HTC ThunderBolt is essentially Verizon's version of the HTC EVO 4G, but there are some specific differences that separate them.
Design wise
, we can't stop emphasizing the fact that the HTC ThunderBolt feels like a more polished version of the HTC EVO 4G since it sticks to using some premium quality materials to its construction. In fact, it has that solid metallic feel to it that doesn't make you question its resistance to the elements – which of course, feels vastly improved to the plastic construction of the EVO 4G. Granted that there is some weight to it in the hand, it's obviously welcomed since it provides you that sense of quality workmanship from head to toe that we expect out of HTC's camp.
Instead of being placed into a trance when looking at its
display
, like what we experienced when first checking out the HTC EVO 4G, it's actually nothing too spectacular since it's basically the same with its 4.3" capacitive touchscreen with WVGA (480 x 800) resolution. Aside from the noticeable amount of real estate that it has to offer, it features a 1GHz Snapdragon processor, the latest version of the Sense UI running on top of Android 2.2 Froyo, Bluetooth
2.1
, 8-megapixel auto-focus camera with flash, front facing camera, 720p video recording, and support for Verizon 4G LTE.
The
platform experience
isn't radically different from what we saw on other Sense devices out there, but regardless, it's definitely one of the more favorable skins out there running on top of Android. Navigation as a whole is pretty smooth and fluid with barely any evidence of slowdown or lag during our quick time checking out the handset.
So far we're digging the design of the HTC ThunderBolt which could arguably be the best HTC device boasting a 4.3" display to date, but its support for LTE will surely become a focal point for consumers out there looking for the best of the best in the Android world. There's no denying that the HTC ThunderBolt will become the one of the main attractions for Verizon's LTE roll out, but it's so hard to concretely come down to a decision as to which device will eventually reign supreme in this 4G LTE race. Nonetheless, the ThunderBolt continues to showcase the kind of talent that HTC has in its arsenal to keep up in this fast paced smartphone market that's constantly changing and evolving.