Tweet from HTC teases new Vive model to be unveiled this coming Monday at CES
18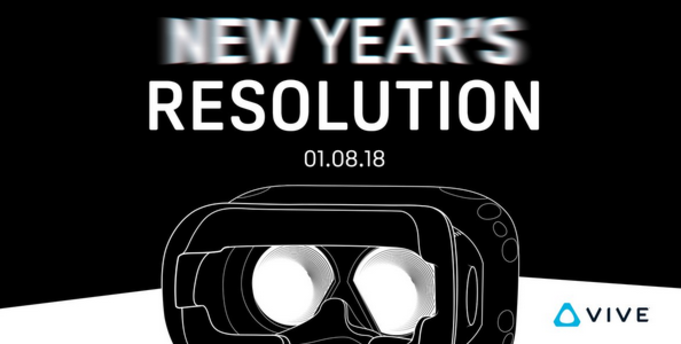 Tweet disseminated by HTC hints at unveiling of a new version of the Vive VR headset this Monday at CES
A tweet from HTC that was disseminated on Friday, hints that a new version of the HTC Vive VR headset is due to be unveiled this coming Monday. The tweet says "New Year's Resolution" on top. The manufacturer cleverly had "New Year's" out of focus with the word Resolution printed as sharp as a tack. This indicates that the new Vive will have a higher resolution display than the original model. Very smart, HTC.
Considering that Monday is the opening day of the 2018 Consumer Electronics Show in Las Vegas, we'd say that everything is coming together, pointing toward the unveiling of a new Vive in just a matter of days. Unlike HTC's sluggish handset business, the company has done well with the Vive headset. After announcing its $1.1 billion deal with Google last September, which resulted in 2,000 HTC employees jumping to Google, the Taiwan based manufacturer said that it was
committed to continuing with the development of the Vive VR system
.
The HTC Vive was first unveiled during the 2015 MWC in Barcelona.
On April 5th 2016, the headset was made available for consumers
, priced at approximately $800. After its first six months on the market,
HTC said that it had sold more than 140,000 units of the Vive
. At $800 a pop, the company's VR headset grossed more than $112 million in half a year. Earlier that same year, there was speculation that HTC would spin off its VR division as a separate company,
but that was later denied
by company executives.
source:
@htcvive