Google pays HTC $1.1 billion for certain employees and a non-exclusive IP license
34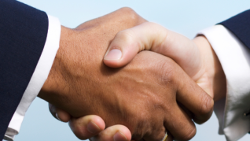 Google and HTC have just announced the completion of a deal. Under the terms of the transaction, certain HTC employees, including many involved in the development of Pixel phones, will join Google. Another part of the deal will give Google a non-exclusive license for a portion of HTC's intellectual property. In return, Google will fork over $1.1 billion to the cash-starved HTC,
which has reported a loss for nine consecutive quarters
.
While previous reports claimed otherwise, HTC is keeping its smartphone designing and manufacturing operations. In the press release that was disseminated to the media this evening (U.S. time), it was pointed out that HTC is currently working on its next flagship model following this year's
HTC U11
. The latter is the best high-end model released by HTC in years and includes the Edge Sense feature that allow users to squeeze the device to activate certain apps and features. Rumors suggesting that the next generation of Google Pixel phones may adopt Edge Sense functionality seem more credible now with Google having access to HTC intellectual property.
Although HTC is not giving up entirely on its smartphone designing and manufacturing capabilities, it would still have a hard time returning to earlier days when it produced some of the most innovative handsets available. First as a contract manufacturer (
Sony Ericsson Xperia X1
,
Nexus One
,
T-Mobile G1
) and then as a brand name manufacturer (
HTC Touch Pro
,
HTC Touch Diamond
,
HTC Touch Pro2
,
HTC Touch Diamond2
, HTC One M8), HTC had made a name for itself. But while recently the company has had problems competing with Android phone manufacturers like Samsung and LG, the deal with Google gives the company the financial wherewithal to continue working on producing the next great Android handset.
"As a pioneer of the smartphone market, we are very proud of our history of innovation. Our unmatched smartphone value chain, including our IP portfolio, and world-class talent and system integration capabilities, have supported Google in bolstering the Android market. This agreement is a brilliant next step in our longstanding partnership, enabling Google to supercharge their hardware business while ensuring continued innovation within our HTC smartphone and VIVE virtual reality businesses. We believe HTC is well positioned to maintain our rich legacy of innovation and realize the potential of a new generation of connected products and services."-Cher Wang, Chairwoman and CEO, HTC.

"HTC has been a longtime partner of Google and has created some of the most beautiful, premium devices on the market. We're excited and can't wait to welcome members of the HTC team who will be joining Google to fuel further innovation and future product development in consumer hardware."-Rick Osterloh, Senior Vice President of Hardware at Google.
The deal is expected to close in early 2018.
source:
HTC
/
Google
Recommended Stories