Tougher than ever: Samsung Galaxy Note 7 is the world's first phone to use Gorilla Glass 5
27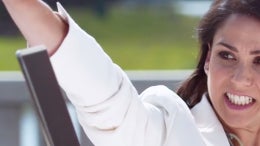 Just a few days ago, we heard that Samsung's
Galaxy Note 7 and Apple's 2016 iPhone would both
make use of Corning's brand new Gorilla Glass 5. Today, while
officially announcing the Note 7
, Samsung confirmed that the handset does, indeed, feature Gorilla Glass 5, making it the world's first smartphone to be protected by it (take that, Apple).
Gorilla Glass 5 is Corning's strongest glass to date: according to its maker, it should survive drops from 5.25 feet (1.6 meters) on rough surfaces in "up to 80% of cases". The glass protects both the 5.7-inch dual curve display of the Galaxy Note 7, and its rear, so the device should hold on really well when it comes to accidental drops - certainly better than the
Note 5
, which uses Gorilla Glass 4.
Make sure to read our
Gorilla Glass 5 article
if you want to find out more about what this new type of tough glass means for the
Galaxy Note 7
. Also, check out our
Samsung Galaxy Note 7 hands-on
.