Samsung Galaxy Note 7 hands-on: meet the curved-screen, waterproof new phablet
24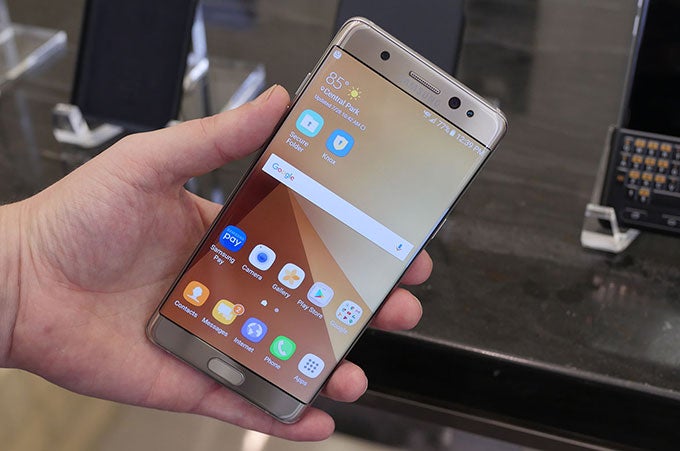 Samsung's Galaxy S phones may be the spotlight-grabbing, market-dominating wunderphones Android fans have come to know and love – and with good reason. But then there's a different kind of Samsung user who sits patiently by every spring, waiting for the latest Galaxy S flagship hype to pass, content in knowing that they're just a few more months away from the manufacturer's latest big-screen hardware monster,
the latest incarnation of the Galaxy Note
.
That patience is about to pay off, with Samsung today announcing the Galaxy Note 7, ahead of availability later this month. It's a phablet that in many ways is the obvious extension of previous Samsung flagships, both from the Galaxy Note and Galaxy S families, while still staying true to its roots as a platform for technological innovation, delivering some
really interesting new features along the way
. We recently had the opportunity to go hands-on with the new Note, checking out just what Samsung's come up with to make this sixth-generation phablet worth picking up.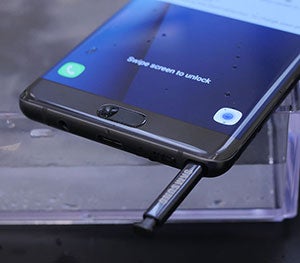 The Galaxy Note 7 and its new S Pen, both ready to get wet
Meet the Galaxy Note 7. Don't let that name fool you, as Samsung's decided to skip the Note 6 and create some brand unity across its flagship lineups, making sure the Galaxy S7 and Galaxy Note 7 arrive in the same calendar year instead of the old staggered-number pairings.
The Note 7 sticks with the 5.7-inch screen size that's been popular for the last few generations, while still implementing a big change: gone are the days of the flat-screened Note, and the Note 7 picks up the same dual-curved-edge arrangement as the Galaxy S7 edge. The screen's another quad HD 1440 x 2560 AMOLED panel.
Hardware specs are one thing, but what's it like to actually use this model? Well, for one it feels a bit different than any Note to date, largely thanks to that new direction for the phone's screen. More than just giving the phone a curved front, the handset's back matches with an identical set of lines, granting the phablet a symmetrical layout. That results in a smooth edge that doesn't really feel like your typical Samsung model.
Those curves may dominate the left and right side of the phone, but there's new stuff going on up top and down below, too. The top SIM tray picks up room for a microSD card (a welcome return), and down below we see the overdue emergence of a USB Type-C port on a Samsung flagship.

USB Type-C, how we've been waiting for you
One of the other improvements to the feel of the Note 7 has to do with the phablet's S Pen stylus, which sees a series of initially subtle tweaks. The pen's side button slides up its body a little, but the more important change concerns the stylus tip, which now at 0.7mm wide is designed to more accurately emulate the feel of a regular pen. A boost of pressure sensitivity to 4096 levels also helps with more natural-looking pen input.
Both the S Pen and the Note 7 itself are IP68 rated to withstand water, and the combination of the two means that you can use the stylus to interact with the phone even when both are fully submerged – a feature you may not use too often, but a seriously neat one, all the same.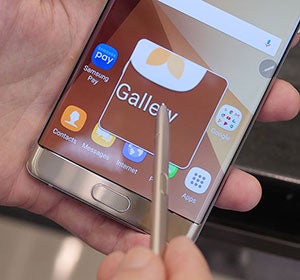 Getting a closer look with Air Command's Magnify feature
Samsung continues to try and add valuable functionality to the S Pen, and this year's Air Command menu picks up a couple worthy additions: a magnify mode that lets you point to areas of the screen and blow them up for closer inspection, as well as a translation feature that gives you a quick way to make sense out of foreign words in text and images.
Galaxy users are well accustomed to biometric authentication thanks to Samsung's support for fingerprint scanners, but the Note 7 pushes things one step further with the introduction of an iris scanner. It uses a dedicated infrared front-facing camera to analyze your eyes and match what it sees to your saved scan – and if everything checks outs, your phone's unlocked in under a second.
New software features are arriving to take advantage of that iris recognition, like a secure folder that lets you lock pics, video, or even entire apps where friends using your phone can't get to them, all protected behind another layer of authentication.
Beyond the new Note itself, Samsung's also got a fresh lineup of accessories: keyboard cases, pop-on lenses, and even a new S View cover with convertible stand for easy media playback. This year Samsung's using some fresh materials in its cases to help out with improved grip.
The Galaxy Note 7 is launching in four colors: Blue Coral, Black Onyx, Silver Titanium, and Gold Platinum. In the US, shoppers will have their pick of blue, black and silver – no gold. Pre-orders open tomorrow, August 3, and the handset finally hits retail on August 19.